NHL 'Shot on iPhone' campaign displays player-taken photographs outside arenas
Apple is once again using its "Shot on iPhone" campaign to highlight the camera quality of its smartphone range, this time in a partnership with the NHL that involves billboards outside arenas featuring photographs taken by the team's players.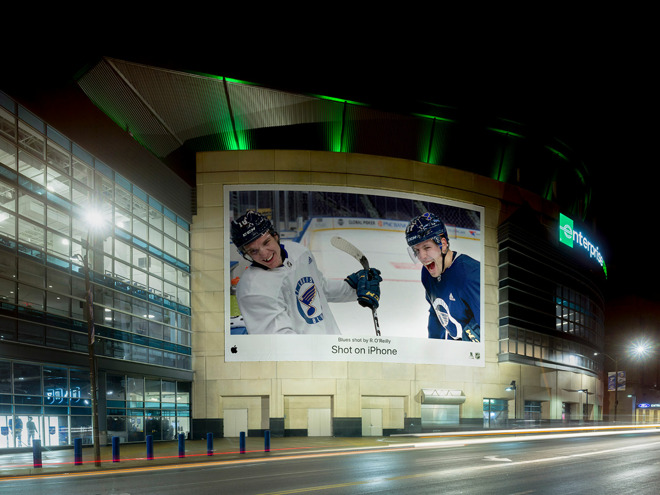 An example of a 'Shot on iPhone' NHL player ad billboard
In the new campaign, which started on Tuesday, billboards were put up where eight NHL teams play, with each featuring a photograph of players from the local team. As it is part of the "Shot on iPhone" campaign, all of the photographs are taken on iPhones, with the players themselves snapping their teammates in candid shots.
According
to
Muse by Clio
, the teams are the Tampa Bay Lightning, Washington Capitals, St. Louis Blues, Edmonton Oilers, Carolina Hurricanes, Arizona Coyotes, Ottawa Senators, and the Philadelphia Flyers. All of the images state who the subject of the photograph is, the player who took the shot, and the words "Shot on iPhone."
The campaign will not just consist of billboards, as a social media effort will feature more images, as well as Instagram Stories to show behind-the-scenes in the locker rooms.
"Shot on iPhone" is largely a social media-based campaign where Apple highlights images taken by iPhone users for the latest releases. This week, Apple revealed the ten winners of its "
Shot on iPhone Challenge
," a formal competition to find the best iPhone-produced photographs, with winning shots used in Apple's marketing as well as earning the photographer a licensing fee.
The new campaign is also part of a long-term association Apple has with the NHL. Teams use iPads and the
iPad Pro
to view game footage in real time, as well as for coaches to receive up-to-date statistics to help improve their decisions during fixtures.
In January, NHL commissioner Gary Bettman told Apple employees the collaboration with the company "has helped
transform the game
without changing the game itself," with greater insights into what happens in each game allowing management to "make the adjustments that make a team more competitive and successful."