Crime blotter: iCloud catches a BMW thief, NFL player's iPad pinched, and more
A theft and chase at the first Apple Store, an NFL star's iPad is taken, and massive thefts from Best Buy and Walmart in Florida, all in this week's roundup of Apple crime.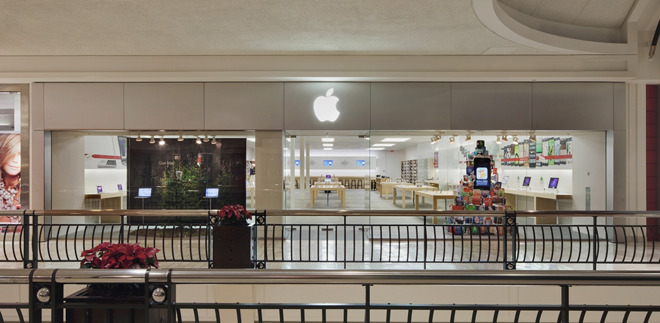 The Apple Store in Tyson's Corner
The latest in an occasional
AppleInsider
series: A look at the world of Apple-related crime.
iCloud captures BMW thieves' joyride in California
A couple returning from a vacation arrived at their San Jose home to find their house trashed and their BMW stolen. But a couple of days later, a
video appeared via iCloud
on the man's phone of three women smoking marijuana and waving cash around in the stolen car.
According to
ABC 7
in the Bay Area, the car owner posted the video to Facebook, where it went viral, and it led to a neighbor telling the couple that the neighbor's daughter was one of the people in the video.
Theft at Tyson's Corner Apple Store leads to chase
A theft took place this week at the world's first Apple Store, the Tyson's Corner Center location in Virginia. According to
The Tyson's Reporter
, police say
one of the alleged thieves was apprehended
right away, but the other led officers on a short foot chase through the mall before he too was caught.
Both were charged with petit larceny.
Teens accused of stealing iPad, Beats headphones, and meat
Police say a pair of teenagers in Troy, Mich.,
stole several items from a Chevy Silverado truck
. According to
WXYZ
, the pair stole an iPad, a pair of Beats by Dre headphones and meat from the truck, although the thefts were spread out over multiple occasions. The suspects, who are 13 and 14, admitted to police that they had also committed other thefts in the area.
Cleveland police looking into bizarre theft of Browns player's iPad
Police in Cleveland are investigating the recent incident in which a car belonging to an NFL player was broken into and several items were taken, including an iPad. Per
Cleveland.com
, the iPad, a pair of sunglasses and a gun
were among the items
taken from the SUV belonging to Jabrill Peppers, a Cleveland Browns player, in late January.
Following the theft, a homeless woman who had been described as a suspect was attacked and later died, although Peppers is not a suspect in that crime. Also, someone claiming to be an uncle of Peppers' called his attorney and claimed that marijuana had been found in the car, but police say that wasn't the case either.
Peppers isn't the only NFL star of late to lose an iPad. A team-issued iPad belonging to the Tampa Bay Buccaneers' Peyton Barber
was stolen last month in Atlanta,
although according to
The Identity TB
, team IT personnel were able to remotely wipe the device of any proprietary information. The same thing happened last year when Chicago Bears linebacker Roquan Smith's iPad, which contained the team's playbook,
was stolen from Smith's car
.
Former West Virginia school superintendent convicted in iPad theft scheme
The onetime superintendent of schools in Logan, W.V., was convicted last week on a variety of charges related to a scheme in which she stole iPads belonging to the district. According to
WOWK TV
, Phyllis Doty
stole over $12,000 in iPads and other devices
and later sold them. Doty also used district funds to purchase thousands of dollars worth of supplies for her son's wedding, including "bread baskets, easels, drink dispensers, columns, decorative urns, and a colonnade."
Doty, according to a Justice Department press release,
was convicted of four counts of wire fraud
, two counts of theft from a program receiving federal funds, one count of mail fraud and one count of aggravated identity theft, and was sentenced to three-and-a-half years in prison.
Two women accused of taking 40 devices from Walmart
Two women
stole 40 devices from a Florida Walmart
, by prying open a cabinet, police say. According to the
News Journal Online
, the stolen items included iPads, iPhones and Apple Watches, with a total value of nearly $17,000, and the theft took place at 3 in the morning.
The suspects remain at large.
Best Buy employee accused of stealing Apple products
A man who worked at a Best Buy in Tallahassee, Fla.,
was arrested for stealing nearly $20,000
worth of Apple products from the store. According to the
Tallahassee Democrat
, the man at one point took four Apple MacBook Pros and nine Apple iPhone XS Max units in a two-day period.
Federal charges settled against former city employee who took 1,000 iPads
The former head of IT services in Gary, Ind., who was convicted last year of stealing more than 1,000 iPads as well as other computers from the city, has agreed to
pay restitution to settle additional federal charges
. According to the
Chicago Tribune
, Monique Bowling-Boyd will pay more than $34,000 in restitution in a separate case in which she cashed a dead man's pension checks.
Bowling-Boyd may still be on the hook for a portion of the more than $1 million in computer equipment she ordered.
Two thieves caught by Apple Watch
Two men who broke into a Northern California home and stole several items were caught after
the owner of the house tracked the Apple Watch
that they had taken. According to the
Redding Record Searchlight
, the woman who owned the home and a police offer tracked the men to a local Walmart. The two first denied the crime, the newspaper said, but the Apple Watch was sticking out of his pocket at the time.
They were charged with suspicion of burglary and conspiracy to commit burglary, and one was charged with an additional parole violation.
Woman tried to buy iPhones with stolen identity
A woman in Massachusetts was arrested for attempting to use a stolen identity to buy multiple iPhones from a mall. According to
Patch
, the woman both
bought two iPhones
and filled out a loan agreement using the false identity.
She was caught and hit with larceny, forgery and identity fraud charges.
Have an Apple-related crime story? Email
AppleInsider
and
tell us about it.