US & China said nearing end of trade war impacting Apple's bottom line
The Trump administration is reportedly nearing a deal that could halt the trade war hurting the U.S. and China, and by extension Apple's iPhone business.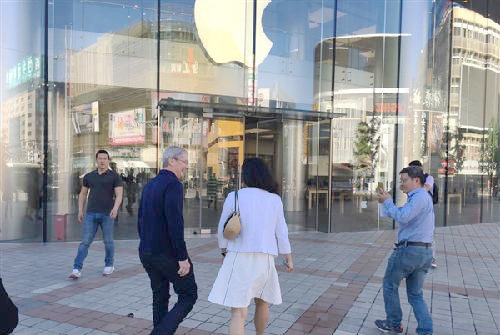 Tim Cook visiting the Apple Store in Beijing
China would be required to make large purchases of U.S. energy and agricultural products over several years, and drop some barriers preventing American companies from operating in the country,
New York Times
sources
said
. In exchange the U.S. would have to remove tariffs on at least $200 billion of $250 billion in Chinese imports.
The Chinese government is said to be aiming for the removal of all Trump-era tariffs. With or without that however, one U.S. goal has been an enforcement tool that would revive tariffs if China backtracked on a deal.
One source argued that the U.S. language on foreign companies is currently too vague to be enforced, and that Chinese promises about reducing subsidies are too broad. The person noted that China is also leaving its data laws unchanged, which for instance required Apple to
transfer some iCloud servers over to a local company
, Guizhou-Cloud Big Data Industry.
There's also no sign that the country will relax rules forcing multinationals to transfer intellectual property to local partners. Publicly, at least, the U.S. has maintained that as a key position.
Apple hasn't suffered directly from tariffs. The Trump-initiated trade war has damaged both the American and Chinese economies however, likely impacting the ability of people to afford Apple products.
The company's Chinese revenues
fell 26.7 percent
in the December quarter, mostly because of weak iPhone sales. The reason for the drag is believed to be a mix of high prices and cheaper competition from local brands like Huawei and Xiaomi. Apple has taken
multiple steps
to revive interest, with modest impact so far.