Former Apple engineer contributed 'nothing at all' to Qualcomm patent-in-suit, Qualcomm sa...
Apple in court proceedings on Tuesday argued a former engineer should be credited on a Qualcomm patent being asserted against the tech giant, claims the chipmaker refutes.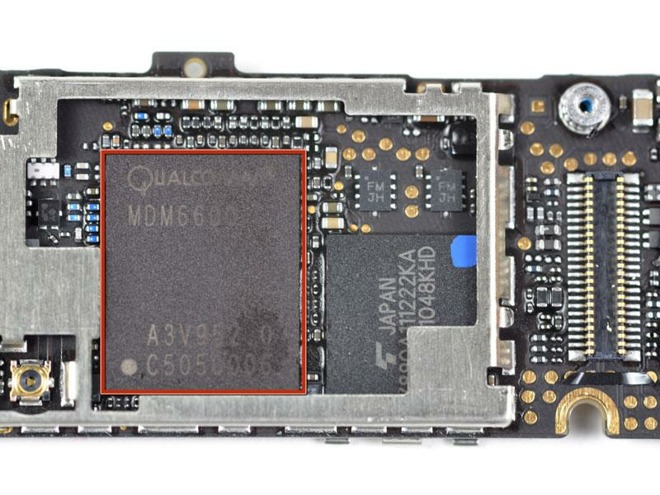 Apple's iPhone 4 for Verizon was the first to incorporate a Qualcomm baseband chip.
Day two of Qualcomm's patent trial against Apple involved
testimony
surrounding a single patent relating to fast boot-up technology in smartphone systems, reports
CNET
.
Echoing claims aired during Monday's
opening remarks
, Apple says former engineer Arjuna Siva first proposed the idea for U.S. Patent
No. 8,838,949
to Qualcomm counterparts prior to 2011. At the time, Apple and Qualcomm, were forging ahead with plans to incorporate the chipmaker's modem technology in iPhone. The project was so secretive that the companies assumed aliases in correspondence, with Apple identified as "Maverick" and Qualcomm as "Eureka," the report said.
Entitled "Direct scatter loading of executable software image from a primary processor to one or more secondary processor in a multi-processor system," the '949 patent details methods by which a secondary processor such as a wireless modem can quickly boot without its own system image on dedicated non-volatile memory. Along with quicker connectivity on startup, the innovation allowed for more efficient use of system memory allotments, cutting down on internal space requirements and build costs.
According to Apple, Siva floated the idea in an email to Qualcomm engineers, who, as Apple counsel Juanita Brooks said on Monday, "[T]ook the idea from us and ran down to the patent office." Qualcomm disagrees with that recounting of events.
Qualcomm director of engineering Stephen Haenichen on Monday said that Siva did not deserve credit for the invention. Haenichen, who is named as an inventor on the '949 patent, claims Siva did "nothing at all" to contribute to the property, adding that Qualcomm delivered on a tall order to build modem technology on short notice.
"It was clear this was going to change the way we build modems," Haenichen said. "It was going to be meaningful to Qualcomm."
Siva, who now works at Google, is scheduled to testify at a later date.
The San Diego case kicked off on Monday and is the first action in the long-running Qualcomm and Apple struggle to involve a U.S. jury. Apple sparked what would become a global conflict by suing Qualcomm in 2017 over alleged
monopolistic licensing practices
, allegations similar to those levied in a U.S. Federal Trade Commission
antitrust action
that wrapped up last month.
The two companies have filed multiple lawsuits, countersuits and complaints with governmental agencies around the world since the 2017 action.