Signs of Apple News magazine subscriptions appear in macOS betas
New evidence Apple is preparing to launch its Apple News magazine service has appeared, with notifications in macOS seemingly indicating the subscription-based service will be available on Mac as well as on the iOS version of the app.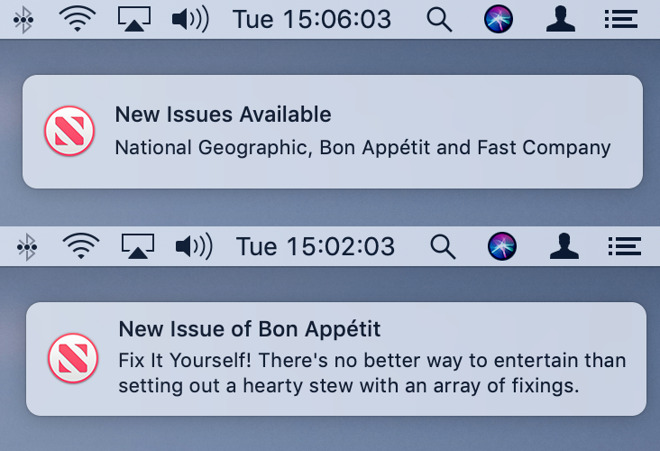 Via Steve Troughton-Smith/Twitter
Apple is expected to announce a number of new services at its March 25 "
It's show time
" event, with Apple News being one of the main highlights anticipated to launch. Digging around in the betas for macOS has revealed some new items relating to the service, effectively confirming the
Apple News
magazine subscription will be launching towards the end of this month.
Developer Steve Troughton-Smith posted to Twitter a selection of screenshots taken from the latest macOS beta, revealing elements of the macOS version of the subscription. A pair of notifications advise of a "New Issue of Bon Appetit" as well as a grouped "New Issues Available" alert for multiple publications.
Another image shows an error message in the macOS News app advising "This issue is unavailable," most likely prompted by clicking on one of the notifications. A fourth image shows a list of short URLs on the apple.news domain that could be used by the service, with directories available for "magazines," "mymagazines," and "subscription."
Troughton-Smith also advises the magazines for the macOS version of Apple News will be PDF-based, like many iPad magazines, with issues able to be stored offline. A section showing different genres of magazines is also shown by the developer, with most of the code said to be written in Swift.
The March 25 event will reportedly be a star-studded affair, with appearances by people such as J.J. Abrams, Jennifer Garner, and Steve Carrell to commemorate the unveiling of Apple's original video content project, which has seen the investment of at least
$1 billion
so far into TV shows and movie productions.
One possibility is new hardware, including new iPads, AirPods, the AirPower charging mat, or even a new iPod touch. Rumors have gone back and forth on those though, and some products may have to wait as
late as this fall
.