Microsoft offers preview of 'Project xCloud' service to stream Xbox games to iPhones and i...
Microsoft has demonstrated 'Project xCloud,' an in-development cloud-based gaming service that streams gameplay to consumer devices including iPhones and iPads instead of being rendered locally, a service that is expected to enter public testing later this year.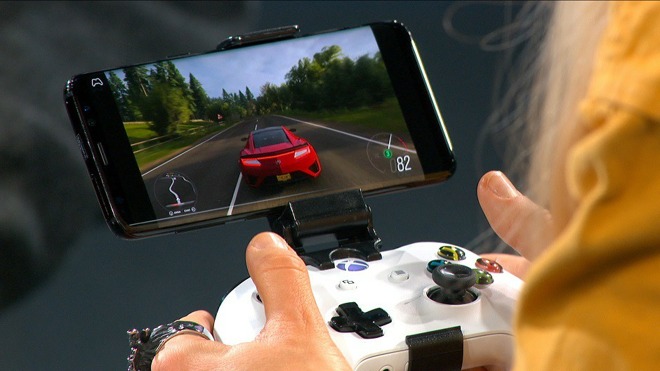 Microsoft's gaming aspirations has largely been limited to Windows PCs and to its Xbox console line, with relatively few games making the move to other platforms, such as iOS. While elements of Xbox Live are available on mobile devices and elsewhere, with Microsoft also preparing a
software development kit
to allow games on other platforms to tap into the service's multiplayer and social elements, Microsoft has demonstrated it has other things planned as well.
Originally announced in
October
, Project xCloud is a
game-streaming system
where games are rendered in the cloud and streamed live to the users device, such as a console or a smartphone. Shown off for the first time in public on Tuesday, video footage of the rendered game is streamed over the internet to the device, while game inputs are sent from the user to the cloud servers.
By rendering the game in the cloud and streaming the video, it can enable users to enjoy console-level graphical quality on all devices, regardless of specification, so long as they are capable of handling a video stream.
The concept of cloud-based game streaming is not new, as it has been used by
OnLive
,
Nvidia's GeForce Now
, and
Blade's Shadow
services. In Microsoft's case, its main attractions are the Xbox branding and game library, as well as the usage of the Xbox Live platform.
In the demonstration,
Forza Horizon 4
was being streamed to an Android smartphone, which was connected to an Xbox controller via Bluetooth. Given Microsoft's work on the SDK over the years, it should be platform-agnostic, and also work with iPhones, iPads, and other mobile devices, as well as potentially with smart TV boxes that are capable of handling video streams in general.
Microsoft insists Project xCloud is "not a replacement for game consoles," but to provide the "same choice and versatility that lovers of music and video enjoy today" with seamless gameplay across devices. The company suggests a user may want to start a single-player campaign in a game on a console before heading out, then continuing where they left off from another location, to play games while in transit, or to continue gameplay in another room when the living room television is occupied.
"True console-quality gaming will become available on mobile devices, providing the 2 billion-plus gamers around the world a new gateway to previously console- and PC-exclusive content," advises Microsoft CVP of Gaming Cloud Kareem Choudhry. "We can achieve this vision with the global distribution of Microsoft's datacenters in 54 Azure regions and the advanced network technologies developed by the team at Microsoft Research."
More details about Project xCloud will be shared by Microsoft in the coming months, with the tech giant also indicating it will be opening the service up for testing by the public in "real-world scenarios" later in 2019.