Google Translate support added to iOS Gboard two years after Android version
Posted:
in iOS
edited March 2019
Google has updated Gboard, its third-party keyboard for iOS, adding the ability to take advantage of Google Translate to write text in another language directly from the keyboard itself, without requiring users to access the separate Google Translate app or the website version.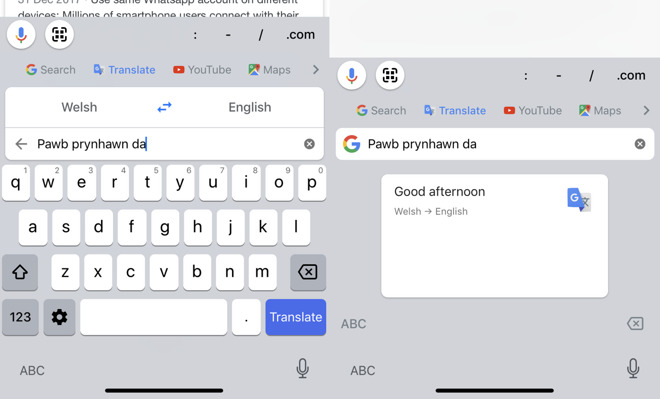 Updated to version 1.41.0, the latest iteration of
Google's Gboard
for iOS gains the translation feature, which is described in the release notes to use "all the languages supported by Google Translate. At present, Google Translate offers support for over
100 languages
, with the keyboard able to translate to and from each of them when required.
The translation option appears in the suggestion strip of the keyboard, or alternately by selecting the onscreen Google button. The keyboard will attempt to detect the language manually, but users can also select what they wish to translate to or from manually.
While the addition of Google Translate support has only just arrived on iOS, it has been available on the Android version of the keyboard for some time. Android users were first able to use the feature in
March 2017
, at the same time GIF and emoji suggestions and improved voice typing.
Google Translate is not the only language addition made to Gboard in recent months. The list of the most recent updates includes language support for Albanian, Lao, Mongolian, Thai, and Khmer, while other features added include new camera effects for the Make a GIF feature, enabling haptic feedback on key presses, and an optimization of assets to reduce the app's overall size.
Introduced
in 2016
, Gboard provides users with access to a variety of Google-driven services from the keyboard. Along with searches and Translate, users are able to search YouTube, bring up Google Maps, search for contacts, and
summon Google Assistant
, among other tasks.