Apple Card, Apple News+, Apple Arcade, and Apple TV+ on the AppleInsider Podcast
On this special episode of the AppleInsider Podcast, Daniel Eran Dilger joins us from Cupertino to talk about the announcements made at Apple's Services-centric March 25th event, where Apple News+, Apple Card, Apple Arcade, and Apple TV+ were all on display.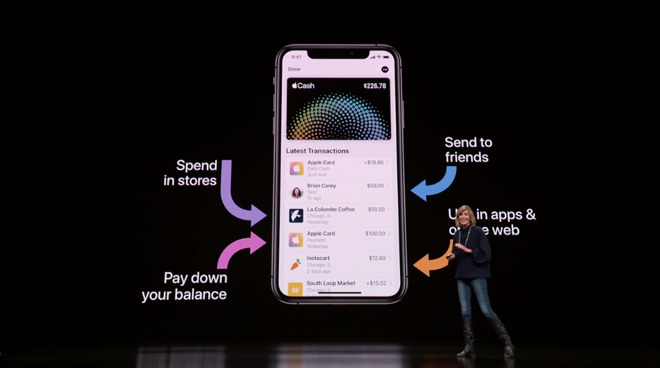 Jennifer Bailey explains the Apple Card interface features
AppleInsider
editor
Victor Marks
and writer
Daniel Eran Dilger
answer discuss:
Apple announced a lot of things, but only one material product - the titanium Apple Card. Victor is excited about the potential for good personal finance guidance, Dan is more optimistic about the spread of Apple Pay with rewards as an incentive.

Apple News+ is a service where we're still learning what will or won't be possible to be distributed through it, but the concept of machine learning recommendations with human curation for news quality seems like a win. Publishing is changing, and Apple has certainly tried to be the future of publishing in the past. Maybe this is the attempt that works?

Apple Arcade: Victor is in love with the idea of games that are paid apps, games that attempt to tell stories other than first-person shooters, having a chance to be art.

Apple TV+ is the streaming service we've been talking about all these months. We don't know exactly when it will debut, and Dan has some question as to whether iTunes is going to be on the third party TVs or this TV service will be there, exactly. Victor thinks there are some good shows in the works, but is concerned about the costs Apple might ask. Dan isn't, thinking Apple knows how to price accordingly.

We like reader email --
send us your comments and concerns!
.
The show is available on iTunes and your favorite podcast apps by searching for "AppleInsider."
Click here to listen, subscribe, and don't forget to rate our show
.

Listen to the embedded SoundCloud feed below:
Show note links:
Follow our hosts on Twitter:
@wgallagher
and
@vmarks
.
Feedback and comments are always appreciated. Please contact the
AppleInsider
podcast at
[email protected]
and follow us on Twitter
@appleinsider
, plus
Facebook
and
Instagram
.
Those interested in sponsoring the show can reach out to us at
[email protected]
.