App Store spending forecast to double, hit $96 billion by 2023
The public's App Store spending should double between now and 2023 to hit $96 billion and retain a commanding lead over Android, analytics firm SensorTower predicted on Thursday.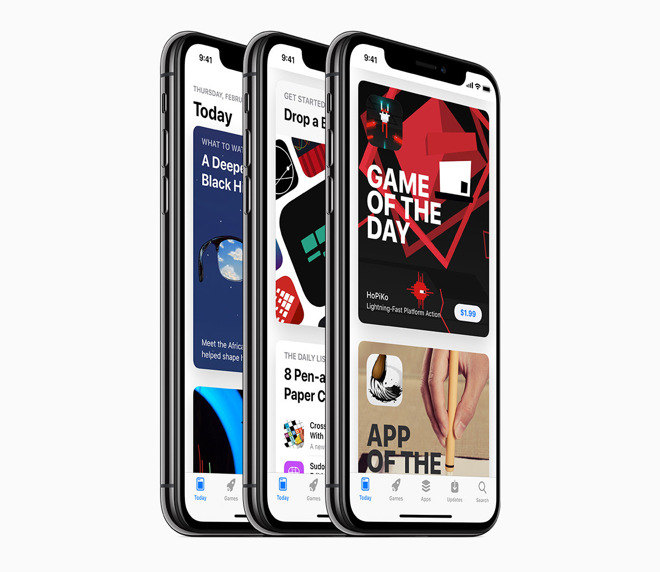 App Store spending was about $47 billion in 2018, and should increase to $56 billion for the 2019 fiscal year, a SensorTower report said. Reaching the
$96 billion mark
assumes a compound annual growth rate (CAGR) of 15.6 percent.
China, the U.S., and Japan will remain Apple's most important markets, the report added. Although Chinese iPhone sales took a major hit in the December quarter and are
still recovering
, the people who do own iPhones in the country can be some of the biggest spenders, particularly on games.
2023 revenues are expected to reach $49.9 billion in the broader Asian market, compared with just $26.9 billion in North America. The most rapid growth is expected to take place in Africa, the Middle East, and Latin America, with Africa's growth rate nearing 300 percent.
Practically speaking there are multiple uncertainties on the horizon. Global smartphone sales have plateaued, and there are legal and even political challenges to Apple's control over the App Store -- U.S. Presidential candidate Elizabeth Warren has argued that the App Store should be
spun off into its own business
, given the competitive advantages of Apple's first-party apps and services.
In the long term, the App Store may have to evolve to support technologies like
augmented reality
. A first-generation Apple headset could ship
as soon as 2020
, and while that may be dependent on a paired iPhone, the company may eventually want a fully independent product.