Apple News+ wrangled more than 200,000 subscriptions in first 48 hours, report says
Posted:
in iOS
edited April 2019
While Apple has yet to reveal numbers for last week's Apple News+ launch, a report on Tuesday claims the service saw more than 200,000 people sign up for a trial subscription in its first 48 hours of availability.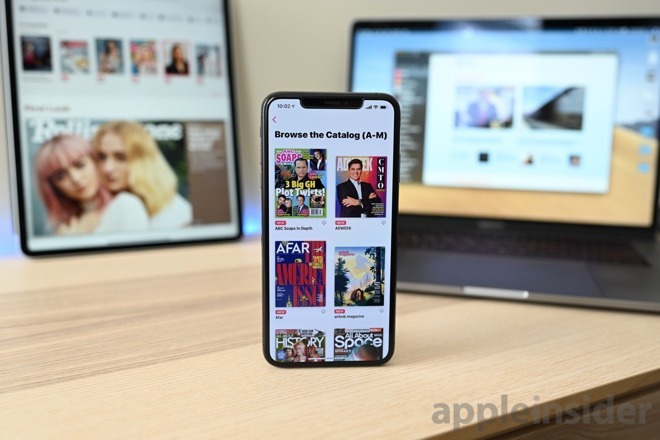 Citing sources familiar with the matter,
The New York Times
reports the
figure represents
more users than Texture, the magazine app
Apple acquired
to build Apple News+, had at its peak.
Dubbed "Netflix for Magazines," Texture was purchased by Apple in 2018,
sparking speculation
that the tech giant would leverage the app's framework for a branded subscription news offering. Those guesses were rendered correct last week when Apple debuted
Apple News+
, a for-pay news service that presents users access to some 300 magazines for $9.99 per month.
In addition, Apple's news product includes the
Los Angeles Times
and limited access to the
The Wall Street Journal
, the latter considered a crown jewel in terms of newspaper content.
Notably absent from Apple News+ are major publications like
The Washington Post
and
The New York Times
, but not for want of trying. According to a report this week, Apple SVP of Internet Software and Services Eddy Cue
frequently visited
both publications prior to launch in attempts to strike an amicable deal.
The
NYT
has been particularly critical of Apple's bundle pricing, saying the product puts publications at risk of subscriber cannibalization for minimal financial gain. Last week,
The Times
CEO Mark Thompson cautioned against distributing first-party content through third-party services, and likened services like Apple News+ to Netflix.
"We tend to be quite leery about the idea of almost habituating people to find our journalism somewhere else," Thompson said. "We're also generically worried about our journalism being scrambled in a kind of Magimix (blender) with everyone else's journalism."
Some outlets, like
The New Yorker
, are attempting to balance the tables by offering only a portion of their content on Apple News+, with full subscriptions purchased through their standalone platforms providing total access. The
WSJ
is taking a
similar tack
and provides Apple News+ users access to all business and financial news, searchable in the app, alongside a curated selection of general, political and sports stories.
According to today's report, Rupert Murdoch, who purchased the
The Journal
in 2007, was a key factor in its inclusion in Apple News+. Murdoch is looking to expand the paper's demographic beyond Wall Street types by presenting more general interest, sports and lifestyle coverage, the report said. Perhaps not coincidentally, articles from those sections will be highlighted on Apple's service.