iPad Air internals reminiscent of 10.5-inch iPad Pro, with updates
The third-generation iPad Air may share the dimensions and style of the 10.5-inch iPad Pro, but a teardown of the tablet shows it has quite a few component differences from its Pro-grade counterpart, as well as having a similar general construction.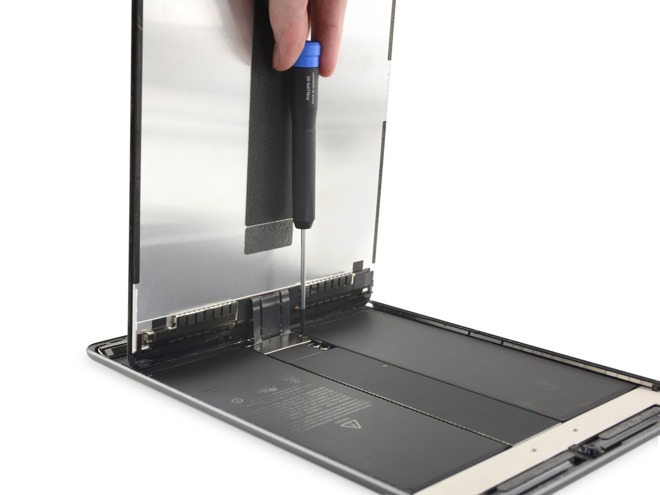 The third-generation iPad Air with the screen removed (via iFixit)
The outside of the new iPad Air has many of the design features that were included in the
2017 10.5-inch iPad Pro
, including its dimensions, bezel, and smart connector. Aside from showing the model number A2152, the model is shown to sport a darker Space Gray coloring, two speakers instead of the four used in the Pro, and a lack of a rear camera bump.
Taking apart the iPad Air requires the use of heated bags to weaken the adhesive, as well as a suction cup and a prying tool,
reports
iFixit
. Once opened, it is seen that the intelligent design of the
iPad mini 5
in automatically disconnecting the battery cable attached to a bracket isn't present in the iPad Air, requiring it to be disconnected manually, though this is also seemingly an issue as the cables were "just too short" to free them.
The 30.8 Watt-hour battery is similar in size to the 10.5-inch iPad Pro, and slightly larger than the 30.2Wh unit previously claimed. Replacing two of the speakers that existed in the Pro but not in the iPad Air is a new metal bracket and two posts built into the case, thought to help support the display and to protect antennas.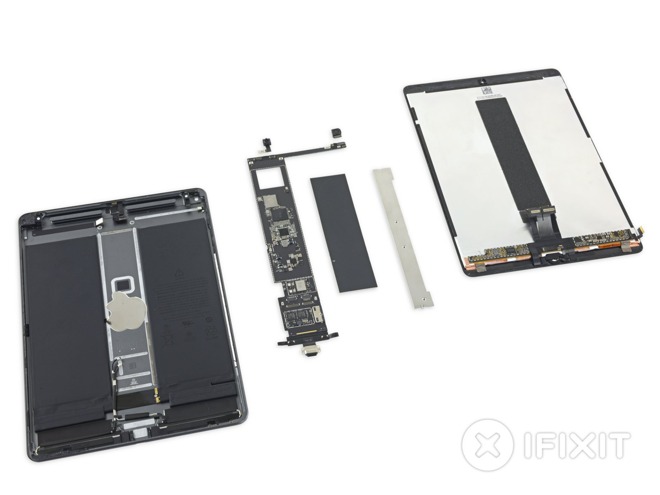 The 10.5-inch iPad Air (via iFixit)
The list of chips and components include a timing controller from Parade Technologies previously used in the 10.5-inch Pro, as well as a chip from Intersil that also appeared in that tablet, and the Texas Instruments level shifter from the iPad mini 5. Other items include two Broadcom touch screen controllers, Toshiba flash memory, and Samsung RAM.
The Apple-designed chip list consists of one built with Universal Scientific Industrial for Wi-Fi and Bluetooth that was previously used in the iPhone XS, a power management chip, and the A12 Bionic system-on-chip.
The
iFixit
team notes there are many elements of the design that borrows heavily from the 10.5-inch iPad Pro, including a central logic board, dual-cell battery, and Smart connector. The iPad Air's "repairability" score is two out of a possible ten, due to Apple's excessive use of adhesive and tricky process for replacing the battery.