Review: The iMac 5K with Intel i9 & Vega graphics encroaches on iMac Pro territory
The 2019 iMac spans a wide range in terms of performance, with the most powerful of the lot the 27-inch iMac 5K with the Intel i9 processor. AppleInsider goes in-depth with this beast of a machine.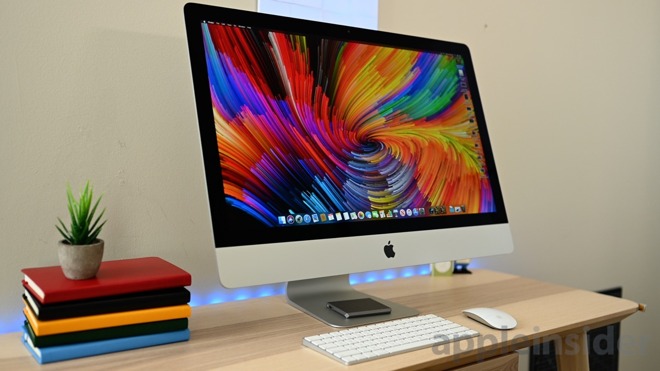 27-inch iMac 5K
We
already reviewed
the 21.5-inch
iMac 4K
, and the
base iMac 5K
. Physically, there isn't much difference in the
iMac
exteriors so we won't rehash what we already covered in those previous reviews.
The short version is the 2019
iMac 5K
has an arguably dated appearance, depending on your point of view, with the large bezels and elongated chin, but is an otherwise well-designed machine.
Specs and configuration
The model we are looking at is the
27-inch iMac 5K
with the 3.6GHz 8-core 9th-generation Intel Core i9 processor which can Turbo Boost up to 5.0GHz. This tacks on an extra $400 on top of the high-end preconfigured model.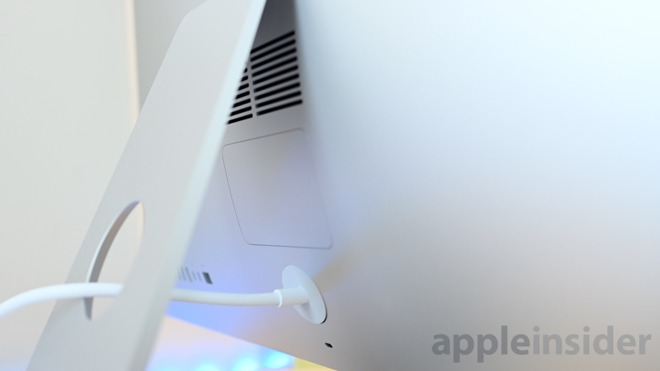 iMac 5K RAM door
Ours is also equipped with 16GB of RAM, though you can upgrade it through Apple to 64GB or go
through OWC
and max it out at 128GB (while also saving some money). Going aftermarket will run you less but you do have to install it youself. It isn't a difficult task, given the fold-down door in the back, but some prefer not to have to bother, and don't want to have to deal with multiple vendors if a problem pops up.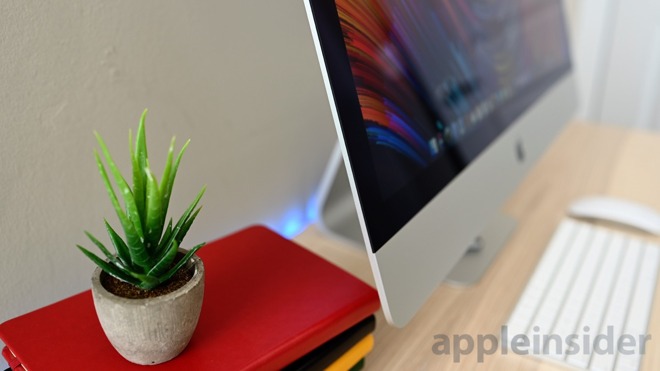 2019 iMac 5K design
Alongside the i9 and the upgraded RAM, we also included the Radeon Pro Vega 48 graphics with 8GB of HBM2 VRAM -- this will run you another $450. Otherwise, it comes with a 2TB Fusion Drive. Choose an SSD for quicker file manipulation and speedier boot times if you prefer.
Performance
We were very excited to test out the i9 processor on our iMac, so we ran through our general lineup of tests. It didn't take long to find out how capable the chipset is.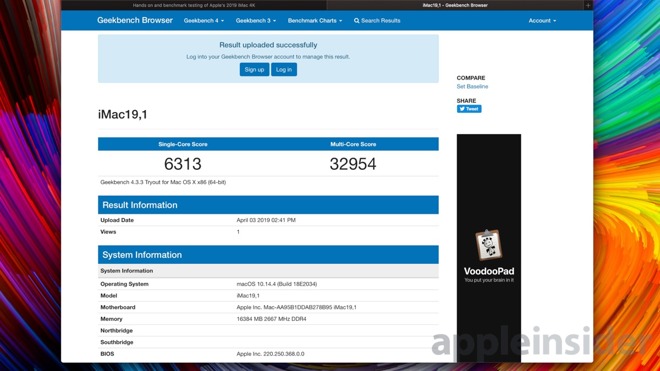 iMac 5K with i9 processor Geekbench 4 results
Kicking things off was the Geekbench 4 suite of tests. The single-core result was 6313 while the multi-core score was an impressive 32954. Compared to the base 5K model with the Core i5 chipset which earned 5335 and 20919, these are some monstrous numbers.
It looks even better compared to the iMac Pro. That late 2017 model earned 5062 and 31162 for the base iMac Pro which runs significantly above the iMac 5K in terms of price.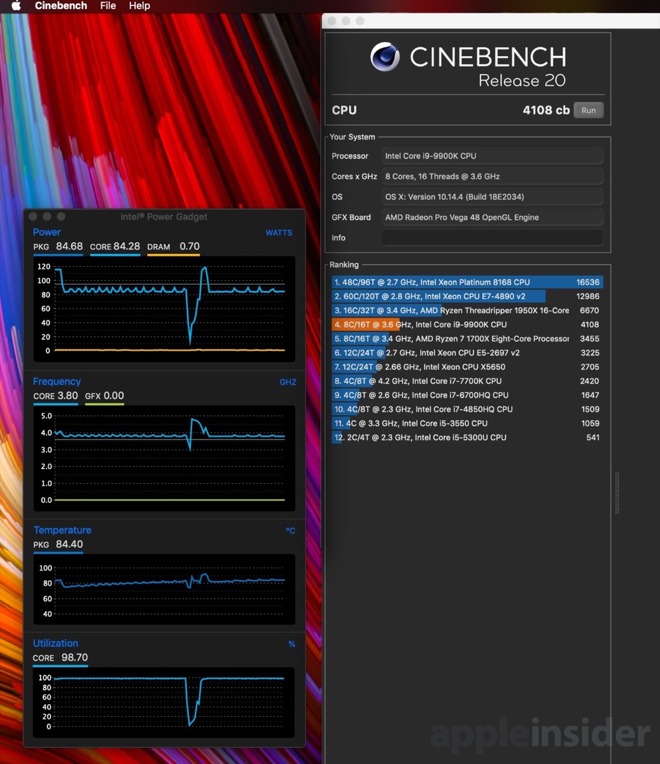 iMac 5K with i9 processor Cinebench R20 results
Cinebench R20 -- our standard moving forward after replacing the R15 version -- earned a 4108. That easily beat out the iMac 5K base score of 2383, which itself was well above the 1472 we earned on the base iMac 4K.
The thermal headroom on these iMacs was a concern to us, with the thermal cooling system designed for processors from 2012. There was a very real chance that the machine would be inefficient in cooling itself and require lowering the clock speed of the processor below the rated speed, resulting in less-than-promised performance while under load. So, we ran the test many times back-to-back-to-back to not only gauge the results but see how the hardware handled when pushed to its thermal limits.
Using Intel Power Gadget to monitor the CPU temperature and clock speed, even as the temperature increases the processor never dipped below the advertised speed.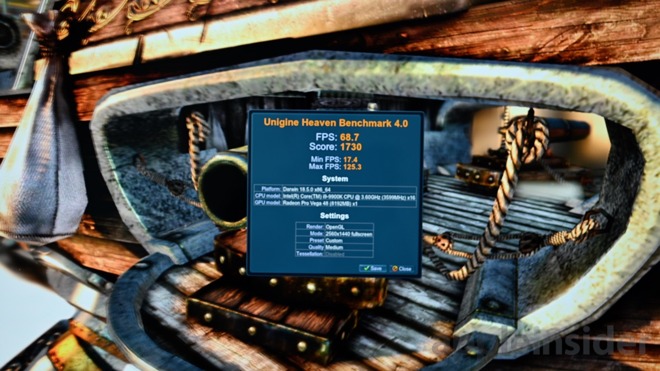 iMac 5K with i9 processor Unigine Heaven results
In other testing, we ran the Unigine Heaven gaming benchmark which resulted in a score of 1730 and an average FPS of 68.7. Those Vega graphics eclipsed those of the base iMac 5K got, scoring 1104 with 43.8 average FPS.
The Blackmagic disk speed test also gave us write speeds of 876.9 MB/sec and read speeds of 1450 MB/sec -- but longer transfers beyond the 32GB of flash storage in the drive will be slower. Like we said, a SSD would do wonders.
A daily workhorse
The iMac has always been a great desktop. It is absurdly popular and has remained best-in-class. The 2019 iMac 5K is no different. The ports on the back are solid, though in this day and age we are looking for less USB-A and more USB-C on the iMac 5K, if perhaps not the iMac 4K.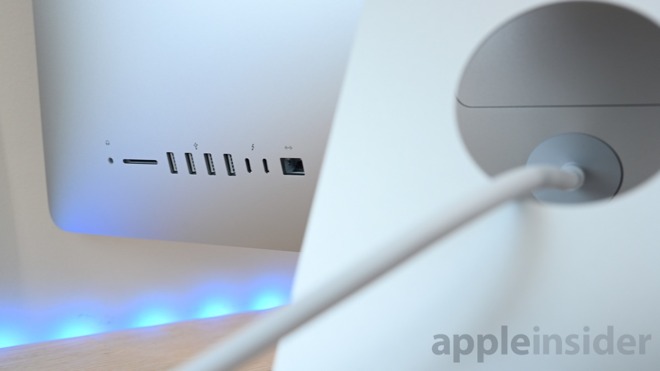 2019 iMac 5K ports
That rings true even more here for this high-end i9 model which comes into proximity with the iMac Pro in terms of performance. Those who spring for this machine are looking for some great performance it is unfortunate to be limited by I/O, including only two Thunderbolt 3.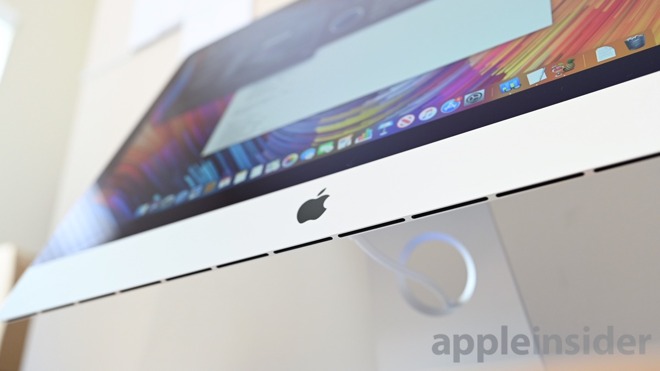 2019 iMac 5K vents
Unlike on the iMac 4K, we were able to get the fans to kick in on the new iMac 5K, particularly when running the benchmarks or pounding on the CPU. The fans were noticeable but not too loud. Compared to a tower PC that can be placed off the desk, it can be annoying at times in a quiet room having the fans kicking in. For everyday use, in a typical office environment, you probably won't ever hear them spin up.
This iMac, like all the others, comes with a wireless Magic Keyboard and a Magic Mouse 2, though you can opt for a Magic Trackpad 2 or both together. We do love Apple's peripherals but are yearning for more.
The lack of Touch Bar is noticeable, good or bad, depending on your inclination. While many dismiss the Touch Bar, we did find ourselves missing it. Filling in forms, working in pro apps, and using our customized shortcuts were all less convenient than they otherwise would be.
More problematic is the lack of Touch ID and the T2. One aspect of this can be offset somewhat by wearing an Apple Watch, and using that for authentication. We were miffed in the other two 2019 iMac reviews about the T2 but it is more noticable here with the high-end.
The T2 not only provides "Hey Siri" support but hardware-assisted video encoding behind Quicksync native to the CPU.
In our tests
, we saw large boosts in video encoding performance with Macs that had the T2 rather than those that didn't. Those who are doing video work with the iMac 5K would surely have benefited from its inclusion, and the i3 Mac mini managed to beat the i9 iMac 5K, admittedly with more restrictive options, given a the requirements of the hardware encoding engine in the T2.
A meaningful, if not showy, upgrade
The high-end iMac 5K with the i9 processor is a more than capable machine that encroaches into iMac Pro territory while carrying a significantly lower price tag. Pros looking for a solid machine are going to be debating between the iMac 5K and that iMac Pro -- and they should. Losing out on the T2, the better I/O, and the upgrade potential will net you pro level performance for a roughly $1500 savings seems worth it depending on your needs.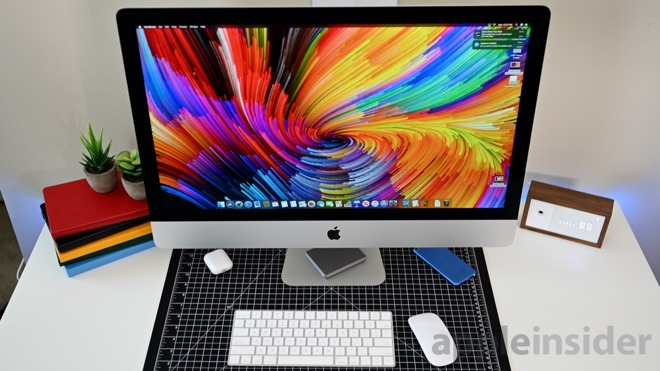 2019 iMac 5K base model
We'd still like some external changes, but Apple focused here on performance -- and that is what they delivered.
Rating: 4.5 out of 5 stars
Where to buy
Apple's new 2019 27-inch iMac 5K is currently
$50 to $150 off
at Apple authorized reseller Adorama, with CTO models eligible for the discount with coupon code
APINSIDER
. Prices start at just $1,745 for the new models, with full step-by-step instructions for redeeming the code available in our
savings guide
.
For a full rundown of the latest deals and product availability, be sure to visit our
27-inch iMac 5K Price Guide
, which is updated throughout the day.
Need help with the coupon?
Send us a note at
[email protected]
and we will do our best to assist.
Six-core models
Eight-core models