Northern California Apple Store thefts restart, $100K in iPhones lifted from Best Buy & mo...
San Francisco Bay Area Apple Store thefts restart, plus iPhone thefts around the world including one in which the thieves came back to ask for the passcode, and another by a man who had gotten out of jail moments earlier -- all on the Apple Crime Blotter.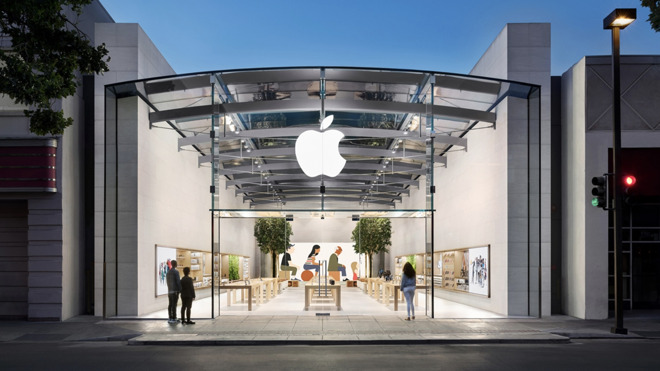 The Apple Store in Palo Alto
The latest in an occasional
AppleInsider
series, a look at the world of Apple-related crime.
Apple Store thefts return to the Bay Area
The massive ring that carried out dozens of Apple Store thefts throughout California last year
was busted in the fall,
but that doesn't mean such crimes are a thing of the past. In fact, four such incidents
have been reported just at the 4th Street Apple Store in Berkeley
in the last week. Each time the thieves, according to
CBS San Francisco
, came into the store, stole the items, and "used brute force" to grab them.
Also this week, thieves
shattered the doors of the Apple Store in Palo Alto
in a late-night theft, coming away with nine MacBooks. The thieves, however, dropped two of the computers on their way out the door, per
Palo Alto Online.
No jail for Belfast Apple Store thieves
Two students from London who were arrested last year for stealing "thousands of dollars" worth of equipment will not receive jail time. According to the
News Letter
newspaper, the theft
was described by one of their lawyers
as a "hare-brained scheme," and they received suspended sentences.
iPhone thieves demand phone's passcode
Three men in Wisconsin are accused of stealing a man's iPhone- and then
returning to the scene of the crime
to ask for the phone's code. Per
The Journal Times
, one of the thieves went up to a man, asked what gang he was part of, and then punched him, stealing the contents of his pockets which included an iPhone. Then, they drove back and demanded the password.
The three accused thieves are a 21-year-old and two juveniles. The 21-year-old was charged with both robbery with the use of force and two counts of intentionally contributing to the delinquency of a minor.
Indian officer's phone stolen while he was distracted
Thieves in India
used a distraction tactic
in order to steal a police officer's iPhone. According to the
New Indian Express,
the officer was distracted when a man began banging on his door. While he was distracted, an accomplice banged on the opposite window.
While he was distracted by the second man, the first man reached in and grabbed the officer's phone.
Trio took $100,000 in iPhones from Louisiana Best Buy
Three men were arrested last month
for stealing over 100 iPhones
, valued at over $100,000 from a Best Buy in Baton Rouge, La, and police believe they were also responsible for similar thefts in other states. According to
WAFB
, the three men were caught on store surveillance stealing the items from a cabinet and filling a trash can with them. The men were arrested at a motel after police ran the license plates for their car; they were found at a motel along with the stolen iPhones.
Similar burglaries were reported in Texas and Alabama, as well as Lake Charles, Louisiana.
Phone store owners arrested for selling stolen iPhones and iPads
The owners of a Michigan cell phone store have been arrested for
buying hundreds of stolen Apple products and selling them nationwide.
According to
Click On Detroit
, the owners of Ace Future Wireless bought items that included the 40 iPads that were stolen from a local schools, and they also bought iPhones that were taken from stores.
They were caught after attempting to buy from an undercover officer.
Florida man steals iPhone from car immediately after jail release
A man in Florida made headlines last week
when he stole an iPhone and other items from a car
- one that was parked immediately outside the jail from which he had been released moments earlier. According to
The Daily Mail
, the 34-year-old man walked about 20 feet from the Port St. Lucie jail he'd just gotten out of when he began scoping out cars. Police found the iPhone 7 in his pockets, as well as $547 in cash, a debit card and a driver's license that wasn't his.
He was re-arrested and charged with burglary, grand theft and possession of stolen property.
iPhone thief caught taking selfies
In other South Florida iPhone theft news,
a man had his iPhone taken from his work truck
while getting gas. Per
The Palm Beach Post
, the owner of the phone began monitoring his iCloud account remotely, and noticed the thief taking selfies and videos.
iPad helps catch men accused of stealing golf clubs
Three men in New Mexico were served with arrest warrants last week after police say they
stole golf clubs from a local golf course
, according to the
Santa Fe New Mexican
.
The three men reportedly stole an iPad, and cash, from a restaurant at the golf course. They went to a pawn shop owned by a former manager of the course, while wearing clothes associated with the golf course. The trio ran away when they noticed the owner was suspicious.
The iPad led authorities to their apartment.
Do you have a story about Apple-related crime?
Tell us about it here.