Apple's 5G modem project lead Ruben Caballero has left the company
Posted:
in iPhone
edited November 2019
Ruben Caballero, a lead for Apple's nascent 5G modem project, has left the company in the wake of a division restructure, and the blockbuster Qualcomm modem deal.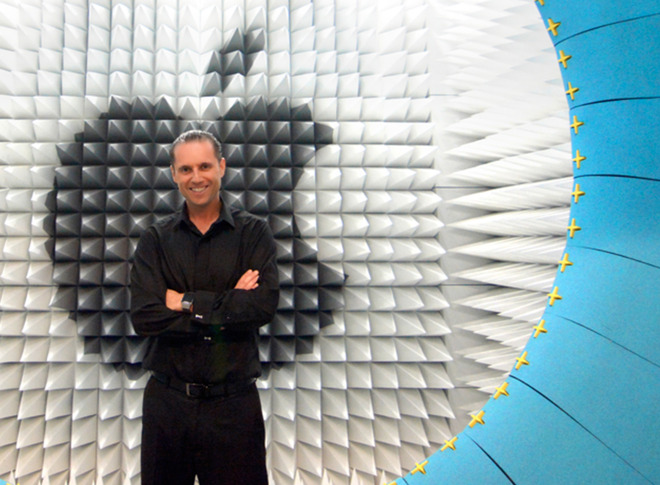 Ruben Caballero in 2010
After Apple
shifted into high-gear
to develop its own 5G solution in 2018, the departure of Caballero is a surprise to observers. Caballero has been removed from Apple's staff directory, and organizational chart, according to
The Information
on
Monday afternoon
, and confirmed by
AppleInsider
by sources inside the company not authorized to speak on behalf of Apple.
Caballero is probably best known for his role in the
2010 discussion
of the so-called "antennagate" saga. The executive originally joined Apple five year prior in 2005, and is named on nearly all of Apple's 3G, LTE, and other wireless networking patents.
The report by
The Information
speculates that Apple's 5G department is in flux, following the Apple and Qualcomm deal. It is also possible that Apple's effort is over-manned, with Apple having hired away
key Intel 5G staff
prior to the deal struck to end the legal battles worldwide
between Qualcomm and Apple
.
Caballero's departure is also
following a reassignment
of Johny Srouji as the supervising executive for the 5G modem team. Caballero was thought to be under engineering lead Dan Riccio prior to the shift.
In January 2017, Apple filed a
lawsuit
against Qualcomm, alleging the chip producer had withheld approximately $1 billion in royalty payments to Apple, in retaliation for cooperating with South Korean antitrust investigations, along with claims of
extortion, monopolistic practices
, and price gouging. In the suit, Apple claimed Qualcomm insisted on charging Apple "at least five times more in payments than all the other cellular patent licensors we have agreements with combined."
Apple's lawsuit followed shortly after the U.S. Federal Trade Commission stepped in with its
own suit
, accusing Qualcomm of forcing Apple into a baseband exclusivity deal from 2011 until 2016, by offering lower royalty payments in the form of rebates.
The terms of the deal in April between Apple and Qualcomm are unknown. Analysts guess that the settlement is costing Apple nearly $9 per iPhone on top of a
single $6 billion payment
.