Notes of interest from Apple's Q2 2019 earnings report and conference call
Following the publication of its second fiscal quarter of 2019 results, encompassing January through March, Apple provided additional detail surrounding the continuing situation in China, as well as more information about the Services business in an earnings conference call.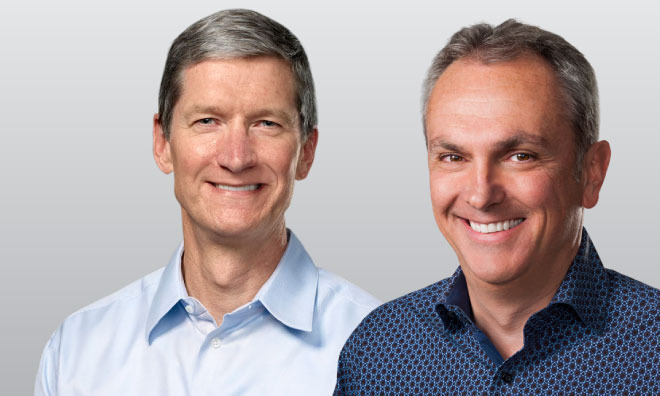 Apple CEO Tim Cook and CFO Luca Maestri
The numbers
: Apple's revenue for the second quarter of the 2019 fiscal year hit $58 billion, down 5% from the year-ago quarter, but on the upper end of Apple's predicted guidance. The quarter saw next to no impact from release of products the week before Apple's "its show time" event, including a refresh of the AirPods, new iMac models, the new iPad Air, and iPad mini 5.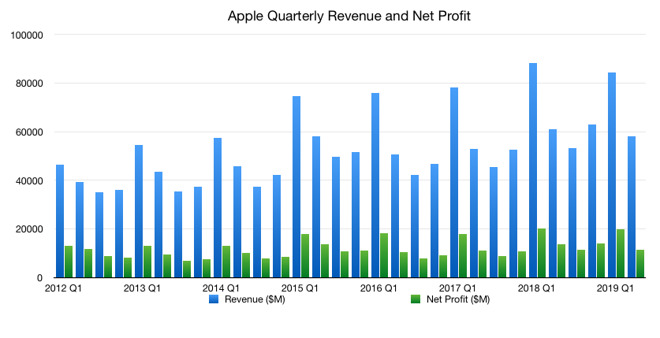 2019 Q2 Quarterly revenue and net profit
Participating in Thursday's call were Apple Chief Executive Tim Cook and Chief Financial Officer Luca Maestri.
Highlights from the earnings report, and the conference call
The company set an all-time record for Services revenue, growing 16%, spanning a total of 1.4 billion active devices.


"Wearables, Home and Accessories" including AirPods and the HomePod grew 30%.


Apple CEO Tim Cook says that the company saw its strongest iPad growth in six years.


Revenue directly associated with iPhone hardware sales hit $31 billion.


Apple has increased the cash dividend to $0.77 per share, an increase of 5 percent, payable on May 16.


Apple's cash on hand is now $225.4 billion, down 8% from last quarter, with net cash after commercial paper & debt about $113 billion.


At 4:44 PM Eastern Time, AAPL was up to $210.63. To cross $1 trillion in market cap, it needs to break $212.08.


Tim Cook has said that Apple will repurchase $75 billion more Apple stock.


Cook to CNBC: "I believe that the trade relationship -- I don't mean the tariff, I mean the tone -- is much better today than it was in the November-December time frame. That affects consumer confidence in a positive way."


Cook: "Exciting and productive quarter for Apple."


Cook: "Wearables with growth near 50%."


Cook notes that wearables itself are a Fortune 200 company.


Continued slowdown in developing markets.


App store results still impacted by slowdown in China approval restrictions (but, that loosened up in April - AI)


November, December were the most challenging months for the last half-year.


Active installed base continues to grow in all geographic segments, all-time records for all products.


Apple Pay transactions volume more than doubled, will hit 10 billion total transactions by end of year.


NYC MTA system will roll out Apple Pay in early summer.


390 million paid subscriptions, increase of 30 million in last quarter alone, increase by 120 million YOY.


"Respect for user privacy" in Apple Arcade. (expect this refrain multiple times this evening - AI)


Apple being impacted by processor constraints, leading to a 5% revenue decline for the quarter.


Cook isn't expecting processor constraints to have a significant impact on revenue in the third quarter.


Four times the device trade-in volume from the year-ago quarter.


Apple will exceed goal of 4GW of renewable clean power, possibly as much as 5GW, by the end of 2020.


Luca Maestri: Products revenue dropped 9% driven primarily by iPhone.


Products gross margin 31.2%, services gross margin 63.8%.


Maestri: "Positive customer response to pricing actions" in certain developing markets.


81% of businesses surveyed plan to purchase iPhones, with a 99% customer satisfaction rate for iPhone XS family, iPhone XR.


500 million subscriptions expected by end of 2020.


Paid third party subscriptions grew 40%.


Largest third-party subscription is 0.3% of subscriptions revenue (Likely Netflix - AI).


Nearly half of the Mac purchases in the quarter were new to Mac.


Half of the customers purchasing iPad new to the platform as well.


93% customer satisfaction rate for iPad, 77% of consumers and 75% of businesses planning on buying iPads.


Best results for Apple Watch in a non-holiday quarter.


AirPods are supply-constrained.


Airlines increasingly adopting iPads beyond flight bags for pilots, with maintenance delays being cut in half.


Increasing iOS traction on large enterprise platforms for workforces.


$14 billion in dividends paid out in the last four quarters.


Q: Elaboration on China situation.


Cook: iPhone saw a better YOY performance in China in the last year of the quarter, and better than the holiday quarter.


VAT reduction in early April will improve things further, as will trade-in programs and other incentives.


Improved trade dialog also improving consumer confidence in China.


Q: Elaboration on business related to Qualcomm settlement.


Cook: "Glad to put the litigation behind us, and all the litigation around the world has been dismissed and settled. We're very happy to have a multi-year supply agreement, and we're happy that we have a direct-license agreement with Qualcomm."


Q: Elaboration on India market.


Cook mostly dodges the question, but notes that adjustments have been made.


Q: Predicted revenue drop for next quarter less than historical, why?


Maestri: Expecting a relative improvement in Q3 versus first half, given trends.


Q: How does Apple approach new technologies (like 5G) vis a vis timing, and development, and how meaningful is 5G for upgrades.


Cook: "This is one that I'm largely going to punt on."


Q: What types of lessons can be learned or what elasticity is generated by how the recycling and trade-in program impacts revenue.


Cook: "Many, many people do want to trade in their iPhone" and customers view it as a form of subsidy.


Cook reiterates stimulus programs by government (the VAT, for instance) impacting iPhone sales positively in China, as does improved trade dialog.


Q: What types of devices are being traded in, how top-heavy are the trade-ins in regards to models.


Cook: Fewer 8, 8 Plus versus 7 and earlier. Highly liquid, with it "all over the place."


China market doing the best with installments.


Q: Is settlement with Qualcomm causing any business headwinds.


Maestri: As part of the agreement, the terms of the deal will not be shared.


The next quarter guidance fully incorporates the Qualcomm settlement.


Q: Should we expect more new services? Is there a pipeline of new services in the works?


Cook: "We're obviously always working on new things" and company is focused on deployment of released products. "We have lots in front of us."


Q: Is search ad revenue in the App Store material and moving the needle?


Cook: "Growing very very fast" with expansions in new geographies to come. "Definitely a business that is big and getting bigger."


Q: Which services has the most potential to improve in the short term and long term.


Cook: "We're going to wait until these things come out." and "We wouldn't do a service that we didn't think would be meaningful, these aren't hobbies."


Q: Asking again about market share in India.


Cook: "India is a very important market in the long term, and a challenging market in the short term."


Cook: India is a "long-term play" and "it doesn't bother me that it's primarily and Android business at the moment."


Call ends at 5:56 P.M. Eastern Time.