US DOJ requests hearing on remedies in Qualcomm antitrust case, cites concern over 5G roll...
The U.S. Department of Justice in a filing on Thursday preemptively requested a hearing on potential remedies should Qualcomm be found liable in an antitrust case leveled by the Federal Trade Commission.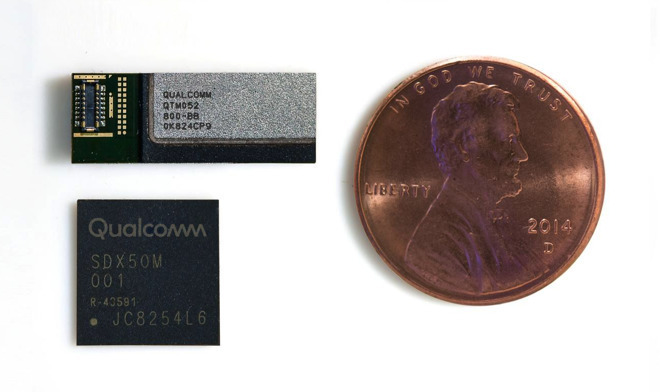 Qualcomm 5G hardware.
In its statement of interest filing, lodged with the U.S. District Court for the Northern District of California, the DOJ's antitrust division asked Judge Lucy Koh to
hold a hearing
on punishments to be doled out to Qualcomm in the case that the chipmaker's licensing practices are found to violate antitrust laws, reports
Reuters
.
According to the filing, remedies "should work as little injury as possible to other public policies," wording that suggests concern over potential interference with key American markets. The DOJ goes on to name 5G networking as a sticking point.
Qualcomm is a leader in the development and manufacture of baseband chips, or cellular modems, used in smartphones around the world and is currently ramping up 5G module production as the world shifts to faster wireless technology. Carriers are
already switching on
the speedy tech in certain markets, though wide access is not anticipated until 2020 or 2021.
If Koh finds in favor of the FTC, too broad a punishment could hamper Qualcomm -- and America's -- standing in the race to 5G.
"[T]here is a plausible prospect that an overly broad remedy in this case could reduce competition and innovation in markets for 5G technology and downstream applications that rely on that technology," the Justice Department said. "Such an outcome could exceed the appropriate scope of an equitable antitrust remedy. Moreover, it has the distinct potential to harm rather than help competition."
The FTC first leveled antitrust claims
against Qualcomm in 2017
, alleging the firm sought to maintain a monopoly over the wireless modem market through onerous patent licensing practices. A subsequent trial
kicked off in January
and included testimony from industry heavyweights
including Apple COO Jeff Williams
.
Koh has yet to render a judgment on the proceedings that
ended Jan. 30
. In the interim, Qualcomm and the FTC continue to negotiate a potential settlement.
Alongside with the FTC complaint, Apple
filed its own case
against Qualcomm on nearly identical allegations. That lawsuit morphed into a legal battle that raged in courts around the world until a
surprise settlement was reached in April
.
Terms of the agreement involved a one-time Apple payment to Qualcomm (now known to be
worth at least $4.5 billion
), a multiyear chipset supply agreement and a six-year licensing agreement with a two-year option to extend.
Like most of the industry, Apple's plans for a 5G iPhone rest in Qualcomm's hands. When the
Apple v. Qualcomm
settlement was announced, Apple's existing modem supplier, Intel, announced
an abrupt exit
to the 5G smartphone business, leaving Qualcomm as the only way forward. While Intel
will provide 4G modems for 2019
, Qualcomm is expected to handle iPhone's cellular connectivity hardware
in 2020
. Apple is said to be working on its own 5G modem, but the solution is rumored to arrive
in 2021 at the earliest
.