Belkin BoostUp Power Bank 2K for Apple Watch offers up to 63 hours of charge
Belkin has added a new portable recharger to its BoostUp power accessory lineup, with the BoostUp Power Bank 2K for Apple Watch offering a way to top up the charge for the wearable device without requiring the use of Apple's own magnetic charger.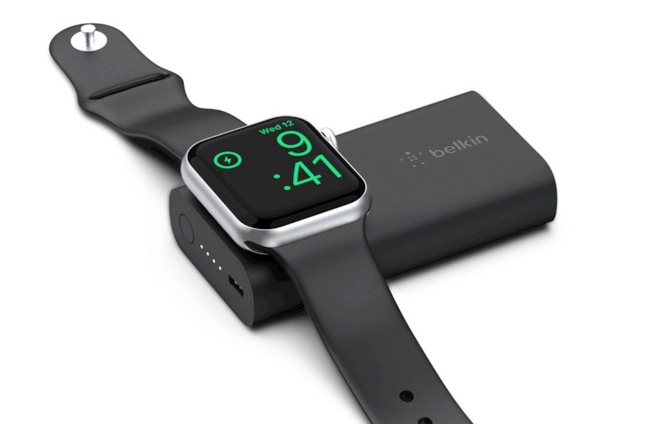 Made specifically for the Apple Watch and Mfi-certified, the
BoostUp Power Bank 2K
for Apple Watch has a built-in Apple Watch charging segment on one side, designed to fit Apple's smartwatch. Once connected, it acts just like a normal magnetic charger, with the Apple Watch receiving power while in position on the power bank.
The charging element is also positioned to one end, allowing the Apple Watch to be put on its side by standing the bank on one edge, enabling it to support nightstand mode. The unit measures 3.11 inches by 1.65 inches and 0.68 inches thick, and weighs in at 70 grams (2.5 ounces,) making it lightweight and useful for camping or weekends away from civilization.
Claimed to provide up to 63 hours of battery life for the Apple Watch, the power bank itself is recharged via micro USB, with a six-inch micro USB cable supplied with the bank. The 2,200mAh-capacity unit has a series of four indicators near to the micro USB port, used to show how much charge is remaining in the bank.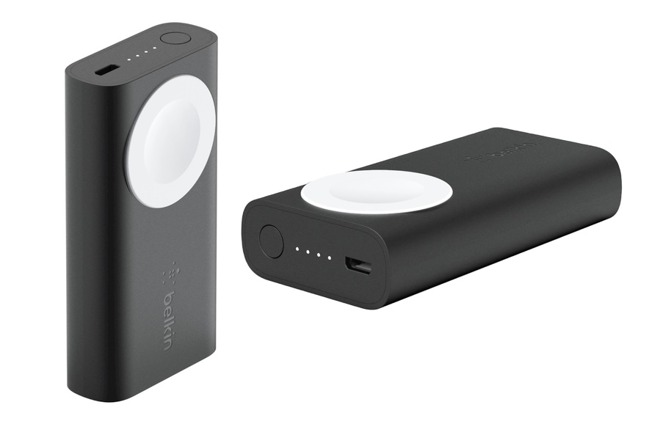 The charger is able to support all Apple Watch models, both 38mm and 42mm sizes. For added peace of mind, the unit is covered by a Belkin Connected Equipment Warranty, which will repair or replace devices connected to the charger that suffer electrically-caused damage, up to a value of $2,500.
Despite being a power bank, the unit is only capable of recharging the Apple Watch. It is not capable of providing power to other hardware via its Micro USB port, and has no other outputs, making it limited to only providing power to the wearable device.
The Belkin BoostUp Charge Power Bank 2K for Apple Watch is priced at
$59.99
from Belkin directly.