Assorted iCloud services were unavailable for a small number of users
Posted:
in iCloud
edited June 2020
A small number of Apple customers experienced issues with iCloud, with problems relating to iCloud Drive, Notes, Storage Upgrades, and Photos reported as in progress, just six days after Apple's most recent major outage of its online services.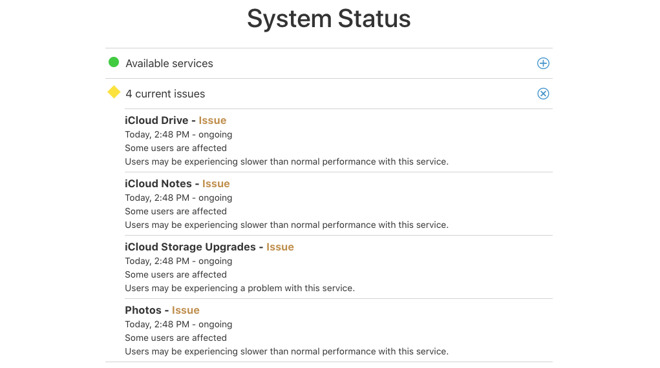 Apple's
System Status
page reports there are four current issues with its online services, relating to
iCloud
Drive, iCloud Notes, iCloud Storage Upgrades, and Photos. Identified as starting from 6:48am Pacific, 9:48am Eastern, 2:48pm BST, the four were resolved an hour and 50 minutes after first surfacing.
The listings advised only the iCloud Storage Upgrades element as having an issue where "Users may be experiencing a problem with this service. The other three had the message "Users may be experiencing slower than normal performance with this service," with all four identified as affecting only "some users."
Tuesday's latest outage follows after other issues with Apple's other services that took place over the last seven days, with the most major being a
limited outage
for the App Store, iTunes Store, and Mac App Store on May 8.
Other issues marked as resolved on the status page include an issue where some customers could not set up Apple Pay Cash or add Discover cards on May 11, as well as a "slower than normal" service for iCloud Calendar and iCloud Reminders on May 12.
Due to the size and number of online services Apple operates, outages are not an unexpected event. As Apple's infrastructure improves over time, it is possible the number of instances will reduce in the future, depending on scaling and other factors.