Apple contributes to new Statue of Liberty audio tour and AR app
Apple reportedly lent a hand in -- or at least facilitated -- the creation of a new iOS app designed for the soon-to-open Statue of Liberty Museum, with the title serving both as a modern location-based audio tour and an augmented reality tool that brings Lady Liberty into the homes of millions.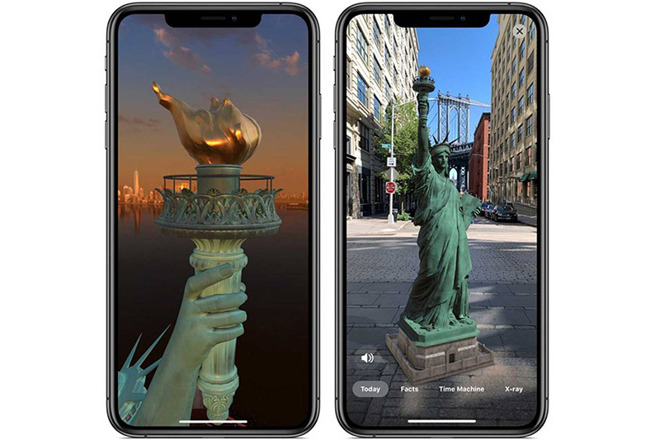 Called "
Statue of Liberty
," the app is the brainchild of renowned fashion designer Diane von Frstenberg, who spearheaded a three-year fundraising initiative to build the new
Statue of Liberty Museum
slated to open its doors on Liberty Island on Thursday.
Developed by Yap Studios in association with the Statue of Liberty-Ellis Island Foundation, the app melds a year's worth of digital scans and photographs to generate a
highly detailed 3D model
of sculptor Frdric Auguste Bartholdi's iconic figure, reports
Vogue
.
Leveraging Apple's ARKit latticework, the title allows users to soar above the statue, view it from different angles, scales and during different times of day, as well as peer inside its skin to reveal the internal frame designed by Gustave Eiffel. A time-lapse mode offers a look at the statue against an ever-changing Manhattan skyline.
According to
CNET
, the app also includes a
location-specific audio guide
that details 15 points of interest on Liberty Island and another 20 in the museum itself. MapKit was used to enable indoor mapping, which triggers the audio assets on location.
Apple CEO Tim Cook touted the launch of "Statue of Liberty" in a
tweet on Tuesday
. It appears a chance meeting with Cook sparked von Frstenberg's interest in AR as an innovative solution for the museum.
"I met Tim Cook from Apple, and discovered first of all that he had never been to Liberty Island, so I arranged for him to go," von Frstenberg told
Vogue
. "Not even knowing what I was talking about, I said, Wouldn't it be wonderful to give people an Apple experience when they go on the Island?' I met the people who do apps and we started, not knowing where it would all end up. The foundation created this app that will reach hundreds of millions of people."
At a launch event on Tuesday, von Frstenberg said she met Cook after filming "Mother of Exile," a documentary about the statue slated for release on HBO later this year. The designer also narrated a podcast called "Raising the Torch" to go along with the museum's opening. It is unclear if Cook is involved in the documentary or podcast.
Vogue
cites Apple as a "star donor" to von Frstenberg's project, though it remains unclear if the company committed funds to the initiative, assisted in development of the app or took part in the podcast production process. Considering the company is not affiliated with Yap or FRQNCY Media, co-producers of "Raising the Torch," it seems the publication is confusing Apple's technologies and platforms for active participation in the enterprise.