DJI guns for GoPro with waterproof, HDR-enabled Osmo Action camera
Posted:
in iPhone
edited August 2020
Drone and gimbal maker DJI on Wednesday released the Osmo Action, intended to challenge GoPro's dominance in the action camera space.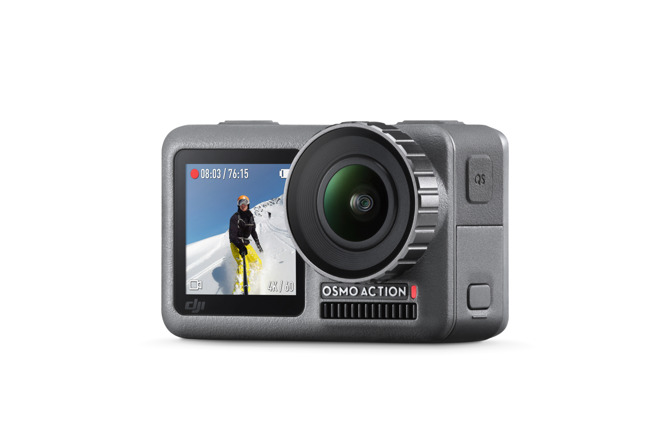 The Osmo Action can shoot 4K video at up to 60fps with a 100-megabit bitrate, and uses "RockSteady" electronic image stabilization to reduce jitters.
HDR
(high dynamic range) can be switched on to get more detail out of highlights and shadows, though that caps 4K recording at 30fps.
For slow motion owners can shoot at 1080p in 120fps or 240fps. Some other options include still photos, timelapses, and custom exposure for subjects like starfields.
As with GoPros, a core feature of the Action is durability. The camera is designed to be dust-, shock-, and waterproof, and can run in sub-freezing temperatures. A removable battery is said to offer up to 93 minutes of 4k30 RockSteady recording, or 135 minutes at 1080p30 without RockSteady.
DJI is building out its own ecosystem too, bundling an enclosure with a universal mount, as well as several neutral-density, polarizer, and underwater lens filters. Some optional accessories include adhesive mounts, handles, a 3.5mm mic adapter, and a case enabling dives to 60 meters (just over 196 feet).
Control primarily relies on a combination of physical buttons and a 2.25-inch touchscreen -- a 1.4-inch front-facing screen is meant for composing selfies and vlogging. The camera additionally offers voice controls, and connection the with the
DJI Mimo
iPhone app for live feeds and simplified editing.
The
Osmo Action
is now shipping for $349.