Apple highlights iPhone 6s 'made in India' in new marketing campaign
Apple is promoting its production of a number of iPhone models in India, with the start of a new marketing campaign for the iPhone 6S in the region sold with the tagline "Now made in India," in reference to the government's initiative to encourage local manufacturing.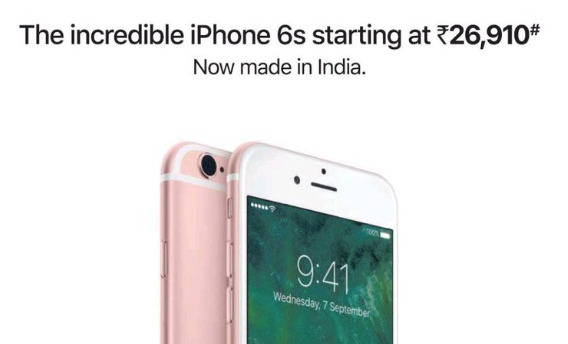 A market that Apple is finding hard to penetrate but is continuing to work on, India has been an unusual country of interest for the company, as it specifically started assembly of some iPhone models in the country specifically for the local market. A new round of advertising suggests Apple is now starting to lean on local production to try and encourage more sales.
An advertisement for the "incredible iPhone 6s"
found
by Varun Krishnan markets the model advising it is "Now made in India." As part of the same ad copy, potential customers are advised of cashback on HDFC Bank debit and credit cards, presumably if used to purchase the model.
The reference to "Made in India" is likely to be on purpose, as it is the name of the Indian government's initiative to try and pressure companies into producing products locally, instead of relying on imports.
Using manufacturing partner Wistron, Apple has produced the
iPhone 6S
in India since 2018 and the
iPhone SE
since 2017, and has expanded to include the
iPhone 7
for local sale. Current plans include
tapping Foxconn
for a trial run of production for the
iPhone X
, which may be a precursor to manufacturing the 2019 iPhones in the market.