Editorial: Why Apple's first port of the new TV app isn't to Android, but to Samsung's ant...
It once seemed necessary that Apple's iTunes worked on Windows PCs, and it wasn't surprising that the Apple Music app was delivered for Android phones. But in the world of smart TVs, Apple's first port to a larger outside platform isn't to Android. It's to Samsung's Tizen, an OS created specifically to rival Android as a platform that Samsung and its partners could use without Google's rules. Here's why.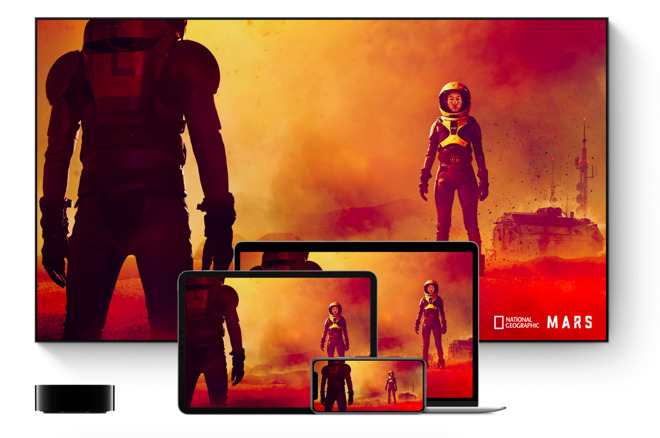 Apple TV is exploring new worlds, but Android isn't the priority. Why not?
If Android is winning, why Tizen?
According to data from IHS Markit, "Android" supposedly had a plurality of 40% market share of the smart TVs sold in 2018. Samsung's smart TVs represented 23% of units, exclusively using its Tizen OS. And LG's webOS smart TVs took another 13%.
Apple's new TV app brings some of the features of its Apple TV hardware-- iTunes movies and its partners' channels, streaming services, and cable programming-- to a broader set of platforms. So why is Apple's first port to Samsung's Tizen TVs? The answer says a lot about the worthless nature of market share statistics and the groups trying so hard to create media narratives with them.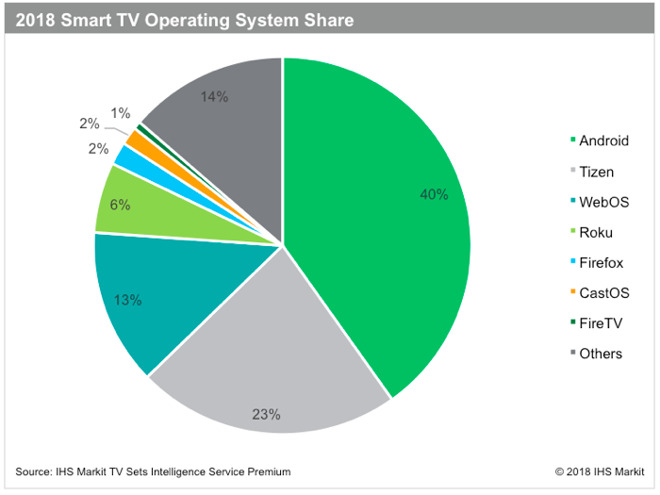 In TVs, Android was less attractive to Apple than Tizen. Source: IHS Markit
In the same way that Apple is dramatically leading phones and tablets by revenues in a world awash with cheap Androids that are not making any money, Samsung is leading the television business. And like Apple's iPhones, Samsung is largely doing this by winning on the premium end.
Samsung is the Apple of TV
Samsung was
reported
by NPD as selling 44% of U.S. televisions over $2,500, and 57% of all high-end sets over 75 inches. Yet overall, Samsung has consistently sold "only" around 20% of all TV shipments over the last decade. That discrepancy sounds a lot like the sales of iPhones, iPads, and Macs from Samsung's
Best Frenemy
.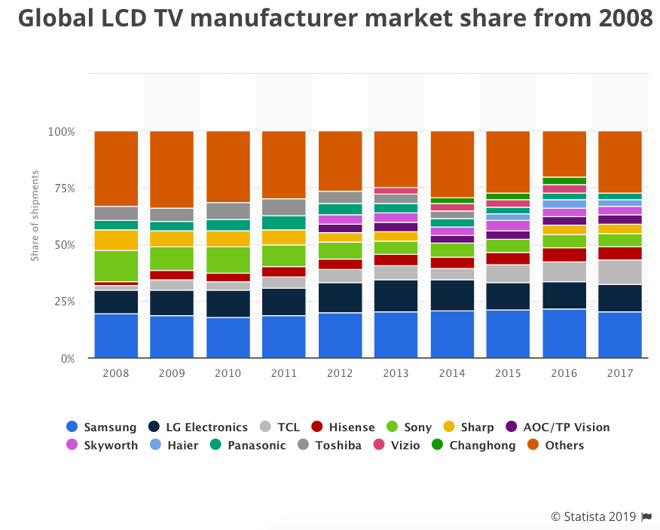 Samsung's Tizen is not a market share leader, but Samsung is clearly leading TV sales. Source: Statistica
The affluent people buying high-end televisions are the most attractive market to reach with Apple's TV app. For everyone else, Apple can continue to sell them its Apple TV hardware, which does more and better integrates into the entire Apple ecosystem, including tvOS apps and the upcoming
Apple Arcade
video games.
Curiously, when
the Verge
detailed
Apple's new TV app release plans for iOS, tvOS, macOS and "Samsung TVs" it didn't even mention the words "Android" or "Tizen," as if commodity operating systems that users don't really interact with don't even matter. That's a pretty radical sea change for a publication that has made Android a primary consideration everywhere else. Not Linux, not open source, not specific features, but simply "Android," as in the nebulous Google ideology.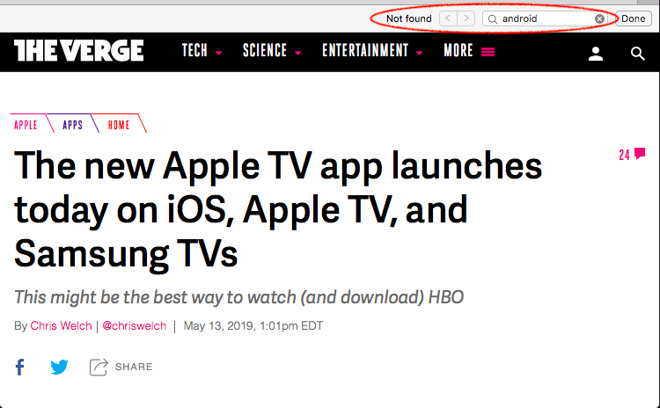 No mention of Android or Tizen, as if nobody cares.
Android TV is distantly behind Tizen and webOS
Android is not very newsworthy in TVs because it's an area where Google's licensees have largely done their own thing, and not by accident. Smart TVs aren't a tiny, insignificant market. Last year there were sales of 157 million. And while users don't carry them around every minute of the day like a smartphone, we do spend time watching TV and are affected by the quality of the interface of the software running them.
While IHS scraped together any use of Android by any company to reach its plurality of 40% share (above), Strategy Analytics delivered similar data for 2018's smart TV showing more clearly that "other" chunk of sales actually represented "customized versions of the Android OS" shipped into the domestic Chinese market.
Only 10 percent of smart TVs sold were using Google's officially sanctioned Android TV. Even so, Android blogs were actually
celebrating
the idea that a tenth of new smart TVs sold last year were running Android TV. That was behind second place LG, which itself sold about an eighth of all smart TVs running its webOS. A fifth were Tizen sets from Samsung, twice as many as all the Android TV sets put together.
Apple's TV app porting strategy
Unlike Google's Android TV, Apple's strategy isn't to spread a free OS as broadly as possible and then tack on rules to force licensees to use its app and media store and collect data from viewers. Rather, Apple wants to bring its iTunes movies and rentals, App Store subscription channels, and its upcoming
original TV+ content
to as many new customers as possible as a product they can pay for in whatever form they like.
Once they get a taste of Apple's premium, private ecosystem, they'll likely want to move to the full Apple TV hardware experience, which includes Apple Arcade; iCloud Photos; cable programming from Direct TV Now, Spectrum, Sony's PlayStation Vue; streaming services including Amazon Prime Video, ESPN+, and Hulu and other features that integrate into the world of iOS and Macs.
Note this is the opposite of the scalding hot takes that virtually everyone in the tech industry cynically ran with earlier this year, citing Apple's porting of the TV app (then referred to as iTunes) as further evidence that Apple's hardware was doomed.
Even Christopher Mims of the
Wall Street Journal
declared
that Apple putting its software on other platforms was a "radical shift in its corporate strategy," stating that Apple "appears finally willing to sacrifice some hardware revenue in the hopes of growing its services," despite having also lived through the last twenty years of Apple putting iTunes on PCs without sacrificing any Macs and still selling the most iPods, and putting Apple Music on Android while retaining virtually all of the valuable smartphone sales.
Not just unit numbers
In 2003, Apple ported iTunes to Windows to greatly expand the potential audience of PC users buying iPods. But porting wasn't just a numbers game, it was part of a strategy. Apple never ported iTunes to the once-leading platform of Symbian phones, and it still hasn't brought it to Android.
Instead, it wasn't until 2015 that Apple released its Apple Music app with support for Android. Apple still hasn't done any work to support iTunes movies and music downloads on Android phones and tablets. You can think of Apple Music as a subscription-based, music streaming subset of the functionality of iTunes: the best way to scavenge for sales on a low-value platform.
Like Android, Apple also never ported iTunes to Windows Mobile. The market simply wasn't there, and Apple had no interest in trying to building one. Either it preferred to keep iTunes an exclusive feature of iPhones, or there wasn't a real business case for adding Android support. Even Google is well aware that Android users are far less likely to pay for apps and games, and Apple has no interest in "ad-supporting" its iTunes content. Android users are, however, subscribing to Apple Music, and their experience may encourage them to buy Apple hardware in the future.
This year, the new Apple TV app-- which provides a similar sort of subscription-based, streaming subset of the functionality of tvOS-- is moving beyond Apple TV hardware and iOS devices to new platforms. This fall, it's "finally" coming to the Mac in the same way that iOS Maps, Home, Stocks, and News have.
Outside of Apple's own platforms, the company announced that its Apple TV app is also "coming to popular smart TVs, streaming boxes, and streaming sticks, starting with Samsung." Apple's partnership with Samsung to deliver the new Apple TV app across recent models of its smart TVs is a move that parallels iTunes for Windows and Apple Music for Android. It's a way to bring Apple's new Services to a broader population.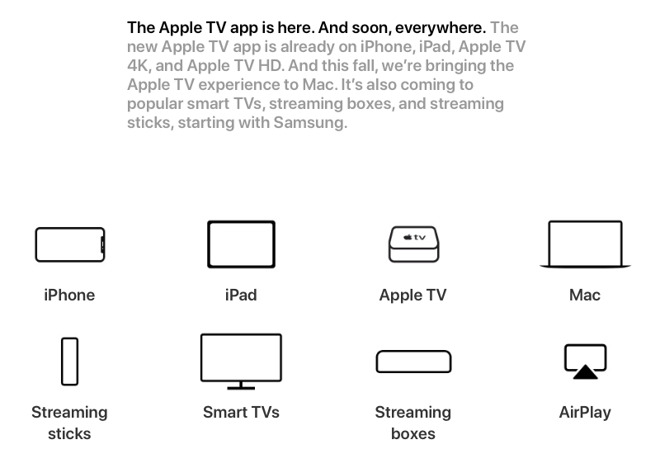 Apple's TV app is going places.
Apple hasn't detailed exactly what hardware it will be supporting, but it appears it will eventually support Amazon Fire TVs and boxes, which run a version of Android that does not include Google apps ads services; LG TVs, which use webOS; Roku's Linux-based OS used in its sticks, boxes, and TVs; Sony TVs, which use Android TV; and possibly Vizio TVs using SmartCast, although that support may be limited to AirPlay 2 and HomeKit. Even with very broad TV app plans, Android will remain in a minor role because it's not very popular with TV makers.
In the same way that many iPod users were initially Windows PC users, and many Apple Music subscribers were on Android in its former incarnation as Beats Music, Samsung's Tizen-based smart TVs are already broadly popular among Apple's users. Samsung is largely winning the unit shipments game in televisions, and in particular among higher-end sets.
So Apple isn't exactly endorsing Tizen as a platform. I've used a series of Samsung televisions over the past decade, including new Tizen models, and while their hardware is fine, their software is terrible: inscrutable UI, frustrating controls, and features that actually crash and require a reboot. A
piece
by Alexis C. Madrigal for the
Atlantic
agreed: "smart TVs are dumb."
With its new TV app on new Samsung sets, Apple will leap past Android TV's market share by a factor of two. More importantly, Apple will also be concentrated in the high-end of the smart TV market, meaning its share will be a lot more valuable than the simple comparison of unit numbers might suggest.
But that raises the question: Why is the privacy-minded Apple putting its TV app on smart TVs notorious for spying on users? The
next article
takes a look.