Global Accessibility Awareness Day commemorated on Apple's homepage
Global Accessibility Awareness Day is May 16, and Apple has chosen to mark the occasion with a big section on the front page highlighting features in Apple's products.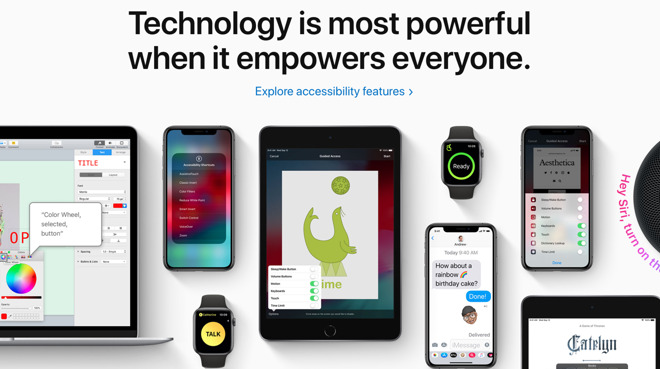 Apple's updated
homepage
is reusing the slogan "Technology is most powerful when it empowers everyone" that it has used for the last several years. The feature linked is Apple's
Accessibility portal
, highlighting a promotional video for Apple's efforts that was originally released in 2016, coupled with four new profiles.
Some other sections focus on things like wheelchair support on the Apple Watch, and even the pairing of HomeKit accessories with the voice-controlled HomePod.
Apple began bundling VoiceOver interactive screen reader VoiceOver on the Mac in 2004. It was followed by support in iOS for the 2009 iPhone 3GS and various iPod models including the iPod nano.
Apple has also developed assistive technologies including 2011's
Siri
--which debuted on iPhone 4s; Switch Control for iOS and Macs; the and last fall,
Live Listen
for users with hearing impairments.
Siri expanded to support
Eyes Free
use in cars starting in 2012, followed by
CarPlay
in 2014.
As well as the Apple homepage, Apple is introducing a new Siri Shortcuts Collection, with main additions including Help Message that send a message and location data to an emergency contact, Meeting Someone New which helps with non-verbal introductions, and Mood Journal for recording feelings and emotions.
In the App Store's Today tab, profiles are being offered explaining how apps are helping people be creative and productive. One story features Lee Ridley, known as comedian "Lost Voice Guy" who won Britain's Got Talent in 2018, covering how he uses Proloquo2Goin for his standup routine and to turn his memoir into an audiobook.