Hands On: PDFpen 11 brings Split View and precision page number positioning to the Mac
The new update of both PDFpen and its sister app PDFpenPro turn this into as much of a PDF creator as it is an editor. You can now use word processor-like split views to show different parts of your document, and you have better controls for changing fonts.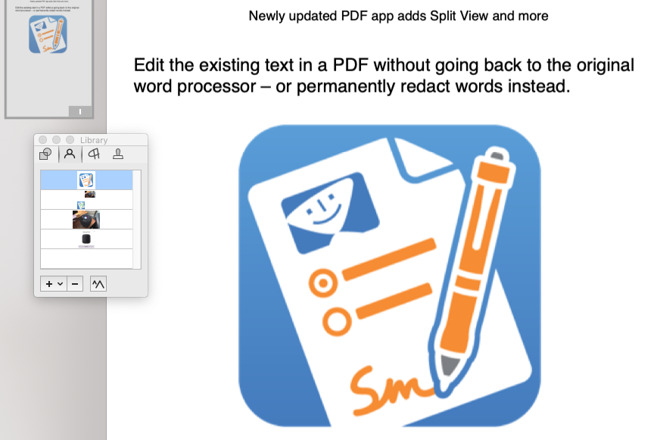 There can't be many of us who don't have to deal with PDFs, either creating them or just reading many of them. We've already covered how that humble, under-appreciated Preview app that comes with your Mac, is capable of handing PDFs very well. Yet the more often you use PDFs and the more work you have to do with them, the more you need a dedicated app such as
PDFpen 11
or
PDFpenPro 11
.
This new update is a significant one but it doesn't change the basics of how these apps work. Instead, the improvements are all to do with how you handle PDFs by making it easier to see what you're doing.
Consequently, the headline feature of this release is Split View. Just as you can in, for instance, Microsoft Word, you can have two views on the same document. Either alongside or below your main view, you get this second window pane on the document.
Just as with Word, that's useful because it means you can be making some fine edits to page 9 of a PDF while referring to page 99 at the same time.
It's one of those features that now it's here, you're surprised that it wasn't before -- and amazed that you weren't clamoring for it.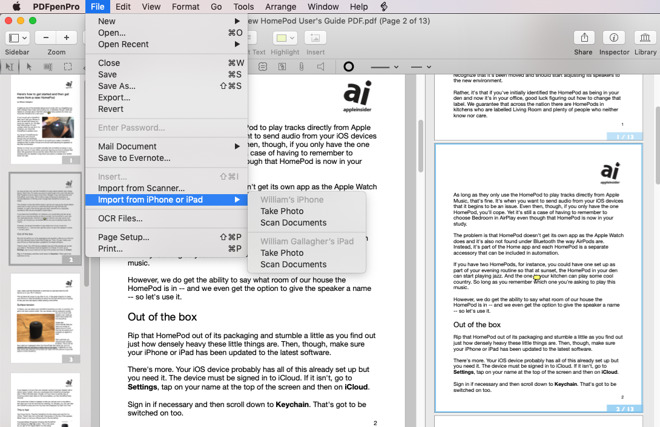 PDFpen 11 supports adding photos and scans via Continuity Camera. Notice the PDF itself, though - it's showing the current page plus others in the new Split View
Making changes
PDFpen and PDFpenPro are all about making these fine edits. If you can go back to the original document that the PDF was made from, you always should. However, when you can't or when you know you only want to make small corrections, PDFpen is a lifesaver.
All PDF apps such as PDF Expert will let you alter the text in a PDF, but PDFpen is among the clearest. You do have to know to select some text first, but then when you have, the
Correct Text
button is unmistakeable.
It's now also optionally joined by more controls. You can choose to show a Font Bar which provides the same kind of text formatting you'd get in a word processor. Select text and then you can change the font, size, justification and so on.
You've been able to make these changes in previous versions. And in practice, there's a limit to how useful it can ever be because of how these apps have to perform minor surgery to get your changes done.
If you changed too much text on a PDF page, or if you added in too much more text, that writing won't split nicely onto the next pages. It stays on the one you're editing so in practice, you only tend to change the odd word or perhaps alter the font of a short headline.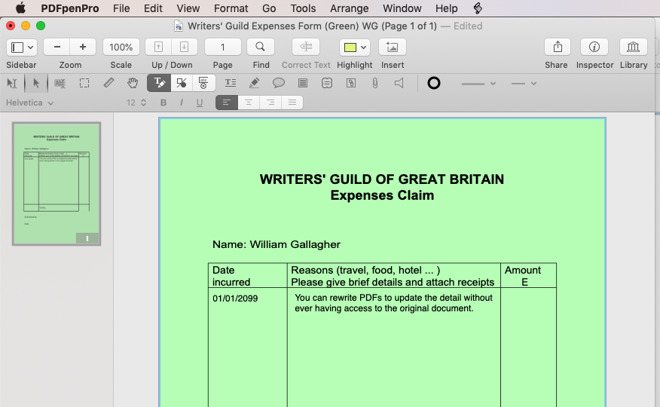 You can edit forms clients send you. Notice the Font Bar, just above the PDF. That gives you quick access to word processor-style controls
When you're making only these small and occasional changes, it doesn't seem too great a benefit to have a Font Bar displayed. Yet it's common to find that if you make one certain type of change on a PDF, you're going to be making the same one on others, so anything that speeds up your editing is a benefit.
So is having the controls displayed clearly. Unless you do a lot of PDF editing in any given app, you will struggle to remember which controls are which. Having a familiar Font Bar in the same place all the time does help.
Do more at a time
PDFpen comes with a library option that means you can add in, say, your company logo and have it available for you in any future document. Add that logo to one document, then select it and you can add it to this library.
Now, though, you can select multiple items and add them all to the library at once. They go in as a single set, so if you select two or ten items off a page, they are added to the library as one piece. In the library thumbnail, you can even see that the items are all positioned as they were in the document.
And you have to paste them all into a future document in one go. However, once they're all on the page, you can delete, move and resize these library elements as you need.
Similarly, you can now select more than one item in a PDF form and make adjustments to them all at the same time.
Precision
Also new in both PDFpen 11 and PDFpen Pro 11 is the ability to add page numbers to a PDF document and position them precisely. You can set their actual position on a given page but you can also specify which pages should or shouldn't have numbers.
This is really right on the border between when you should mess around with a PDF editor and when you should go back to the original Pages or Word document. However, when you've done everything else in your PDF and only just then realised you forgot the page numbers, it's a fast and handy boon.
It's also extremely useful if you're actually creating a PDF from scratch in PDFpen or PDFpenPro.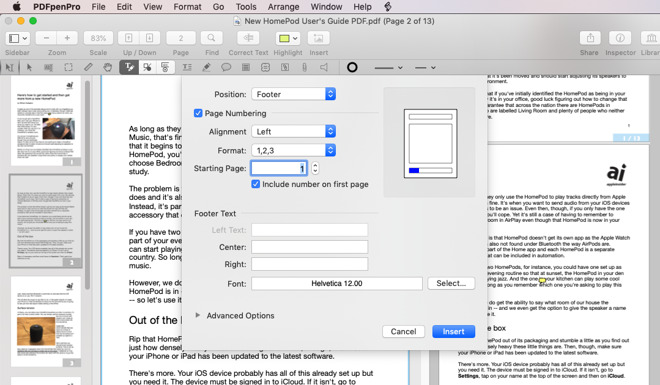 PDFpen 11 now gives you precision controls over where you place page numbers.
When you are doing that, you also now get the benefit that PDFpen supports macOS Mojave's Continuity Camera. From within this Mac app, you can choose to take a photo or make a scan on your iPhone or iPad. Take the shot, make the scan, and the image is sent directly into your PDF document.
Pro features
The new features in this update are the same in both the standard PDFpen 11 and PDFpenPro 11. However, the Pro version does have more options for making forms and other documents, plus it includes OCR.
Once you've scanned a document in, you also get PDFpen's ability to OCR text. OCR sometimes feels like it's still a dark art, but in our testing PDFpen was accurate and it felt faster than previous versions, too.
Then PDFpenPro 11 lets you create interactive forms that you can send to recipients. They can then click buttons or enter details, and there's a way for you to collect up all that information into one place, though we didn't test that.
More usefully for individual users, the Pro version lets you add bookmarks to the PDF and also create a Table of Contents.
It's really trying to make this PDF app be as fully-featured as a word processor, just one that has to deal with the strict limitations of the PDF format.
What's available
PDFpen 11 and PDFpenPro 11 are Mac apps, but there are two companion iOS ones. It's still a confusing family because the iOS ones aren't some iPhone equivalent of the standard and Pro apps.
Instead, they're two separate ones where one is a PDF editor and the other is a scanning app.
It would be much clearer if they were combined, but for now
PDFpen 4 - PDF Editor is $19.99
on the App Store. And
PDFpen Scan+ with OCR, PDF text export is $6.99.
PDFpen 11 for Mac
costs $74.95 direct
from the developer or from the
Mac App Store
.
PDFpenPro 11 for Mac is $124.95 from the makers
or from the
Mac App Store
. There's a free trial version on the same site.