Former App Store review chief discusses process, says concerned about competition with App...
In an interview published on Tuesday, Apple's former senior director of App Store Review Phillip Shoemaker provided rare insight into the company's process for approving third-party apps, and expressed concerns over increasing competition with Apple's own software.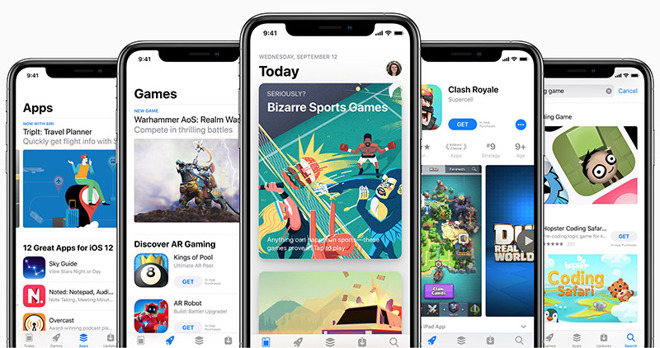 Speaking with
Bloomberg
, Shoemaker, who worked as Apple's head app regulator 2009 to 2016,
outlined the beginnings
of Apple's App Store review process, saying SVP of Worldwide Marketing Phil Schiller mandated that humans put eyes on incoming apps instead of relying algorithms and automated tools.
Initially, the company tasked three reviewers to each app, but the time-consuming procedure ultimately gave way to a one person, one app method.
Even with humans gatekeepers, however, Shoemaker said, "There's a lot of stuff in the store that shouldn't be there."
Early on, reviewers working in conference rooms would come in each morning, select 30 to 100 apps and download them to Mac, iPhone and iPad for evaluation. The review team has grown and now rates work spaces that are larger and more collaborative, the report said.
Shoemaker adopted an egalitarian view of the approval process, putting independent app makers on the same tier as industry heavyweights like Google and Facebook. Whether small apps received equal prioritization in the review queue is unknown.
That said, Apple has in the past denied apps -- at least temporarily -- that posed competition for first-party services. In 2009, for example,
Apple blocked Google Voice
entry to the App Store, a move that prompted an investigation by the U.S. Federal Communications Commission.
According to Shoemaker, Apple was concerned that competitors would create a host of apps designed to replace core iPhone functionality.
"That was a real thing. I mean the fear that somebody would come along, a Facebook, a Google, whomever and wipe off and remove all of our items," Shoemaker said. "Once they started using these other apps, they'd be thinking more about Google now."
Apple later
approved Google Voice
in late 2010.
Competition with third-party software is apparently an ongoing at Apple, which continues to grapple with potential disruptions to its ecosystem to this day.
"There is now a conflict as Apple goes into these spaces that are ripe with competition," Shoemaker said. "I'm really worried about the competition."
Bloomberg's
conversation with Shoemaker can be heard on this week's episode of the "Decrypted"
podcast
.