Sonnet updates RackMac mini, MacCuff mini mounting systems for latest Mac mini models
Accessory producer Sonnet has updated its RackMac mini rackmount enclosure and MacCuff mini security mounting bracket for the Mac mini, revising the designs to better fit the newest models, and to help more effectively cool the holstered hardware.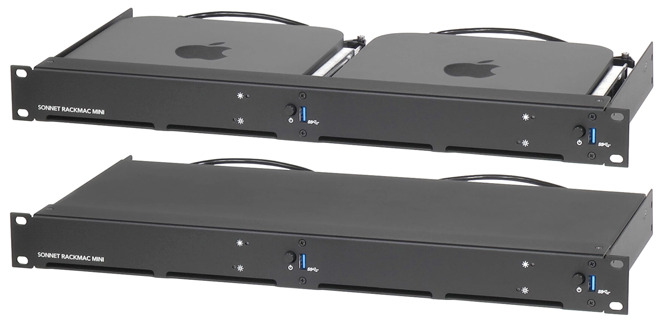 The Sonnet RackMac mini
The
RackMac mini
is a rackmount enclosure designed to allow one or two Mac minis to be stored within a standard 19-inch rack, typically used in a server environment. Held within the 19-inches wide, 1.7-inches thick, and 8.25-inches deep enclosure with firm rubber cushioning for transportation, the enclosure will keep the
Mac mini
securely in place within a larger computing setup.
As well as providing access to the Mac mini's rear ports, the enclosure also has a front-facing USB 3.0 port for quick in-rack access, along with status indicators and a power button, for each of the two installed Mac minis.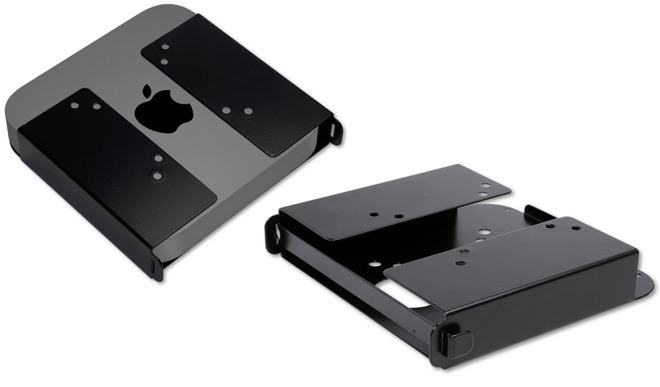 Sonnet's MacCuff mini
The
MacCuff mini
is a mounting bracket for the Mac mini that allows it to be securely installed in place. Able to be attached to the underside of a desk, it can also be used with the VESA mounting screw locations to attach it to the back of a monitor to save space.
To further keep the Mac mini in its holster, the MacCuff also includes a steel locking bar that can be held in place using a padlock. Normal access to all of the rear ports is provided, while an included 35-centimeter monitor cable is included to minimize the length of cable required when it is mounted to a display.
Both the RackMac mini and the MacCuff mini have been updated to support the newest Mac mini models, with the RackMac mini now optimized to properly cool the late 2018 6-core model, among others.
The RackMac mini is priced at $199, while the MacCuff mini costs $59.95.