Smart Battery Case supply for iPhone XR, XS and XS Max dwindles as shipments pushed back i...
Posted:
in iPhone
edited January 2020
Apple is experiencing a supply shortage of Smart Battery Cases for its latest iPhone models, with online purchases for all makes and colors showing a ship-by date pushed back as late as July 18.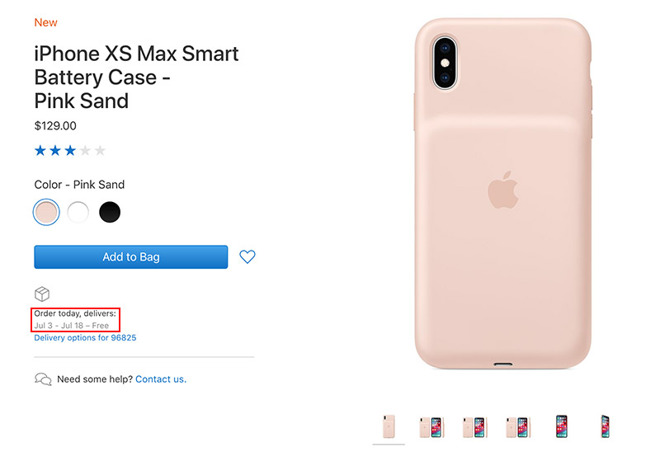 Many brick-and-mortar Apple stores are sold out of the latest
Smart Battery Case
models, while the company's online store displays an unusually wide expected delivery date range between July 3 and July 18.
The apparent stockout impacts all iPhone XR, iPhone XS and iPhone XS Max Smart Battery Case color options, including a new Pink Sand version for XS Max that
launched in March
.
Apple does not offer an explanation for the shipping delays, though it can be surmised that key components are in short supply.
Considering the older iPhone 7 Smart Battery Case is still widely available, the shortage could be related to new parts used in Apple's most recent design. For example, the iPhone XR, XS and XS Max Smart Battery Cases integrate Qi wireless charging compatibility and larger battery cells.
MacRumors
reported on the stockout
earlier today
.
While Apple is showing signs of a stockout, the Smart Battery Case is still available through online resellers like
Amazon
and
B&H Photo
.