Review: 2019 15-inch eight-core MacBook Pro - Refinement before redesign
Apple's new flagship eight-core 15-inch MacBook Pro may not have a flashy new exterior, but it is a high-performing machine that is finally everything Apple envisioned for this design.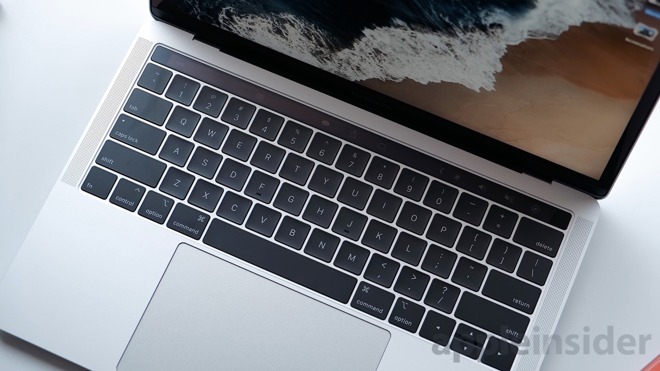 2019 MacBook Pro still looks striking years later
Apple released the new
MacBook Pros
far from a presentation stage, with nary an Apple executive standing under a spotlight. From the get-go, Apple was clear that the new iron is primarily refinement rather than anything new. They did get some nice spec increases and a refined keyboard -- but the biggest news was that Apple was introducing the first eight-core processor in a mobile Mac.
If there was ever a justification for jumping on a Mac update the year preceding a likely redesign, the high end is it. So, we jumped on a maxed-out machine.
What we've got
There are several configurations of the 15-inch MacBook Pro available, though we opted for the most capable. We're testing the 8-core 2.4GHz i9 processor variant that can Turbo Boost up to 5GHz, 32GB of RAM, 1TB SSD, and VEGA 20 graphics. This retails for $4,149.
Optionally, you can opt for even more storage. You can get a MacBook Pro with up to 4TB, but it will run you an additional $2,400 on top of everything else.
If that seems steep but you'd still like excellent performance, you could shave $200 off by going for the base eight-core 2.3GHz processor, or shave off $400 by going with 16GB of RAM.
Performance
We've already presented
benchmark testing
. That suite of tests demonstrated that not only did the new machine have incredible performance boosts over the last generation i9, but it had next to no issues with excessive thermal throttling.
To be doubly-certain about the thermal situation, we performed our own series of tests but we aren't going to delve into that in any great detail here. The
key takeaway
is that the 2019 eight-core model runs cooler and faster than the six-core from 2018.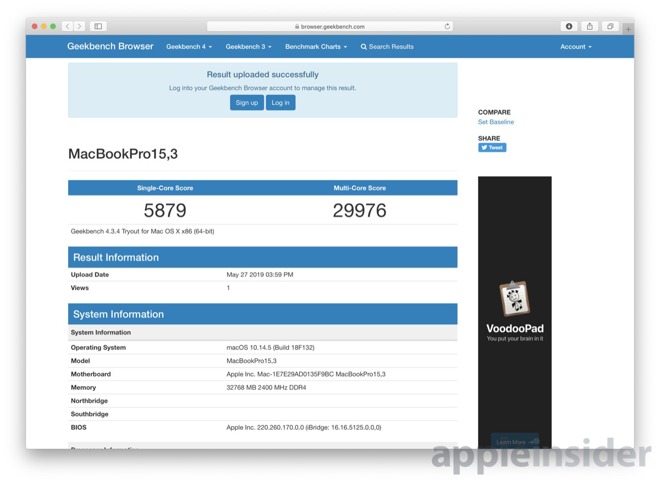 2019 8-Core 2.4GHz Geekbench results
Comparing the two machines, Geekbench 4 results showed scores of 5879 and 29976 in single and multi-core tests, respectively. The multicore test is a giant increase over the six-core 2018 model which scored 22620 on the multi-core test, nearly 30-percent slower this 2019 model. The single core fared better as well, with a not-quite-as-impressive nine-percent increase in this model.
Our next benchmark was Cinebench R20 -- our new standard going forward following the discontinuation of Cinebench R15.
The highest score our MacBook Pro received in ten runs of the test was 3160, but the average across all the tests was slightly lower at 3096.
We felt it necessary to once more test both the graphics and the SSD performance even though we expected no changes. Our premonitions were spot on as there were no differences between the storage module or the Radeon Pro Vega 20 graphics.
2019 Vega 20 Unigine Heaven results are similar to last years
In graphics, we ran the Unigine Heaven benchmark. In this test, we set the quality to medium, disabled tessellation and stereo 3D, turned off anti-aliasing, and ran it at full-screen. It pulled in a max FPS of 147.4 and an average of 82.3 with an overall score of 2072.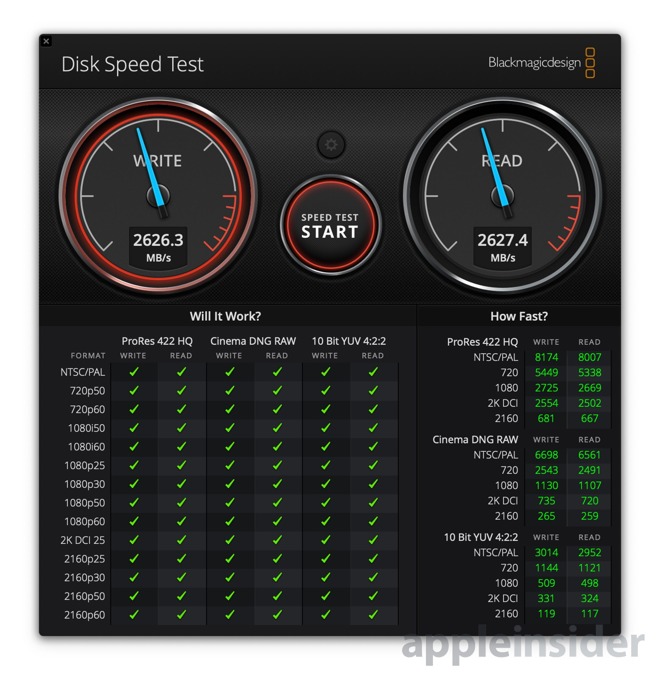 2019 MacBook Pro Blackmagic Disk Speed Test results are similar to last years
On the Blackmagic Disk Speed Test, we earned a 2627.4 Mb/s on the read speed and a 2626.3 on the write speeds -- near identical year over year, which is what we expected. These numbers will be slower on smaller SSDs so if you want the best performance, be sure to opt for at least 1TB of internal storage.
The keyboard
Apple made a couple of material changes in the 2019 MacBook Pro keyboard that are, by Apple's admission, designed to increase the reliability in the keyboard.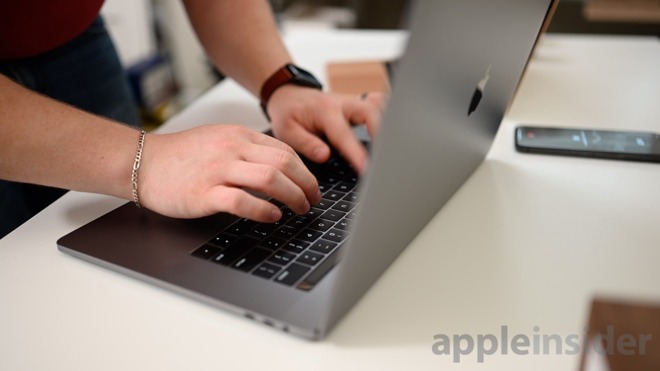 You can read further about
these changes here
, but they are quite minor and it is near impossible to say at this juncture whether or not these changes truly do make the keyboard more reliable. We will
continue to monitor the repair data
and compare to previous generations to see for ourselves but it is simply too early to tell with confidence.
Other than reliability, there are only minute differences when typing on the new keyboard versus the previous generation. They are the same size, the key caps feel the same, and they have the same amount of throw.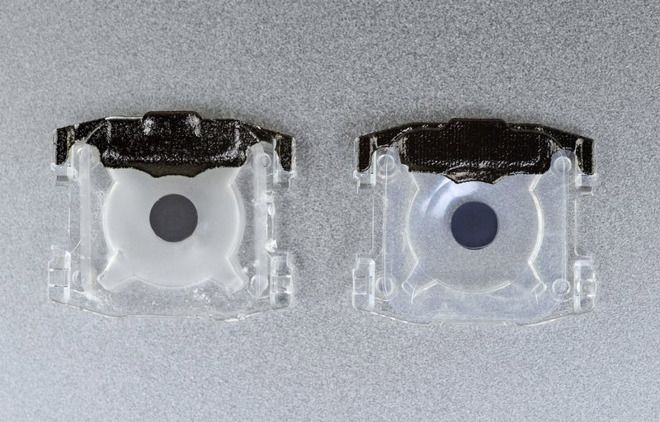 2019 MacBook Pro key membrane (Source: iFixit)
Internally, Apple even kept the controversial butterfly switch design. What they've done is refined the design once more with what appears to be a new process on the metal dome switch and replaced the silicone membrane with a nylon one.
That translates to slightly softer keys when typing, as well nearly imperceptibly less noise, which you need to break out an audiometer to detect. Those are likely just byproducts of attempting to make the keys more reliable.
If you enjoyed the keyboard before, you will enjoy it now. If you didn't like it before, nothing here will change your mind. It is the same keyboard, just possibly more reliable.
But, we'll see about that in about six months.
Our daily workhorse
The MacBook Pro is the daily workhorse of countless individuals from professionals to students. It is what very nearly everybody at
AppleInsider
clacks away on day after day. After years of using this design MacBook Pro, there is much we've come to love about it. It is quite compact, if not a bit on the hefty side. It is exceptionally portable and we love the USB-C/Thunderbolt 3 ports.
Thunderbolt 3 is the future and we've been living in it for a few years. Since the original debut, USB-C is all the more ubiquitous. We live entirely dongle-free thanks to the availability of new USB-C cables, like the new
Lightning ones
. New gadgets that get released also are using USB-C such as the latest GoPros, the latest Nikon and Canon cameras, and more.
Thanks to USB-C we also get universal battery packs that work just as well on our iPhone and iPad as they do on our Mac. We use the
Zendure SuperTank
as an easy portable power supply and the Zendure SuperPort 4 for a 100W USB-C charging port with three other ports left for our iPad, iPhone, and Apple Watch.
We love USB-C and Thunderbolt 3 and haven't missed other I/O in the slightest. And, if you embrace it instead of fighting it, you probably will too.
As for that Touch Bar -- we don't use it as often as we should. At times a touch screen for function keys and the like is less user-friendly than a simple row of physical keys.
At the same time, it is far more user-friendly for other uses such as a color picker, editing in Final Cut Pro X, opening documents and switching tools in Affinity Photo and Affinity Designer. There are absolutely cases where the Touch Bar doesn't make as much sense, but in a surprisingly large number of pro use cases, it is beneficial.
Refinements, not redesigns
Everything about the new MacBook Pro is a refinement, but not a redesign. Apple tends -- but isn't tied -- to redesign its MacBook Pros roughly every four years. We saw this overall design debut in 2016 and here we are three years later.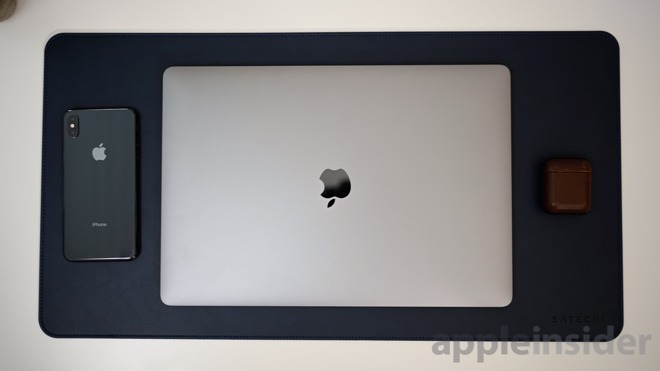 2019 MacBook Pro is a great daily driver
Over the course of those years, we've seen refinement over refinement, bringing us to this 2019 MacBook Pro. The cooling has been tinkered with, the butterfly keyboard has had subtle improvements, the specs continuously have been beefed up, all within the same shell.
That is both a positive and negative. On one hand, this MacBook Pro is the vision Apple has for this machine. This is what it looks like after all the kinks have presumably been worked out and Apple's vision realized.
If you were going to grab a MacBook Pro in the past few years, this is the one you would want it to be. At the same time, the design -- which looks still solid for its age -- is starting to show its age. We've seen competitors with incredibly thin designs, much narrower bezels -- even in Apple's own iPads, and the Touch Bar still doesn't see as much use as it should.
All of those could be in some way enhanced with a next-generation design, that may or may not arrive in 2020. Because of that future, many will wait it out. However one also has to consider that with a new design comes potential new issues for Apple to iterate on. We think that it's a wise move to jump on board now after all of Apple's iterating, and it's not like your old hardware spontaneously combusts when something new is released.
There has never been a better time to choose a portable Mac rather than a desktop with the amount of power now packed into this machine.
Rating: 4.5 out of 5
Where to buy
Save up to $250 on 2019 MacBook Pros
If you want to grab a new 2019 MacBook Pro, Apple Authorized Reseller Adorama is currently offering some of the best
MacBook Pro deals
, knocking
$200 to $250 off
select 15-inch models with coupon code
APINSIDER
, plus no interest financing when paid in full within 12 months with the Adorama Credit Card. For a full rundown of the latest offers and product availability, be sure to check out our
2019 15-inch MacBook Pro Price Guide
.
$150 to $250 off 2019 15" MacBook Pros
Plus save $100 to $200 on 13" MacBook Pros with upgrades