Powerbeats Pro teardown reveals audio driver similar to AirPods, less capacious case batte...
Aftermarket repair firm iFixit on Thursday posted its teardown of Beats' Powerbeats Pro, revealing the headset's components and construction share a number of similarities with Apple's latest AirPods model.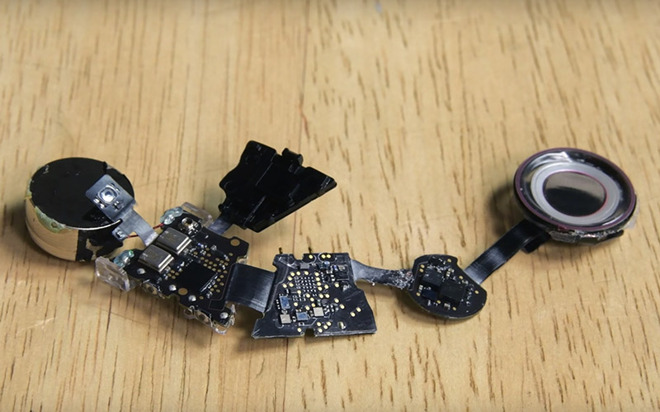 Source: iFixit
Though iFixit has yet to publish its typical in-depth, step-by-step teardown of Powerbeats Pro, a short video posted to YouTube and the firm's
website
runs through the highlights.
Using an X-Acto knife, the dismantler easily removes the top casing of the left earbud, uncovering a tightly packed parts assembly including a folded motherboard (a logic board split into three sections and connected via flex cables), a large coin cell battery and an audio driver. Actuators for volume control and multifunction "b" button, as well as infrared sensors, are also seen on the motherboard.
Among the chips on display is Apple's H1, which enables "Hey Siri" functionality, enhanced wireless performance, extended range and other benefits.
Of note, the driver unit is accessible from the inside of the headset, making disassembly a multi-step process. While not confirmed, iFixit said the driver appears to be similar to the component found in AirPods, suggesting Beats is relying on the seal of Powerbeats Pro's silicone earpiece, or more likely signal tuning, to achieve a
more robust sound profile
.
Batteries in each headset are rated at 200 mWh, nearly twice the capacity of the specialized cells found in AirPods. By contrast, the battery in Powerbeats Pro's case is a 1.3 Wh cell, smaller than the 1.5 Wh cell Apple gives AirPods.
Like previous Apple headset builds, Powerbeats Pro and its case use copious amounts of glue to keep everything held together, making repair difficult or impossible. iFixit posits that the adhesive could assist in achieving an advertised IPX4 water resistance rating.
Apple announced Powerbeats Pro in April as the Beats brand's first truly wireless product offering. The device went up for sale in May.
Powerbeats Pro can be purchased from Apple Authorized Resellers
B&H Photo
and
Amazon.com
for $249.95.