Apple Wallet to support contactless tickets at select college stadiums this fall
Posted:
in iOS
edited June 2019
Ticketing service Paciolan on Monday announced upcoming support for contactless tickets in Apple Wallet, which will allow fans to enter college stadiums using their iPhone and Apple Watch later this fall.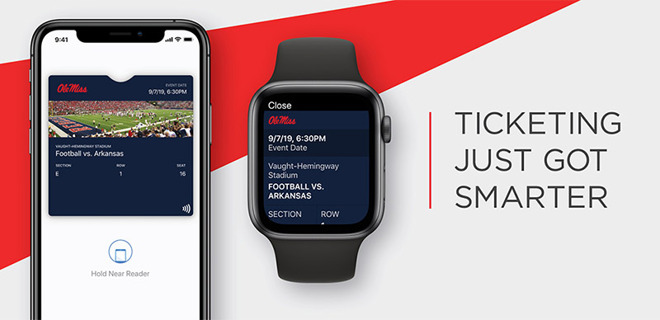 Set to roll out in time for the 2019 football season, contactless tickets in Apple Wallet
will be offered
at Baylor University, Louisiana State University, Michigan State University, University of Mississippi, Georgia Tech and Rutgers University, according to Paciolan.
While not confirmed, today's press release suggests the technology could debut at other collegiate sports venues in the U.S.
"iPhone and Apple Watch make going to college sports games easier than ever," Apple Pay chief Jennifer Bailey said in a prepared statement. "We've said our goal is to replace the physical wallet and students and fans will love the convenience and security of having their tickets right on the Apple devices they carry with them every day."
Like contactless ticketing solutions used at professional sporting events, airports and concerts, Paciolan's integration with Apple Wallet allows iPhone and Apple Watch owners to securely access digital tickets from their device.
Purchased tickets are delivered to customer devices via text message and subsequently stored in Wallet. Leveraging geolocation and beacon technology, the system detects when a user arrives at the stadium and automatically displays the associated ticket on an iPhone or Apple Watch lock screen. Tapping the device on an NFC reader -- handheld or embedded in a turnstile -- redeems the ticket to grant entry.
In addition to reducing fraud suffered by other ticketing processes, contactless technology streamlines the user experience by enabling easy transfers or gifting. Paciolans' backend affords fans the ability to transfer tickets using a participating school's official athletics website.
Apple is quickly building out its digital Wallet solution with attractive features that in some cases makes iPhone and Apple Watch indispensable in everyday life. Last October, for example, the company
activated new NFC technology
that allows students to use their devices as an ID and building key.