Apple spending up to $30M per movie to make award-winning Apple TV+
Hollywood sources say that Apple is approaching Oscar contending filmmakers and offering $5 million to $30 million per project, to build an award-winning stable of content.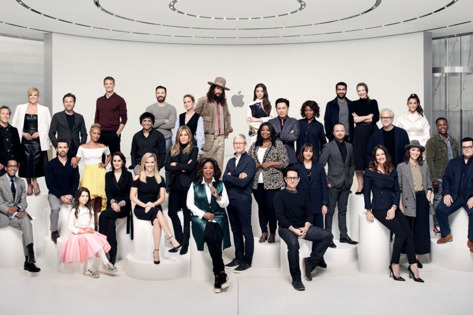 The creators of some of the first shows on Apple TV+ gathered at Apple Park
Apple is looking to produce half a dozen low-budget films per year, for its
Apple TV+ service
, which have the potential to be worthy of Oscar nominations, according to sources in Hollywood. The company has been targeting what the sources describe as "elevated" directors and other filmmakers, and offering them budgets of between $5 million and $30 million per film.
"They are taking meetings and hiring," once source told the
New York Post
.
The source compared Apple's move to being to create films like those of Focus Features, which made "
BlacKkKlansman
", "
Boy Erased
" and "
Dallas Buyers Club
." It's not known whether any deals have yet been made, but the same source says that Hollywood is not impressed with Apple.
"They are literally anxious and clueless about what they really want to do," said the Hollywood insider. "Half the [Apple] culture hates them making content, and the other half wants to meet stars."
The
New York Post
claims that Apple has the problem that it lacks a library of existing material where
rival Disney is replete with old films and TV
.
Analyst Dan Ives said that he expects Apple will eventually have to buy some studio's library.
"It's a content arms race," he said. "They have $250 billion of dry powder, and they generate $60 billion a year in free cash flow."
One issue that may be making studios and filmmakers less keen on reaching all Apple users, however, is how Apple is allegedly trying to micro-manage projects.
"Tim Cook is giving notes and getting involved," one producer told the
Post
. "They are making big changes, firing and hiring new writers. There's a lack of clarity on what they want."
Reportedly one of Tim Cook's repeated notes given to producers is "Don't be so mean!" and Apple seemingly wants only positive views of technology.
Any library or new project will be shown on the Apple TV+ service, which means it could reach everyone with an Apple device. As shown at its March 2019
sneak peek
, Apple already has
many new dramas and comedies
in production,
including "For All Mankind" by Ronald D. Moore
plus
Oprah Winfrey
documentaries.
Apple TV+ is expected to launch in the Fall.