Apple's watchOS 6 lets users delete first-party apps
When watchOS 6 launches this fall users will be able to delete default first-party apps, including dedicated software designed specifically for Apple Watch, to free up space on the diminutive device's home screen.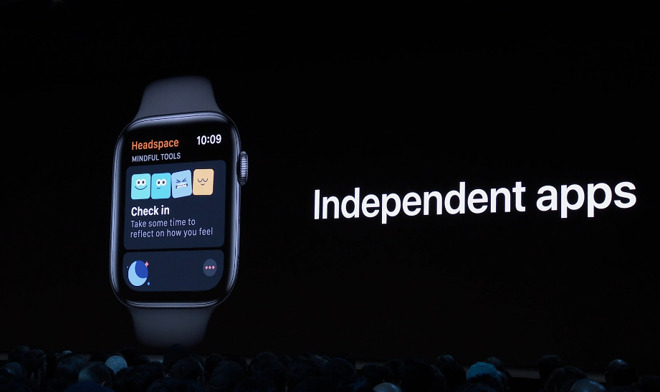 While not officially announced, Apple tipped its hand on Tuesday by posting
App Store listings
for -- currently -- permanent first-party apps, reports
TechCrunch
.
Access to standalone apps allows users to download and reinstall deleted titles at anytime, meaning they can be removed and added to Apple Watch at will. With the soon-to-be-granted latitude, owners can remove unused first-party apps to free up screen space, a precious commodity on any wearable device.
Apple's latest watchOS 6 beta does not yet allow deletion of built-in apps, but users will be able to offload titles including Alarm, Breathe, Camera Remote, Radio, Remote, Stopwatch and Timer when the operating system launches this fall. More recent additions like watchOS 5's ECG and Walkie-Talkie, as well as the upcoming Cycle Tracking app, can also be removed.
A source familiar with the matter confirmed Apple's plans to make the above apps "deletable" in watchOS 6, the publication said. Other apps, including Heart Rate and Messages, will remain unremovable.
The forthcoming feature is in part thanks to Apple's introduction of a
dedicated watchOS App Store
. Devices running watchOS 6 will be able to install apps directly from Apple's servers without assistance from a host iPhone, and run independent watchOS titles without a companion iOS app.
The change expands customization options for Apple's wearable. Currently, users can delete third-party apps directly from the Apple Watch home screen. Certain built-in apps tied to iOS counterparts, such as Activity, Contacts and Calendar, can also be removed by deleting a partner app on iPhone.
Apple made a similar modification to built-in app handling on iPhone and iPad in 2016, when the company eased OS restrictions and granted users the ability to
remove native apps
with iOS 10.