Review: Kenu BingeBank lets you watch Netflix while charging
Posted:
in iPhone
edited January 2021
The Kenu BingeBank is a portable battery pack that packs not only a wireless charger, but a kickstand for easily consuming video while powering up.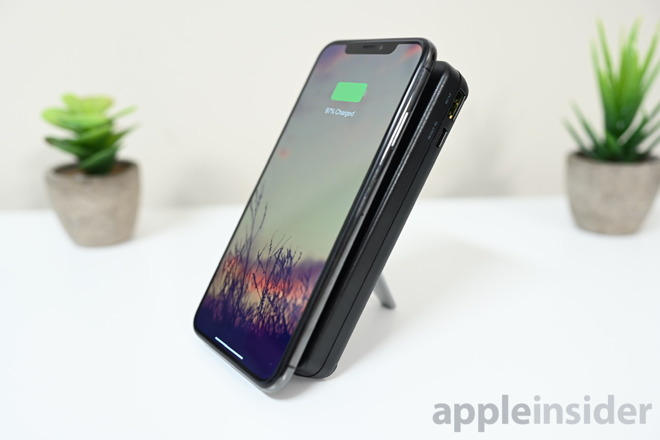 Kenu BingeBank battery pack
BingeBank is the latest accessory from Kenu, known for its excellent in-car mounts and chargers. They've now taken some of what they have learned from those accessories and applied it to a battery pack for the unique design.
Charge and chill
It starts with a large rectangular shape, as do nearly all battery packs on the market. It is plastic with a slightly textured feel and quite a bit of heft. On one side is a die-cast metal kickstand that springs out to prop up the battery. Not just vertically, but horizontally as well. The latter being great for watching videos.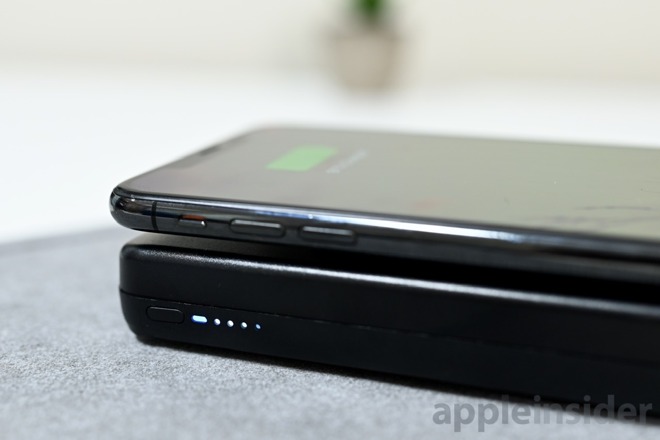 Kenu BingeBank status lights
To keep the phone in place while the kickstand is deployed, Kenu relied on a material often found in car chargers -- nanosuction foam. This is a soft, rubbery mat that when it makes contact with a smooth surface, engages what amounts to countless tiny suction cups along the surface. Hence the name, nanosuction. We're very familiar with the material which easily works with most smooth and glossy surfaces. That could be a case or the back of your phone.
If you have some other material around your phone, like a leather case, a textured skin, or a popsocket affixed, Kenu includes a small stand to attach instead that will keep the phone properly aligned. This stand is a big of an afterthought and isn't much more than a piece of plastic with a pre-bent corner. If you are going to need to use this, you may be better off with a difference case. This 10,000mAh battery really is best suited for using that nanosuction.
Multiple chargers
While propped up, the phone is able to charge up via the Qi wireless charger. It delivers power to your phone while you get to watch a movie. This works extremely well and if you watch a lot of media on your phone, then the BingeBank is perfect for you. Not just while you are on the road, but even just at your desk as a wireless charging stand.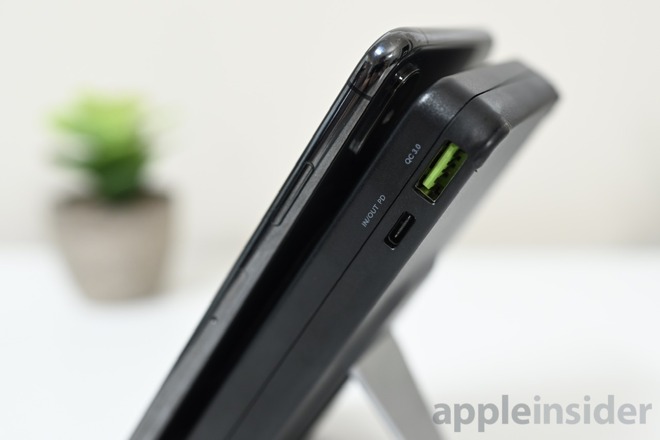 Kenu BingeBank USB ports
Along the side are two additional ports -- a USB-C port and a USB-A port. The USB-C port in particular is a USB-C Power Delivery port with up to 18W of power delivered. That is enough to fast charge an iPhone or more quickly charge an iPad.
Kenu doesn't include a wall adapter in the box, so you will need to provide your own. It needs to be powerful enough to charge up the battery fast so use one for the iPad Pro or MacBook if you can.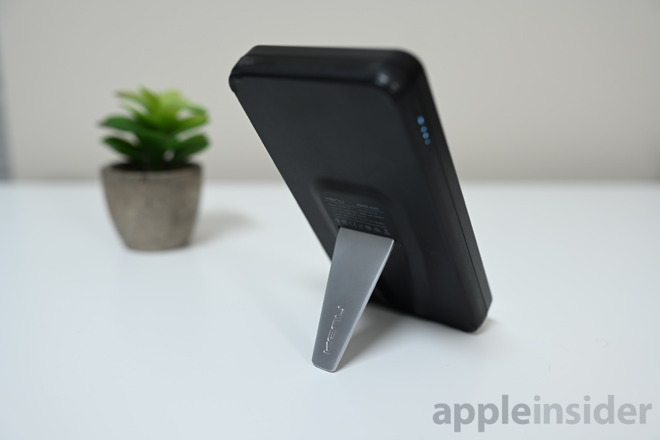 Kenu BingeBank works vertically and horizontally
There are a few different tricks to know with this battery too. The ports are fast and don't do well with small devices like AirPods or the Apple Watch. To charge these small device, you need to enable low-power mode by double tapping the button on the side. This will allow trickle charge of these small accessories.
If you are charging the battery pack and want to use wireless charging at the same time, you too need to double press the button to activate it. It isn't a hard thing to remember, just something that has to be known to use.
Not your average battery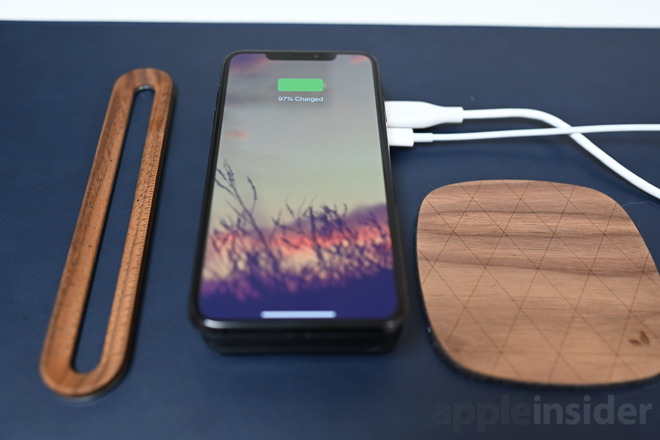 Kenu BingeBank
The Kenu BingeBank isn't your run-of-the-mill battery. It embraces wireless charging, fast USB-C, a handy kickstand, and a nanosuction panel to keep your device in place while charging.
This isn't going to be for everyone but there are certainly a large number of eager iPhone users who have been waiting for a product just like this.
Rating: 4 out of 5
Where to buy
You can pick up the Kenu BingeBank
starting today for $59.99
.