Delta is first airline to use Apple's Business Chat to help customers
Delta is testing Apple's Business Chat with a select group of customers over the summer, and plans to bring it to all passengers in the fall.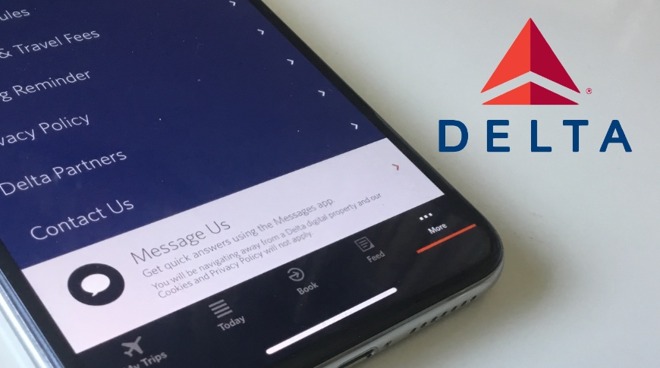 One way to use the service will be via the new Message Us section of the Fly Delta app
Delta is using
Apple's Business Chat
feature in Messages to provide help to its customers in what the company claims is a first for an airline.
The feature will enable passengers to ask questions and receive answers via Messages. These may be automated responses to frequently-asked questions, or it can be a live message conversation with a Delta representative.
"This is about connecting with our customers where they are and many have told us that they'd rather message with us than engage on other channels like the phone, email or social media," said Tori Forbes-Roberts, Delta's vice president of Reservation Sales and Customer Care
in an announcement
.
"Messaging is fast," she continued. "It's easy and it empowers our customers to connect with us on their terms -- messages will even be saved and remain available so customers have a lifeline to Delta when they need it most."
She reports that Delta expects this service to cut down on the waiting times passengers currently have. At any point, a customer can ask to speak to a Delta employee in Messages, but the expectation is that the automated responses will reduce the demand on those representatives.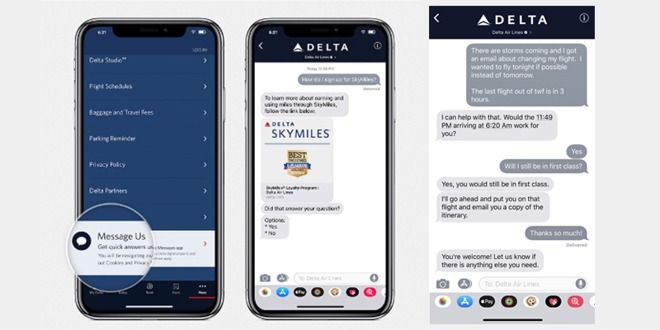 How Delta's Business Chat will work. (Source: Delta)
"We want Delta customers to feel in full control of their experience with Delta," added Rhonda Crawford, vice president of Distribution and Digital Channels. "Integrating the Messages functionality into the
Fly Delta
app is an important part of our ongoing work to position our mobile platform as the consummate travel companion."
Over the summer, certain customers will see a "Go Now" link in emailed travel documents. Tapping on the link on an iPhone or iPad opens Messages and begins Delta's "Need Help" service.
Delta did not specify how many customers would be involved in the test phase. However, it did say that a smaller set will also be able to use Messages from directly within the Fly Delta app.
Delta's use of Apple's Business Chat within Messages comes shortly after
Shopify announced
that it was bringing the service to all 800,000 of its merchant customers.