UK carrier EE offering sport and Apple TV 4K bundle
Alongside its regular Freeview TV set top box, EE is now offering its UK broadband customers the option of instead choosing a sports package and an Apple TV 4K -- but it isn't necessarily the best choice for consumers.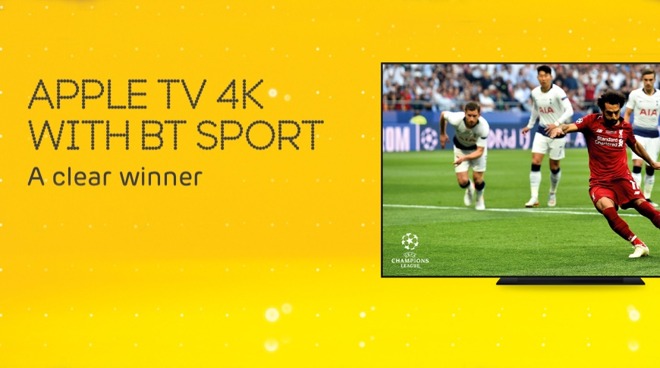 Detail from EE UK's promotional deal with Apple TV 4K and BT Sport
EE, the UK cell carrier and broadband supplier owned by BT,
has announced
an optional deal for new customers which effectively gets them a free Apple TV 4K. Users have to subscribe to the BT Sports package, but if they choose to do that, they can receive an Apple TV 4K -- instead of EE's regular set-top box.
EE told
AppleInsider
that this is a new deal that customers could opt for if they choose. It is not that EE has dropped its previous set-top box deals.
"We're giving customers the TV, film and sport they love in the best quality on Apple TV 4K," said Marc Allera, CEO of BT's Consumer division. "By combining Apple TV 4K and BT Sport with EE's award-winning unlimited home broadband, we're able to provide our customers with a premium TV service that not only provides great value for money, but a great experience at home, as well as on the go."
The deal is that, if you are also an EE cell user, you can subscribe to BT Sport from 37 pounds ($47) per month, and get the Apple TV 4K free.
If you do this, though, you do not get EE's Freeview box. Freeview is the name for the UK's free-to-air terrestrial service which provides around 70 channels including the major networks such as BBC1 and ITV.
Currently, the majority of those 70 channels are not available via Apple TV and only a very few of those you can get are free. Third-party aggregator apps such as the poorly-reviewed
Now TV
are available, but do not provide all the Freeview channels, and they require a separate subscription.
It's possible that UK broadcasters will join the lineup of services on
Apple TV+
when it launches later this year, but none have announced as much.
Additionally, customers who elect to get an Apple TV 4K instead of Freeview lose the regular set top box's ability to record live TV.