Hands on: Use the Adonit Photogrip Qi for a new way to shoot iPhone photos
Posted:
in iPhone
edited June 2019
Apple makes one of the best smartphone cameras available on the market. Adonit wants to take your iPhone photography to the next level with their PhotoGrip Qi.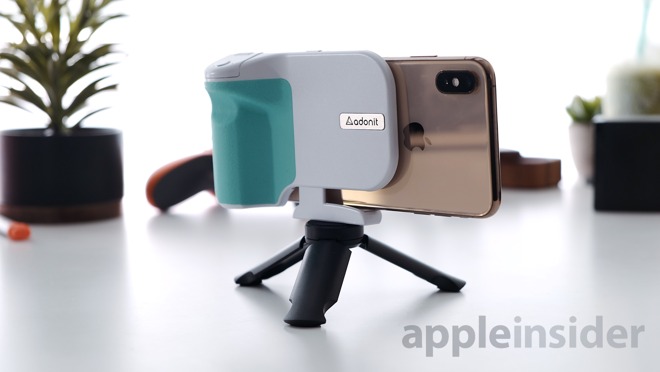 Adonit PhotoGrip Qi with Tripod
Take better photos
The PhotoGrip Qi from Adonit is a camera grip that can also wirelessly charge your iPhone, whether it's the iPhone 8, iPhone X, or iPhone XS.
The
Adonit PhotoGrip Qi
comes in two different color options, Black, and White and Mint. The whole assembly is made out of a combination of silicone and plastic, and it feels really good to hold.
It's compatible with almost any smartphone with a 4.5-inch screen or larger, and whether it's an iPhone or an Android, it should work without an issue. The PhotoGrip Qi also packs a 3000mAh battery which should fully charge an iPhone XS just fine, and all of this connects via USB-C.
Most cases should be compatible with the PhotoGrip Qi. Unfortunately Apple's smart battery case won't sit properly since it's thicker, but regular cases will work just fine.
Out of the box you get the shutter grip combo, a carrying pouch, a neck strap, a mini tripod, and a USB-C cable.
It's a versatile photo accessory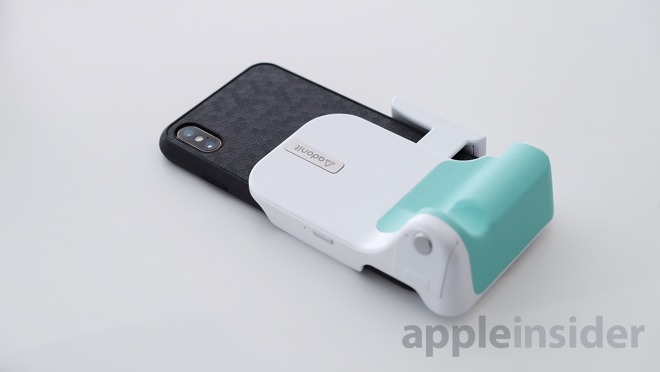 Adonit PhotoGrip Qi with iPhone XS Max in a case
The PhotoGrip is a bluetooth shutter button for your iPhone that you can use to take the perfect selfie or photo. The grip's shutter button can also be detached to use as a remote shutter so you don't have to enable the timer function on the camera app.
The grip itself can also be used as a stand, so you can prop it up and use it to make FaceTime calls or record a video hands-free. The mini tripod that it comes with can be screwed directly to the grip itself to give you more flexibility when you want to prop your phone up horizontally.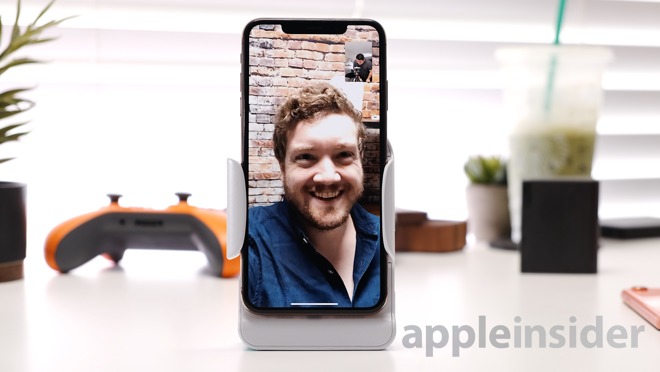 FaceTime with Adonit PhotoGrip Qi
Charge up while shooting
This camera grip is that it has a built-in 3000mAh battery, so if you're running low on juice, or if you're constantly using the phone to capture videos or photos, you can wirelessly charge the phone while it's on the grip. You don't need to take the phone out, plug in your phone and wait for it to charge -- you can simply sit your iPhone on the grip, press the side button once and it'll start charging your phone wirelessly.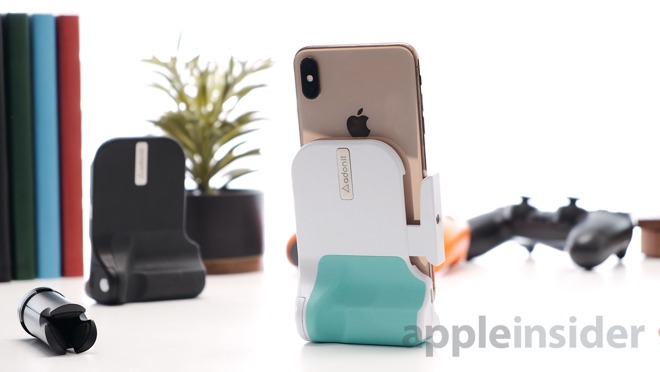 Adonit PhotoGrip Qi in White/Mint Color
If you're an avid iPhone photographer or videographer then definitely look into the PhotoGrip Qi, it's a great accessory to have in your bag for moments when you need an accessory to help you shoot photos or videos while also keeping your iPhone charged.
Where to buy
The
Adonit PhotoGrip Qi
retails for $59.99 and is available in your choice of two colors at Amazon.com.