Hands on with Chalonne's $1700+ luxury Apple Watch band
Chalonne is a meticulous accessory maker who has embraced the luxury market for Apple Watch bands, and they sell a $1700 Napa leather, gold, and pearl strap for Apple Watch. Let's take a look at it.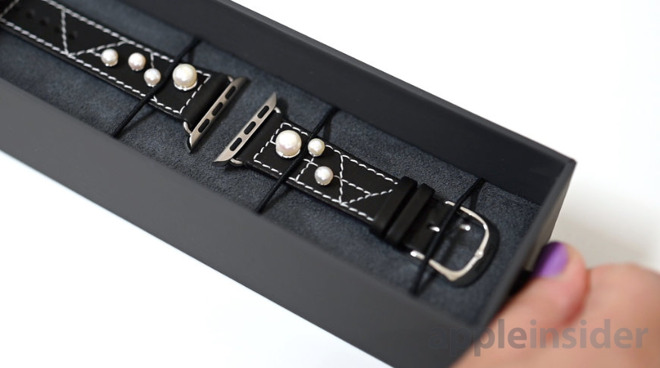 Chalonne luxury Apple Watch band in its box
Apple Watch luxury
Apple may have mostly abandoned its super high-end luxury aspirations for the Apple Watch, but that doesn't mean the category is dead. Rather than investing in a ten thousand dollar Apple Watch that is out of date after a year, those looking to step up their fashion game can grab any model and outfit it with any number of high-end bands.
One of those filling that void, is Chalonne. Chalonne has over a dozen fashionable styles available, all with varying amounts of leather, jewels, and other eclectic details. The bands Chalonne makes are all crafted in France and come in price-wise well above the luxury Hermes bands that Apple currently sells.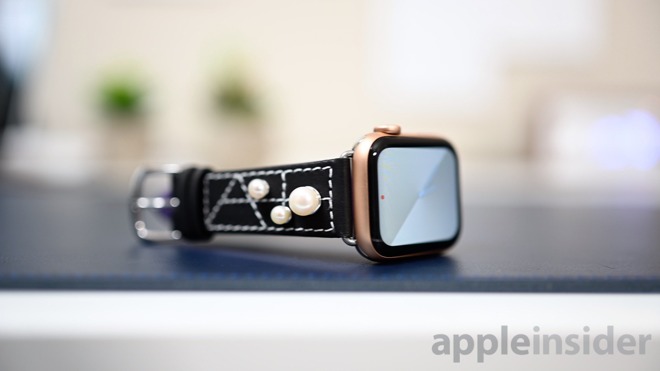 Chalonne luxury Apple Watch band made of Napa leather & freshwater pearls
This particular model is crafted from exceptionally soft ebony black Napa leather on the outside and purple on the inside, stitched together by contrasting white thread. Affixed to that exterior, are seven freshwater pearls of various sizes, set into 14K white gold.
While that seems extravagant, it falls near the middle of the Chalonne lineup. Bling-less leather straps run a mere $700 while alligator leather and diamond pyramids will set you back upwards of $8000.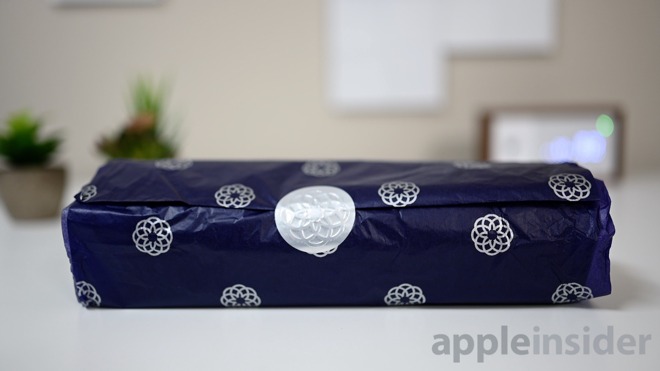 Chalonne watch band packaging
The detailed work on this band is quite nice -- personal opinions on the design aside. Even the packing is exorbitant. The band comes nestled in a sturdy jewelers watch box lined with a soft, plush material. That too is wrapped in custom tissue paper with the Chalonne logo metallically embossed.
The band that we tried out felt nice to wear and was similar to other high end leather bands. It is a bit stiff out of the box but easily gets broken in after a few times being worn. What we always love about leather is how it molds to its wearer and feels comfortable, sturdy, yet solid.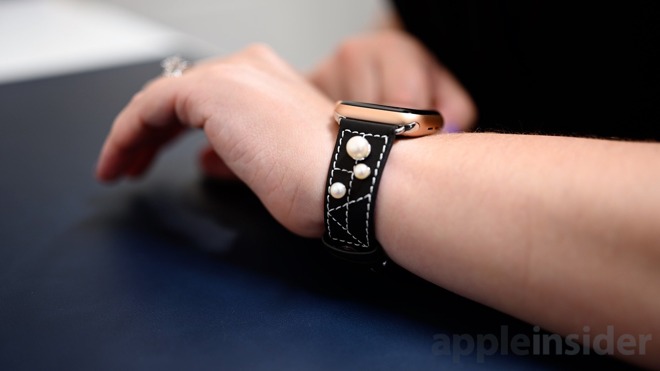 Chalonne pearl Apple Watch band
One issue we did have was that the bands aren't available in the gold lugs -- stainless or anodized aluminum. All of Chalonne's bands are available in both 38/40mm and 42/44mm sizes in silver or black. Those colors are common, but when we are going for the most expensive or fashion-forward Apple Watch, we think of the gold. Since the lugs are so easily swapped, one could do that themselves but it seems like a missed opportunity.
A fashionable statement
High fashion has always been polarizing, meant to be a statement, and doesn't always fit everyone's taste. There are certainly designs that we feel are more appealing and slightly less ostentatious. Personally, I'd be a bit apprehensive about accidentally bumping my band and setting one of the pearls free across the floor, never to be found again. They feel solidly in place, but would be on my mind none-the-less.
Still, the luxury market is still riving and those who are looking for something that is even more unique than Apple's offering of Hermes bands now have a solid option.
If you want to outfit your own Apple Watch with one of these luxury high-fashion bands, you can pick them up
from Chalonne's website
.