Fall iPhone refresh may remove 3D Touch from all 2019 models
The 2019 iPhone refresh could see the wholesale removal of 3D Touch from all models, a supply chain report claims, with the tactile touchscreen interaction potentially switched out for Haptic Touch across the three models due this fall.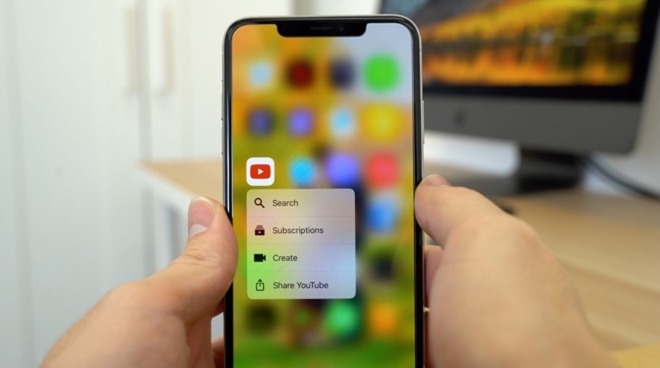 3D Touch quick actions on an iPhone XS
The iPhone's 3D Touch has been a long-term feature of the smartphone over the last few years, providing users with the ability to access a select number of functions from an app without opening it conventionally. The ability to bring up the menu may not necessarily be available for the
2019 launches
, however.
According to industry
sources
of
DigiTimes
, long-term
Apple suppliers
TPK Holding and General Interface Solution are tipped to see sales grow in the second half of 2019. The same sources also claim "Apple may remove 3D Touch sensors from all 2019 iPhone devices."
In the current generation, the iPhone XS and iPhone XS Max offer 3D Touch capabilities, while the challenges of producing the iPhone XR's edge-to-edge LCD display meant it had to use a new similar interface type called
Haptic Touch
. If the report is right, this could mean 3D Touch could be replaced by Haptic Touch on all iPhone models due this year.
Reports from
DigiTimes
have mixed results in terms of predicting what actually makes it into future Apple product launches, so there is a chance it may be incorrect. However, switching away from 3D Touch may be beneficial to Apple as it removes the need to include pressure sensitivity to the iPhone display, saving space inside the case as well as the cost of production.
Despite the alleged removal of 3D Touch, report sources claim the companies will see strong sales due to continued orders for legacy iPhone models that use 3D Touch, as well as for touch modules destined for use in new iPad and MacBook models. In the case of GIS, chairman Chou Hsien-ying advised production is likely to ramp up from 500,000 to 600,000 units per month seen in the first half of the year to a million for the second half.