Apple Pay forecast to narrow gap with PayPal, hit $190B in 2022
Posted:
in iPhone
edited December 2019
While it's likely to remain a distant second in terms of overall transactions, Apple Pay is poised to narrow the volume gap with rival platform PayPal in next few years, according to Morgan Stanley analysts.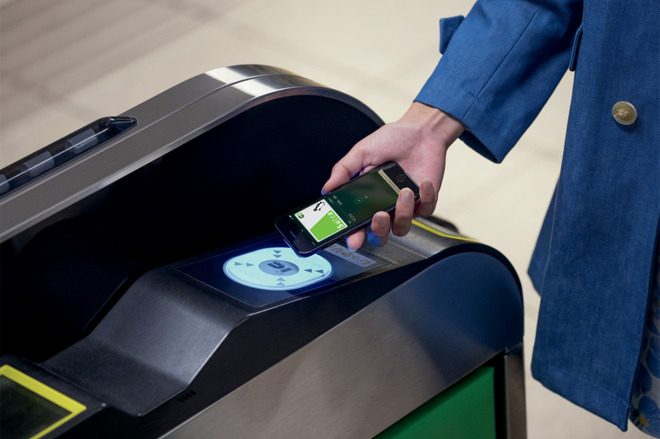 Apple Pay
transactions are forecast to reach $190 billion in 2022, and $304 billion by 2027, the firm said in a memo issued on Wednesday. That ranks against PayPal figures of $431 billion and $579 billion, respectively, though excluding any offline wallet possibilities, which could theoretically add as much as $257 billion to PayPal's volume by 2027.
While PayPal has "the best consumer penetration by far," Apple is "the clear leader among app/phone-based digital wallets, and has seen 300bps [basis points] of growth in online usage since summer 2018 survey," the memo continued.
"We expect the new Apple Card, launching this summer with Goldman Sachs and Mastercard and 2% cash back on Apple Pay purchases, will help drive up Apple Pay awareness and usage," the analysts added.
In a second memo Morgan Stanley positioned
the Apple Card
as a win-win for Apple and Goldman Sachs, the former by driving more people to Apple stores -- where Apple reaps higher profits -- as well as by increasing awareness of the Apple Wallet and Apple Pay, and boosting overall services revenue.
For Goldman Sachs the card is expected to aid a strategy towards "a more stable revenue source than trading revenues," and perhaps lure Apple Card customers into cross-selling opportunities, or at least raising brand visibility.
The two companies will likely change the card's reward structure within the first two years, the analysts said, because it could draw in "materially more card holders" who would spend more on Apple Pay and other services.
"We believe a rewards boost, such as to 5% at Apple Stores, 3% on Apple Pay, or inclusion of a new category such as dining, would significantly increase the card uptake and the EPS benefit," the second memo argued. "Apple could fund this reward boost from the higher margin generated by pulling 3rd party sales to its own retail and on-line stores."
The Apple Card is
currently in testing
ahead of a launch within the next few months. Though primarily digital, owners will also get a real-world titanium card for cases when Apple Pay isn't available.