Tim Cook and Eddy Cue arrive at Sun Valley to talk Apple TV+
Apple CEO Tim Cook has been spotted alongside SVP of Internet Software and Services Eddy Cue arriving at the annual Allen & Co. Sun Valley Conference, where the pair are expected to talk with the chiefs of other tech companies and media moguls abut the upcoming Apple TV+ service.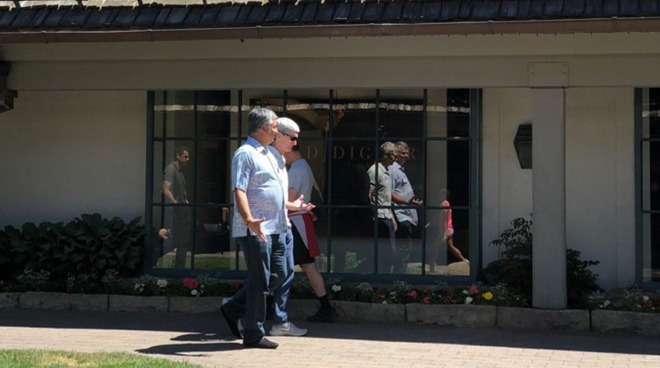 Apple's Tim Cook and Eddy Cue at Sun Valley 2018 (via Alex Heath/Twitter)
The
Sun Valley Conference
is a venue for the leaders of major corporations to make deals, with many major media deals usually agreed at the Idaho event each year. Hosted by Allen & Co., the conference is an invitation-only affair, with Cook
making his eighth
consecutive appearance and Cook's sixth.
Other major executives in attendance as
reported
by
CNBC
include Comcast CEO Brian Roberts, CBS and Viacom vice-chairwoman Shari Redstone, Facebook COO Sheryl Sandberg, Twitter CEO Dick Costolo, and Discovery president and CEO David Zaslav.
It is highly likely Tim Cook and
Eddy Cue
will use the opportunity to broker behind-the-scenes deals with other media giants at the event, to help bring more shows to its upcoming
Apple TV+
original content subscription, due to arrive later in 2019. For Apple TV, Cue
recently claimed
Apple is working on "creating the best" video content" instead of "creating the most," a potential dig at the massive production efforts of its rivals.
While the strategy could potentially allow it to stand out in a market that is already dominated by Netflix and Amazon Prime Video, it is also set to be joined by efforts from
Disney
and
HBO
, among other heavy hitters.
Apple may also seek to gain some traction for other subscription services, including
Apple Arcade
and Apple News+, with the presence of other CEOs at the conference likely to result in the creation of new deals.
Examples of other major deals to have occurred at Sun Valley include Disney's buyout of ABC/Capital Cities worth $19 billion, and the takeover of the
Washington Post
by Amazon founder Jeff Bezos.