'Sign in with Apple' may only limit tracking, not eliminate it
"Sign in with Apple," launching alongside this fall's iOS 13, will make it harder for advertisers and other parties to track people -- but data collection is possible, a report indicated on Thursday.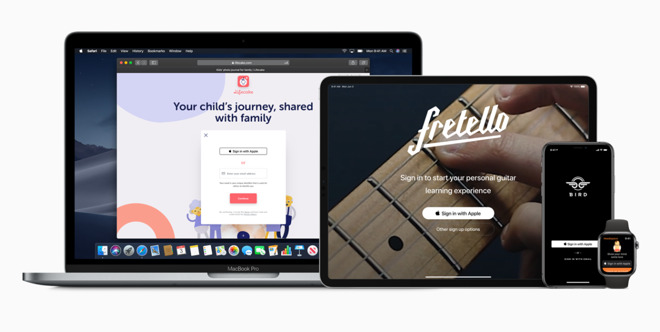 Apple's use of one-off email addresses for each login is meant to limit how much data a company can collect, and allow people to sever ties at will. But, at present, it isn't clear how much it will slow down enterprise or data aggregators.
"With that type of solution, our match rate will be decreasing for sure," Arm Treasure Data CTO Kazuki Ota
explained
to
TechRepublic
.
That being said, companies like Treasure Data already have technology that can "clean" and unify multiple IDs under a single profile, Ota continued. This matters because people often interact with multiple brands under the same corporate umbrella, giving that parent business the ability to piece together information about location, demographics, and habits.
"It won't be perfect, to be honest, because 100% clean data is almost an imaginary situation," Ota remarked.
Apple has explicitly marketed
Sign in with Apple
as a
privacy-minded alternative
to login services by Facebook, Twitter, Google, and others. The company has come under fire for not only making it mandatory when those third-party services are offered, but even asking that its own button be
placed above all others
.
The OpenID Foundation has pointed out that Apple's technology bears a lot of similarities with OpenID Connect, but has
serious gaps
affecting security and development.