Hands on: Pixelmator Pro 1.4 brings full image editing tools to Apple Photos
Updated on Tuesday, all of the features of image editor Pixelmator Pro are now available within Apple's Photos, giving the default app far more powerful editing tools than before.
Pixelmator Pro (left) is bringing powerful image editing tools to Apple Photos
On Tuesday, the makers of Pixelmator Pro updated the app -- and brought its features into Apple's own Photos. Right within Photos, you can now use all of
Pixelmator Pro 1.4
's tools on an image, and everything is saved in Apple's app. You get the rich extra functionality of a full-blown image editing app, but you never have to actually open it.
You will, because you don't work exclusively on images that you store in Photos, but you don't have to. If you're used to doing only the most rudimentary edits in Photos, and especially if you're used to instead exporting an image to another editor, the abilities this update gives you are striking.
It could be smoother to get into and out of, although that's entirely because of how Apple organizes its Photos app and what are called Photos Extensions.
Within Photos, you find an image, and then click on
Edit
. Apple has steadily improved the features in Photos so that it does now have more and better editing tools than it ever has before, but now you can have much more. They're hidden behind a
More
button, though it's not labelled. Instead, it's a button with an icon of ellipses that is very easy to not notice, but it is there.
It's toward the top left, located between an
Info
button to the left, and a
Favorite
button to the right.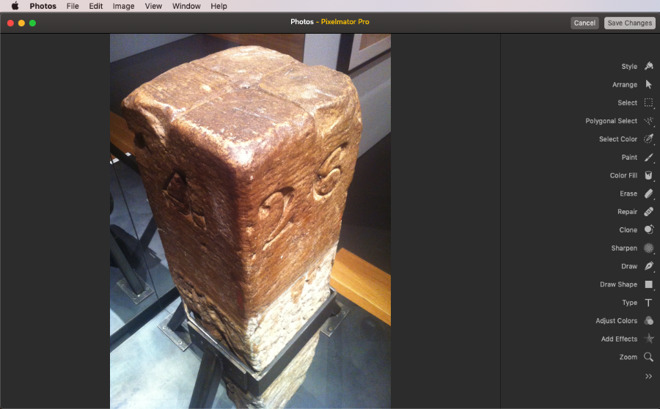 Using Pixelmator Pro's tools right within Apple Photos
Click on that and you will get options including Apple's own Markup option, and
Pixelmator Pro
.
If it's a Live Photo that you're editing, then when you click
Pixelmator Pro
, you get a warning that the Live element is going to be switched off. External editors like this can only work on single images. Then it takes a moment, but the Apple Photos editing tools disappear and Pixelmator Pro's ones appear in their place. Or rather, the main Pixelmator Pro toolbar does.
There are small differences between editing an image this way and doing it in the full Pixelmator Pro app, but they really are small. Within the full app you get a title bar that includes various options from rulers to the crop tool. The title bar does not appear in Photos and nor do the Pixelmator Pro menus.
Yet you can still use the features that are in those missing bar and menu, if you know the right keyboard shortcut. The one thing you can't use is the Help feature -- Help in Photos solely shows you answers about Apple's app. You have to open the full Pixelmator Pro app if you need to consult Help about that.
So it can take getting some used to where certain features are, perhaps most especially the crop tool. Unlike any other image editor we can think of, crop is in this separate title bar instead of grouped with the rest of the tools.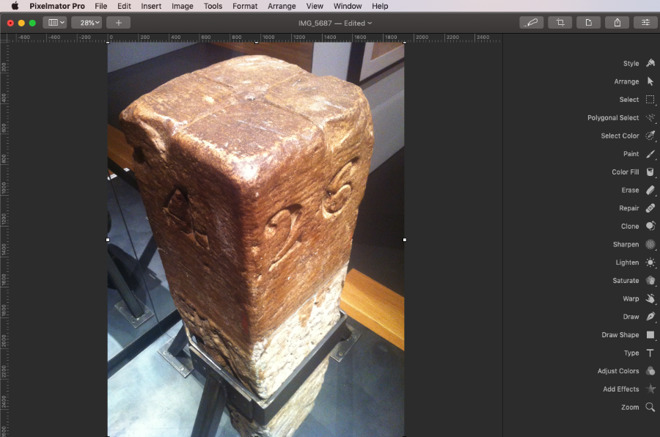 Editing the same image in the full Pixelmator Pro app
It's there to save room in the toolbar and it's meant to be more prominent because it's such an often-used option. Within Pixelmator Pro itself, though, you soon get used to just tapping the C key and that works within the Photos Extension too.
When you're done making your edits, you click the
Save Changes
button -- and then Photos asks you just how you want them saved. You can simply have the newly edited photo replace the old one within Photos, or you can
Preserve Edits
.
If you choose to preserve your edits, the next time you open up this image and go into Pixelmator Pro's Photos Extension, all of your previous edits will be there. You can undo them, even when you go back into the image later. However, you can't make an image be a Live Photo again.
It would be good if choosing to save and close the image were enough to take you back into where you can see your entire Photos library. Instead, when this image is saved, you're returned to editing it in Photos and have to click a
Done
button to go back to the library.
Yet it's still smoother and simpler than a regular round-trip approach when you physically take an image out of Photos, edit it in another app, and return it. Pixelmator Pro is not the first to provide a Photos Extension, but it does it very well.
With
Affinity Photo
, for instance, you can successfully apply various subsets of that app's tools within Photos by choosing different sets under
Edit In
. If you want the lot, though, if you want all of the tools of that exceptional image editor, you can't have them within Photos.
Instead, you end up having Photos automatically opening Affinity Photo and moving the image over to it. Plus there's a quite long-standing bug where you can't edit a Photos image in Affinity Photo by clicking through that
More
button, yet you can if you right-click on the photo and choose
Edit With
Other developers offer editing facilities when you right-click on an image in Photos, but typically it works the same as Affinity Photo and sees your Mac taking you to the other app. It's very clunky -- some PDF editors just open without receiving the photo, for instance. Others ask if you want to open it, but that question is hidden behind the Photos app so you just think nothing is happening.
In comparison, Pixelmator Pro 1.4 is a particularly powerful way of adding far greater image editing tools than Apple Photos had, and it's done as smoothly as it can be.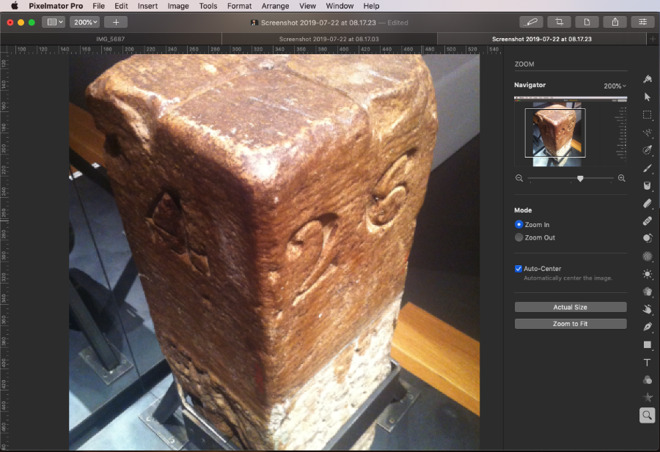 Pixelmator Pro 1.4 also adds a new zoom and (to the right) navigator to help you move around a zoomed image
If the most prominent update in the new Pixelmator Pro 1.4 is this integration with Photos, it's not the only one. Tools have been redesigned or repositioned for easier use, and there are new options such as a Zoom tool which improves how you move around a zoomed-in image.
Pixelmator Pro 1.4, also known as Hummingbird, is a free update for existing users. It's
available in the Mac App Store for $39.99
and there will be a discount for owners of the original Pixelmator for Mac app.