US states could also investigate Apple & others over antitrust concerns
The US Attorney General William Barr has met with a number of state attorneys general on Thursday to talk about Apple and other major tech firms, discussing the impact of the companies on competition and looking into antitrust motions against the firms.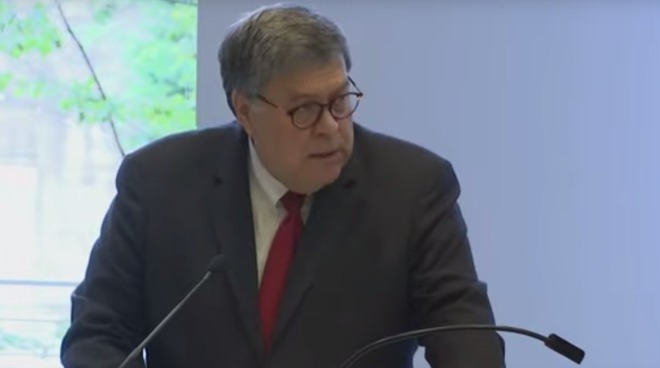 US Attorney General William Barr recently speaking about encryption
The meeting focused on "big tech companies stifling competition on the internet," a statement from Barr's office advises. "It was a productive meeting and we're considering a range of possible antitrust actions against such companies."
Eight state attorneys are
reported
by
Reuters
to have been in attendance, though while they were not identified in the statement, four states have since identified themselves as being represented at the meeting. Representatives from New York, Florida, Mississippi, and Louisiana are said to have made it to Thursday's gathering.
The "big tech companies" are, as usual, unidentified by the statement, but are believed to refer to Apple alongside Alphabet, Amazon, and Facebook.
The meeting follows two days after the
U.S. Department of Justice
announced it will be holding an antitrust review into major technology corporations, and their affect on competition in fields like search, social media, and online retail. There are also separate probes by the US DOJ into Apple and Google's alleged monopolization, but elements may overlap with the new DOJ review.
The
Federal Trade Commission
has also been working on its own antitrust efforts since February, appointing a task force to monitor the industry.
Representatives from each of the four companies have already spoken to the
House Judiciary Committee
on the topic, with the House Antitrust Subcommittee investigating "platform gatekeepers" and "dominant firms." The subject of antitrust has also been brought up in the
2020 Presidential race
, with a break-up of big firms called for by Sen. Elizabeth Warren.
This is not the only technology-related area Barr has waded into this week. On Tuesday, he waded into the
ongoing encryption debate
, claiming encryption is "already imposing huge costs on society" by making it hard for law enforcement to investigate crimes, while also calling for tech firms to stop producing "dogmatic pronouncements" against backdoors and to instead produce them.