Review: AxisGO underwater housing helps capture stunning images
Posted:
in iPhone
edited January 21
The AxisGO system finally lets you take your iPhone below the surface to capture outstanding photos and videos beneath the waves.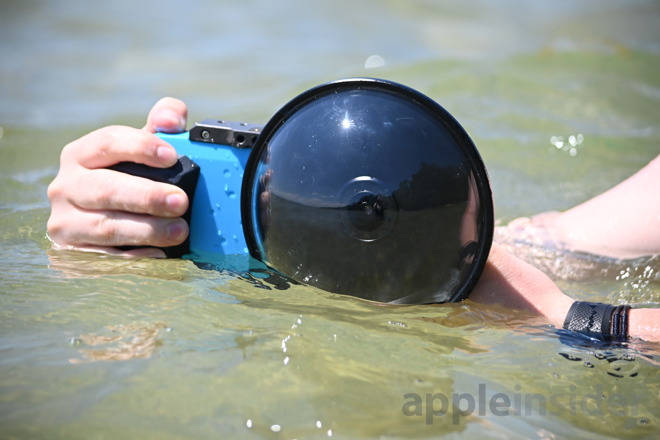 Apple's iPhone does have some degree of water resistance but it certainly isn't up for the tasking of shooting videos and photos underwater. But the AxisGO underwater imaging system for iPhone, compete with lenses and other accessories, is.
Being a photographer, I'm always looking to push my iPhone to the limits in what it can do, sometimes preferring it over to the heft and forethought my Z 7 mirrorless shooter requires.
When we stumbled upon the AxisGO it was a no-brainer that we wanted to pick one up. In our case, we grabbed the AxisGO for our iPhone XS Max, which also fits the iPhone XR. Alongside it nabbed the six-inch dome lens and wrist strap.
The rugged housing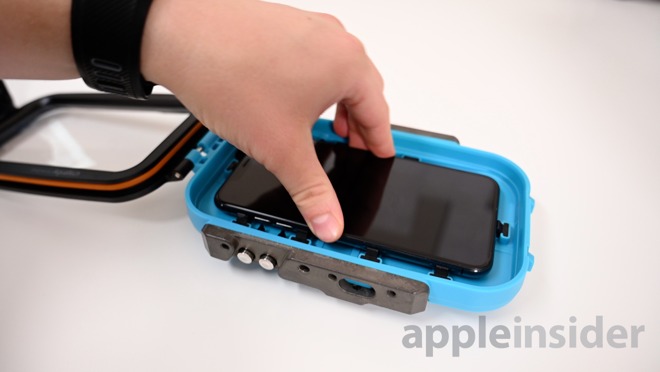 Installing an iPhone XS Max in the AxisGO housing
Our iPhone XS Max fits into the large AxisGO housing easily, with several spacers keeping it locked in place and precisely centered in the center of the lens. It locks into place securely, requiring quite a bit of force to fully seal.
Once sealed, we did notice a bit of extra air bubbling up in front of the clear material that covers the display. The extra air did make the display harder to use -- not impossible, but harder. We got better at getting some of that air out from the beginning as our shoots progressed.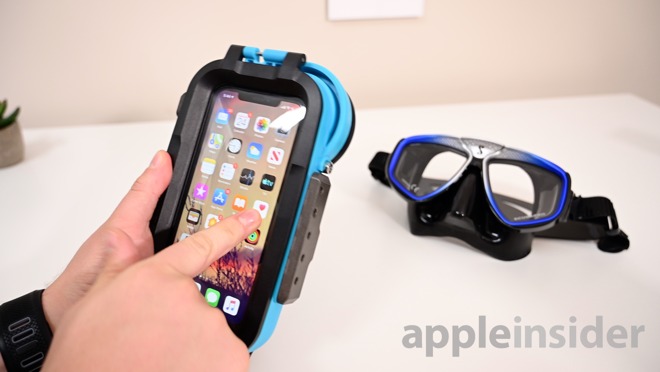 With the housing around the phone, the iPhone is completely usable. Face ID works to authenticate and metal watertight buttons on the left and right operate the sleep/wake and volume buttons.
The housing itself is very large. It is made of plastic and hefty metal which makes us feel comfortable using our expensive iPhone in it below the water's surface. To alleviate this with the right gear, several threads are on the metal sides that could be used to mount to a frame or tripod, or some other kind of frame.
Most iPhone photographers know that the volume rocker can pull double duty as a shutter button and that is what we used most often with the AxisGO system. One downside is that the way Apple positioned the volume buttons, it puts the lens on the bottom of the phone if we want to shoot with our right hand.
Having the lens down on the lower edge feels odd while shooting so we preferred to flip the phone upside down and fire off the images with our left thumb.
Anchor points exist on the left and right sides to add a wrist strap for added security to ensure your investment doesn't wash away.
A swappable lens system
On the front of the AxisGO housing is a swappable lens mount. By default, it comes with a standard wide-angle lens that supports both the wide and tele lens of the XS Max. This lens can be unscrewed and shaped for other lenses, whether the ones that are out now or as others are developed in the future.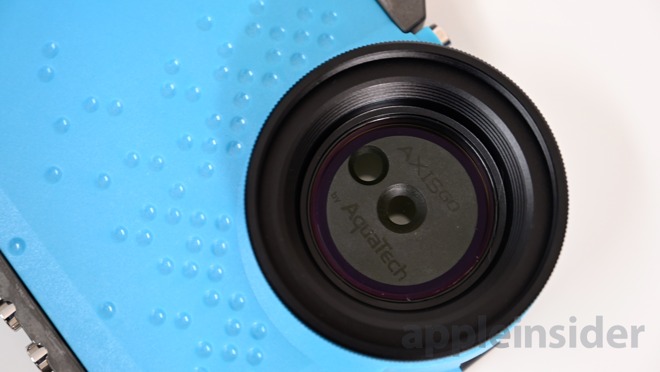 AxisGO has a swappable lens system
We liked shooting underwater with a dome lens, something we've done before but that gets very expensive quite quick. A dome lens allows for some exceptionally stunning images, including those surreal shots that are half above water and half below.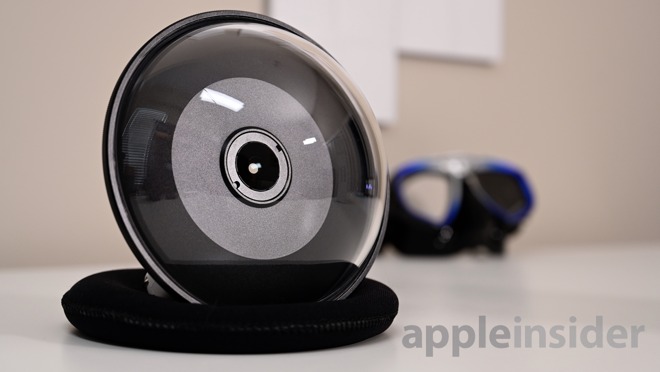 The AxisGO 6-inch Ultra Wide dome lens
That's why we picked up the Ultra Wide Angle 6-Inch Dome Port MK II. It is massive, on an already large housing. This makes an already hefty setup even more unwieldy. In water, it isn't as nearly as bulky as it is above water.
It is import to keep a cover on this lens while not in use. It wouldn't take much to scratch the lens and subsequent images. Aquatech does offer a cleaning kit for the lens to help remove scratches of various degrees, but we'd prefer to get ahead of it and not have to result to cleaning it.
The lens cover provided is made of neoprene -- think a standard wetsuit -- and covers the entire dome. But, it leaves the back exposed when not mounted to the housing. We wish there was some sort of protection for the back as well when we travel with both the dome and standard wide angle lens.
Hit the water, shoot some pics
'
We took to the open water to try out our new AxisGO system and had a small learning curve to overcome. For one, water isn't often still, it moves. So as we were trying to line up a perfect shot half above, half below, we struggled to get the water right in the center of the frame.
To overcome this particular issue, when shooting in this way, we started shooting in burst mode that captured a series of images in quick succession. That made sure we got the perfect image.
Another issue we ran into was that while the lens does have a hydrophobic coating on it to repel water, as we breached the surface water could bead on the surface. This would obfuscate our images and even cause the camera system to focus on the water droplets rather than our subject.
The 33 foot depth rating is going to be enough for most users but scuba divers may be left unimpressed, with many dives going past that one bar depth limit.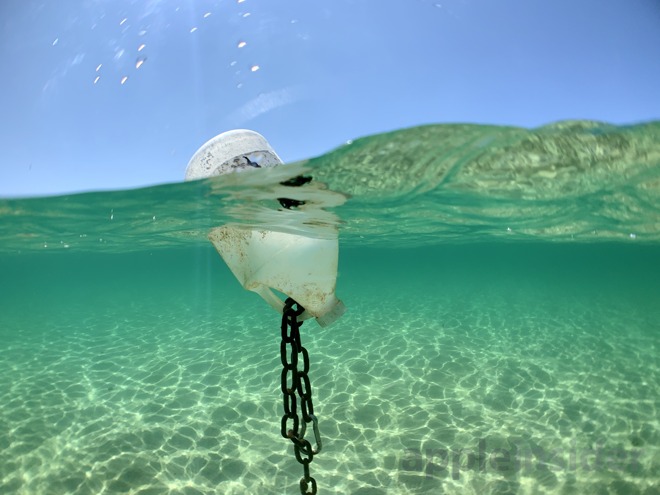 AxisGO sample picture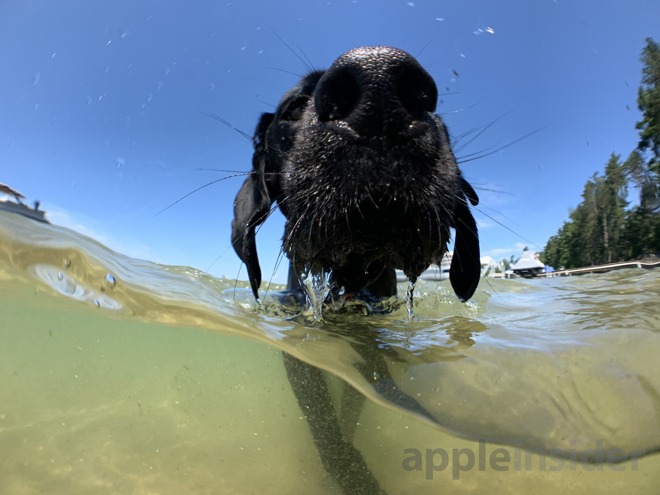 AxisGO sample picture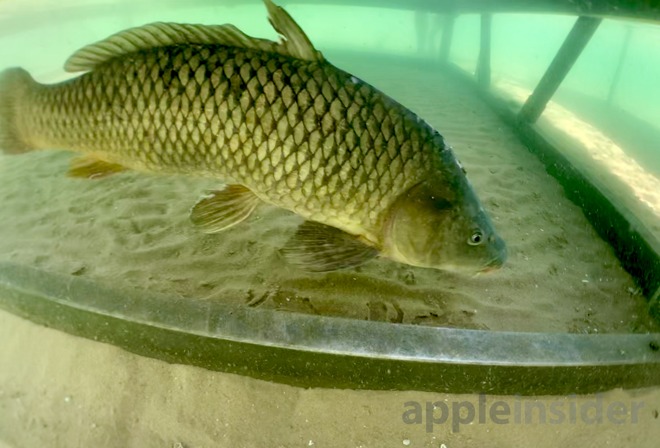 AxisGO sample picture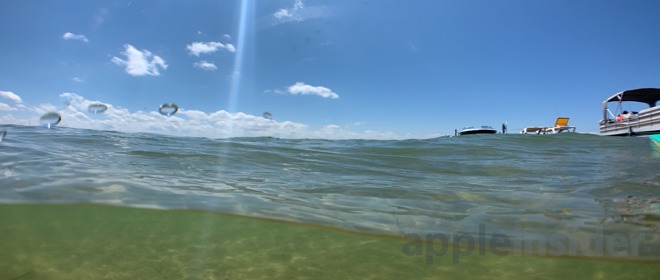 AxisGO sample picture
Once we overcame these issues and got the hang of how best to use the AxisGO system, we started to get some great footage. We took countless pictures and videos with the AxisGO housing and dome lens and were blown away with what we could capture.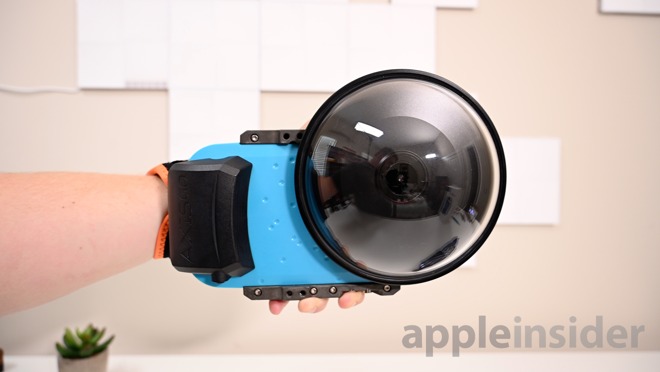 Our pets, fish, and the gorgeous underwater landscapes were far more unique than any cliched sunset we've seen time after time. The only limitation is the photographer's imagination.
Score: 4.5 out of 5
Where to buy
There are multiple parts to the AxisGO underwater imaging system. To pick up the housing which enables some great underwater images in Lightning Blue or Moment Black for various iPhones including the XS, XS Max, and XR for
$199 on Amazon
. The 6-inch dome lens is available as well for ultra wide shots and stylized half above/below shots for
$199 on Amazon as well
. For some added safety, Aquatech also offers a
neoprene wrist strap for $19.95
.