Apple Music beta for Android tests Dark Mode and time-synced lyrics
Apple Music subscribers with Android devices will soon gain access Dark Mode and time-synced lyrics, two new features slated to debut in the iOS version of the app this fall.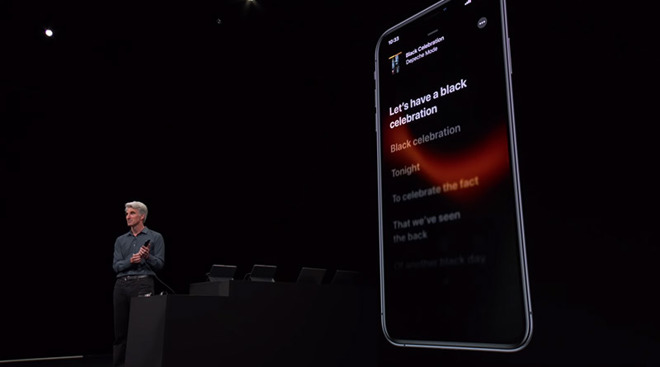 Apple's Craig Federighi demonstrates Dark Mode and time-synced lyrics in Apple Music at WWDC19.
Available now to users taking part in the Apple Music for Android
beta program
, the changes were
first announced
as iOS 13 operating system features at Apple's Worldwide Developers Conference in June.
Anticipated for some time, Dark Mode on iOS inverts onscreen colors for use in low-light environments. Unlike a universal "inverse mode," Apple's option intelligently differentiates images and graphics from text, making for a more natural user experience. Apple introduced Dark Mode on Mac with
macOS Mojave in 2018
.
Demonstrated onstage by SVP of Software Engineering Craig Federighi, time-synced lyrics scroll on screen in large San Francisco type as a song plays, in time with the music. Users are able to navigate to specific phrases and verses in a song by tapping on the lyrics interface.
The feature is an improvement on static lyrics services provided by competing streaming platforms.
While Apple does not mention a wide release date for the features included in the Apple Music for Android beta, designated as version 3.0, the update will likely launch alongside its iOS 13 counterpart this fall. Apple's next-generation operating system is expected to roll out in September.
The Apple Music for Android beta program
appears to be full
, but users can
download the app
in its current iteration through the Google Play Store.