Apple technologies have created 325,000 jobs in South Korea
Apple Korea has revealed its local employment figures for the first time ever, prompted by increasing calls for multinational tech giants to increase transparency about their profits and taxes in South Korea.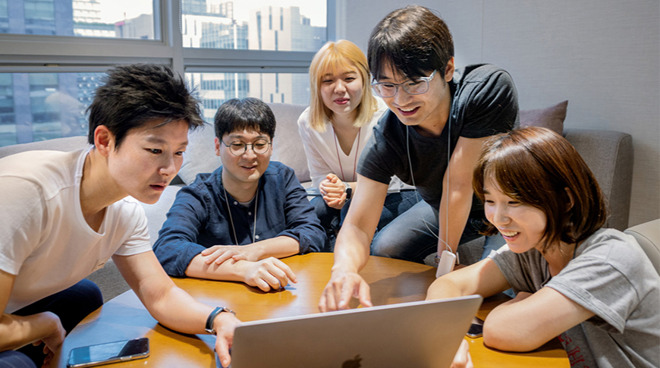 Image Credit: Apple Korea
Apple Korea features
a dedicated page
that states that Apple has directly and indirectly created over 325,000 jobs in Korea.
Over 200,000 jobs had been created with the 2008 launch of
the App Store.
App sales have brought in 4.7 trillion won -- roughly $3.8 billion -- in revenue since 2008.
There are 500 employees in Korea that are directly employed by Apple, including designers, production professionals, retail staff, customer service, marketing specialists, and hardware and software engineers. This number is up 1500% since 2010, when there had been only 34 people directly employed by Apple.
There are 125,000 jobs created by Apple partnerships, according to the website, with most of the jobs in product distribution and manufacturing. About 60,000 of those jobs are in manufacturing, 20,000 are in wholesale and retail vehicle repair, 10,000 in storage, 10,000 in the professional science and technology sector, and over 8,000 jobs in administrative support services.
One of the manufacturers that has seen job growth is Posco, a steel manufacturer founded in Korea in 1968. Posco partnered with Apple since 2016, and came together to create a non-magnetic, stainless steel.
"The new stainless steel, the product of Apple's ideas and POSCO's technology, is also a recycled material that uses more than 75 percent of scrap metal to have the least impact on the environment. Its material has been introduced into real products since iPhone X," reads the site.
Apple is responsible for
roughly 2.4 million jobs
in the United States. Most of these jobs -- about 1.9 million of them -- are directly related to app development.
Apple directly employs 90,000 in the U.S., but hopes to create another 20,000 jobs by 2023. Apple also works with 9,000 supply companies across all 50 states, with these companies providing 450,000 jobs.