YubiKey 5Ci security key compatible with Lightning iPhone & iPad, USB-C Mac
Yubico has announced the release of the YubiKey 5Ci, the worlds first security key for USB-C and Lightning devices.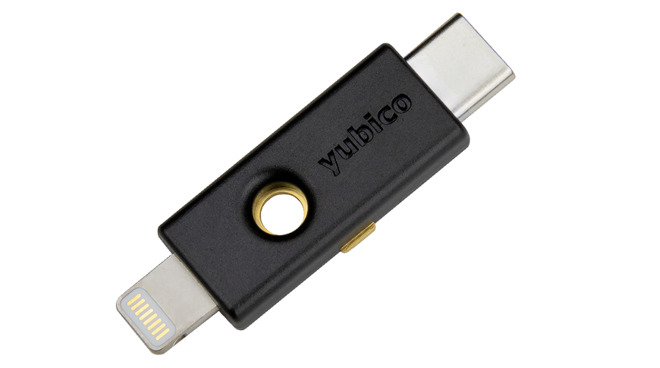 The device, which looks much like a thumb drive, can be utilized to provide hardware-based authentication for a wide range of applications. Currently, the YubiKey 5Ci can be used with 1Password, Bitwarden, Dashline, Idaptive, LastPass, and Okata iOS mobile applications.
Utilizing the Brave iOS browser, users will be able to use the YubiKey 5Ci to log into Bitbucket.org, GitHub.com, Login.Gov, 1password.com, and Twitter. Other applications will need to be updated and modified to use the YubiKey API to include authentication.
The press release
lists a short list of anticipated YubiKey 5Ci partners, including Dropbox, Keeper Security, SecMaker, and more.
"The YubiKey 5Ci fills a critical gap in the mobile authentication ecosystem," said Jerrod Chong, Chief Solutions Officer, Yubico. "It is the first iOS-friendly security key on the market to offer strong, yet simple authentication over a Lightning connection."
The YubiKey 5Ci was designed to solve the issue of users who must increasingly use multiple devices, giving a security boost that traditional passwords do not. The YubiKey works with both Lightning devices, such as the iPhone and most iPads, as well as USB-C. Yubico notes that some capabilities are
not currently supported
on iPad Pro models that feature USB-C ports. But, as-is, the key is a cross-platform solution for Apple's iPhone, iPads without USB-C, the Mac, and Windows PCs.
The YubiKey 5Ci is equipped with FIDO2/WebAuthn, FIDO U2F, OTP (one-time password), PIV (Smart Card), and OpenPGP. It can be utilized for both
two-factor authentication
as well as single-factor, no-password authentication for users who would rather use hardware instead of passwords.
The YubiKey 5Ci is available directly from
Yubico's website
and retails for $70.