Fitbit debuts Versa 2 lifestyle smartwatch to fight Apple Watch
Fitbit announced the launch of the Fitbit Versa 2, the second generation of their popular Fitbit Versa, set to release on September 15.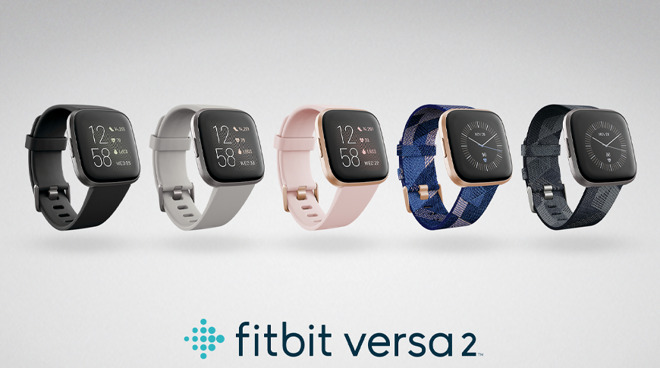 The Fitbit Versa line is designed to be an affordable alternative to other smart watches,
such as the Apple Watch.
The newest iteration of the Versa, the Versa 2, has received several upgrades, such as water resistance up to 50 meters and a larger screen, to make it an attractive alternative to higher end smartwatches.
"At Fitbit, we believe that health belongs to everyone and that people should not be priced out of having access to devices and features that can help them improve their health," said James Park, Fitbit's CEO. "That's why we've designed Versa 2 to be a premium, full-featured and easy-to-use smartwatch at an accessible price point."
The most prominent change is the upgraded sleep tracker. The Versa 2 features Sleep Score, Smart Wake, Sleep Mode and will soon roll out the ability to estimate a wearers oxygen levels in their bloodstream while sleeping.
The
Versa 2
includes Fitbit's first on-device microphone, giving users access to the built in version of Alexa. The Versa 2 Alexa features a discreet text-only response, and allows users to look up locations and information via voice commands.
Taking a page out of
Apple's Watch-based Apple Pay,
the Versa 2 has Fitbit Pay. Fitbit Pay allows users to pay by tapping their Versa 2 on any card reader that accepts wireless tap-to-pay methods, as well as access seven worldwide transit systems like New York's MTA OMNY and Vancouver's TransLink.
Fitbit has also brought Spotify to the Versa 2, giving users the ability to control their Spotify App from their wrist. Additionally, the Versa can store and play 300+ songs from a wearers library, download Pandora stations, and add Deezer playlists.
According to the press release,
the Versa 2 is powered by a faster processor and has a larger AMOLED display. An optional always-on display mode features a two-day battery life.
The Versa 2 retails for $199.95 for the base model while the Special Edition retails for $299.95. The Versa 2 comes with three free months of Fitbit Premium, and is currently available to
pre-order here
, with the official release slated for September 15.