Apple's retail, internet sales prospects will increase in India following rule change
New rules by the India government have paved the way for Apple to open up its own internet sales of the iPhone, and possibly open the first official Apple Store in 2020.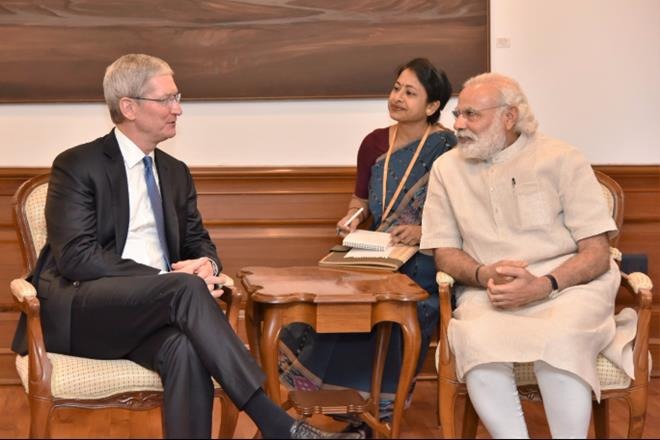 Apple CEO Tim Cook with India Prime Minister Narendra Modi
The India government has loosened local sourcing requirements that are a prerequisite for large international companies to do business directly in the country. As a result, Apple appears to be on the cusp of opening up direct sales to consumers in the country, instead of relying on a wide third-party network for sales.
The biggest rule change that applies in Apple's case is allowing exports to count towards a 30% local sourcing rule. In essence, any iPhones or other Apple products that
Foxconn or Wistron build
that is exported to other countries counts toward the 30% sourcing mandate.
According to
Bloomberg
, Apple is finalizing the location of a retail store in Mumbai. Sources familiar with the matter
told the publication
that the venue is expected to open in 2020.
Assembly of the iPhone SE at the Karnataka Wistron facility began in mid-May of 2017. The first iPhone SE models built in India by Wistron went on sale in various cities around India in June of 2018. The devices are marked "Designed by Apple in California, Assembled in India."
Around
100,000 iPhones
are reportedly being exported per month at present. Previously limited to the iPhone 6s and iPhone SE, production of
iPhone XS family
models has recently started in the country.
Beyond a Mumbai store, Apple is reportedly still considering flagship stores in New Delhi, Bangalore -- other locations where most of India consumers wealth is centered. This is in addition to the Apple Authorized Reseller expansion that Apple was said to be
examining
.
In January 2018
, the India government modified its taxation and sourcing laws that allow "single-brand retailers" that are foreign owned to temporarily meet a 30 percent sourcing requirement by buying goods made in India and selling them in other countries. The waiver is for five years, at which point, the company would be required to source 30 percent of its goods sold in retail stores from within the country.
The new rules extend that sourcing requirement out to eight years.