Review: G-Drive ArmorATD is a rugged drive with some style
The rugged G-Drive ArmorATD from G-Technology is a great looking external USB-C drive that can withstand the elements.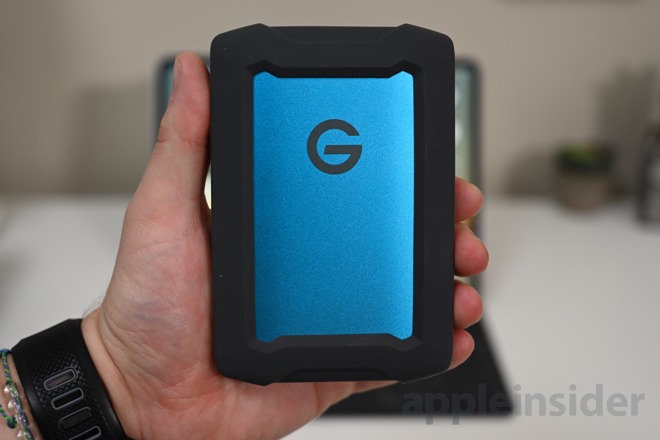 G|Drive ArmorATD is a rugged and durable drive
Rugged by design
There are countless drives that attempt to co-opt the "rugged" monicker for their drives with varying degrees of truth. Some do fantastic jobs, others are simply normal drives with a bumper of questionable effectiveness around the outside that has minimal real-world effect.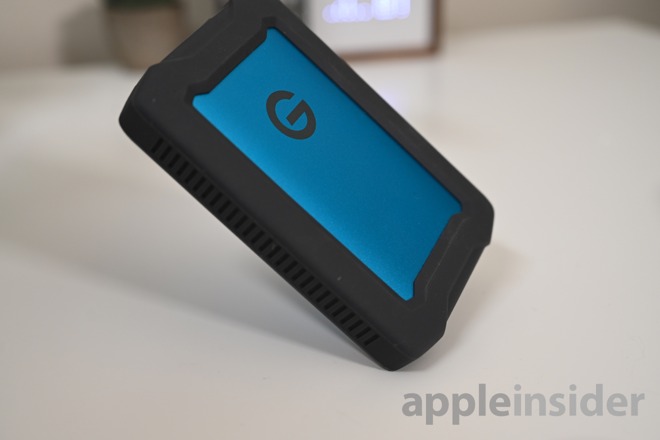 G|Drive ArmorATD can withstand 1000lbs of force and drops from 1.2 meters
G-Drive is bucking that trend with multiple ways of reinforcing the drive itself. Iinternal shock mounts surround the drive. That assembly is encased within an aluminum housing, before itself being surrounded by a reinforced bumper.
The aluminium housing is a vivid electric blue -- similar to what we've seen on previous
rugged drives from G-Drive
. It provides a nice contrast to the black shell and is something different the barrage of black plastic drives that flood the market.
That bumper tapers on the inside to become flush with the shell. Internal ribs protect the bottom while external ribs line the sides. The silicone not only helps for drops, but offers additional grip either in a hand, or on a surface.
G-Drive says the ArmorATD is able to withstand drops from up to 1.2 meters and crushing weight of up to 1000 pounds.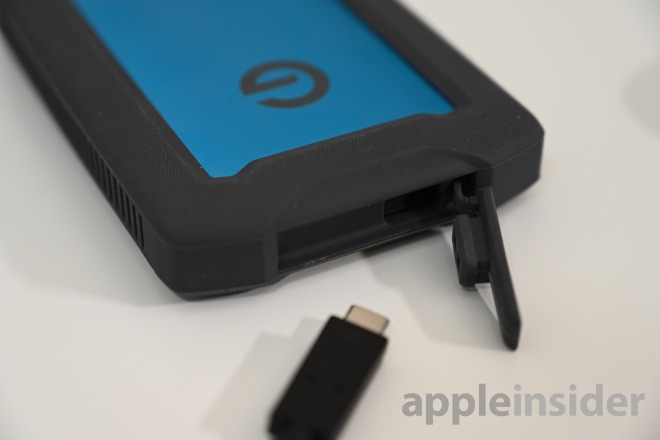 G|Drive ArmorATD has a water and dust cover for the USB-C port
Thanks to the silicone shell and port cover, it is also protected against water and dust. A small tether keeps the port cover attached to the drive, with the plug having enough stiction to stay in the port, but not enough to make it a hard pull. it isn't a single piece like other port covers that are often annoying to keep from flipping down when inserting the cable.
Universal USB
The ArmorATD is a spinning hard drive, not an SSD. So, by design, it isnt going to be the fastest portable drive out there. It is meant for rugged, portable, larger capacity storage options for backup footage and while working out in the field.
G|Drive ArmorATD has a USB-C cable with a USB-A adapter
The port on the drive is USB 3.1 type C, with a USB-A adapter, and a USB-C to USB-C cable provided in the box.
If you are still on USB-A, you can use the adapter until you adopt USB-C. Then the adapter just comes off. On the other hand, if you had two cables to worry about, you'd have to hold on to the second cable until you were ready to switch over. This is far too easy to inadvertently lose. This also is more efficient to travel with UBS-C and A options than a second cable.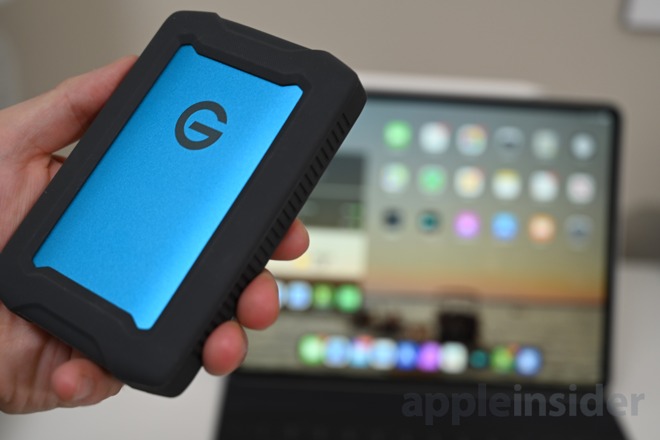 G|Drive ArmorATD
But, because the adapter is keyed to specifically fit the G-Drive cable, it won't work with other USB-C cables if you wanted to utilize it with other devices. It is the provided cable or nothing.
Performance
As we said, this is a portable HDD, rather than SSD.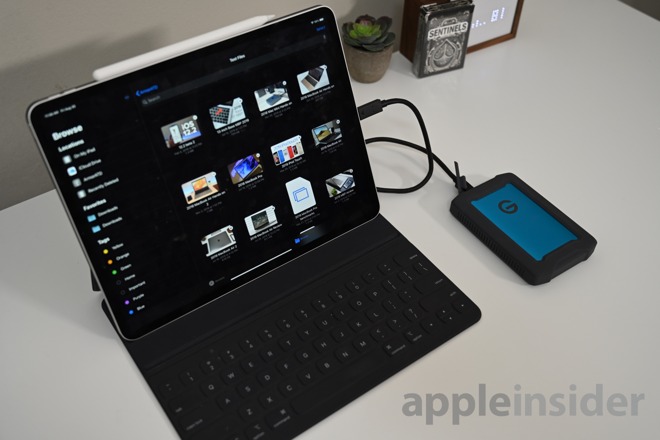 G|Drive ArmorATD works with iPad Pro and the iPadOS Files app
Out of the box, the ArmorATD is formatted as ExFAT which makes it universal between Mac and PC. It will even work with the iPad Pro line after the iPadOS 13 update that is mere weeks away.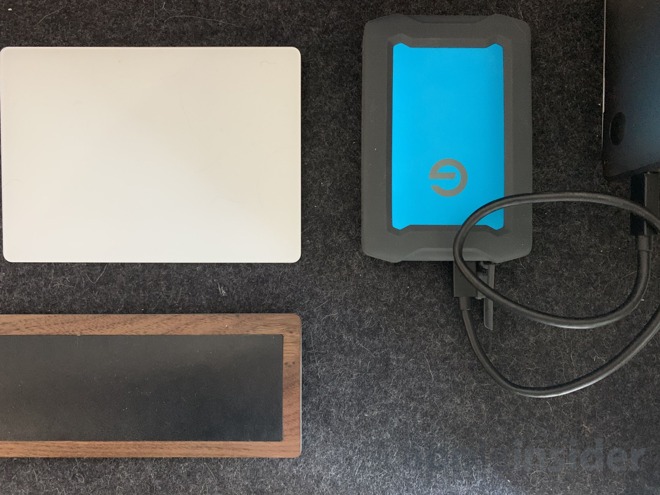 G|Drive ArmorATD rugged portable hard drive
We ran a few different tests of the 2TB model, both formatted as an ExFAT drive and as an APFS formatted drive.
First, was the Blackmagic Disk Speed Test. As an ExFAT drive, it produced averages of 121MB/s write speed and 132MB/s read speed. As APFS, it yielded around 118MB/s for write and 127MB/s as read.
The second test was a small file transfer test. We dumped 332 small files under 1MB totalling 7.78GB from our internal SSD to the ArmorATD. As an ExFAT drive this took 3 minutes and 38 seconds. As an APFS drive, it only took 1 minute and 8 seconds.
APFS is optimized best for flash media which explains the slightly slower performance in the Blackmagic Disk Speed Test though it is also optimized for small, everyday files which explains the speed boost in the transfer test.
Portable media
If you have a computer, you more than likely need a hard drive for backups, file storage, and the like. Those who rarely venture outside the home probably don't need a rugged-style drive, or the extra cost associated.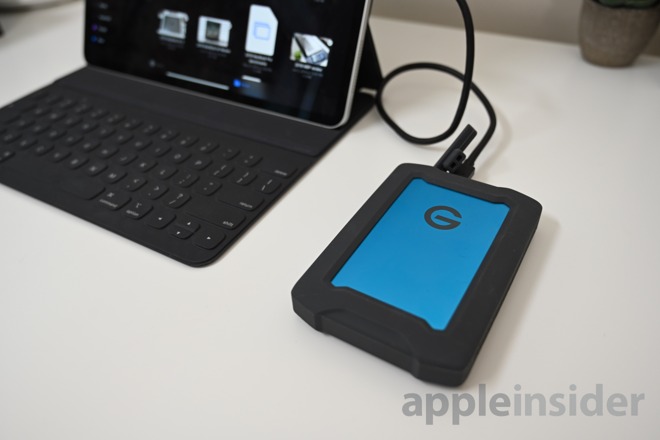 G|Drive ArmorATD rugged portable hard drive>
Conversely, if you are a professional that is often out in the field, a student frequently trucking it around campus, or a photographer/videographer out on shoots, a drive such as this is indispensable. It is protecting your footage, your backup, your work, and being rugged and durable is a must, and non-negotiable.
Speeds of the ArmorATD are near advertised, it looks sleek and stylish, and is as durable as you can hope an HDD to be.
Rating: 4 ouf of 5
Where to buy
You can grab the G-Drive ArmorATD in one, two, or four terabyte configurations ranging
$79 to $167 on Amazon
.